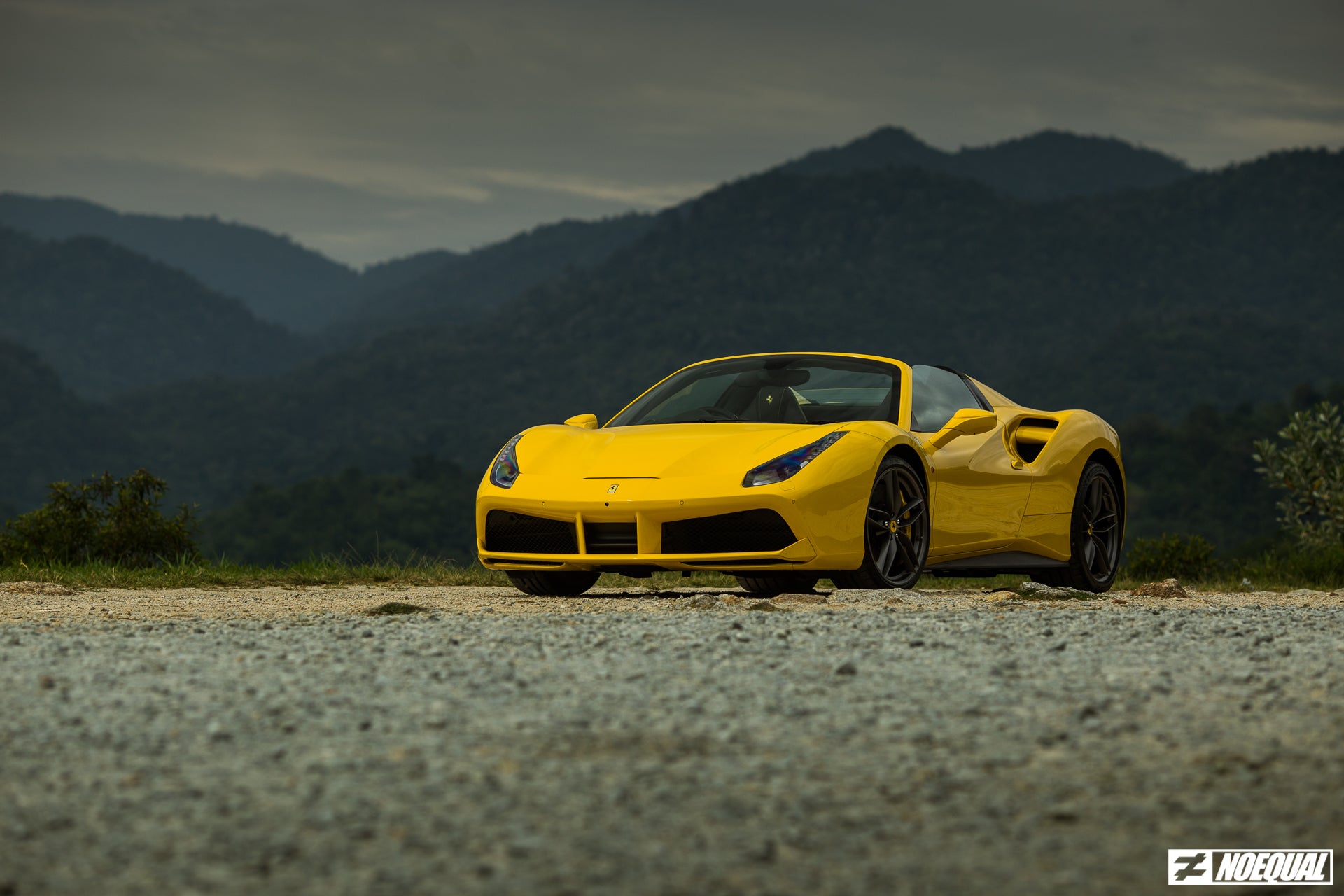 There isn't a time in a car guy's life that he/she would not dream of driving their first Ferrari. Doesn't quite matter which one, its got to be one of the most special, holistic experiences to be sitting on the hot seat of a prancing horse. And to be able to do it in your twenties, at a time of life when any average guy could only dream of doing so, is a life's checklist done and dusted! I've been lucky enough to have driven plenty of different cars up to my quarter life, perks of the job I must say. But a Ferrari? Not quite yet. The closest was driving a 430 Scuderia around a car park, but I'm not going to make that one count as a first, proper experience!
Driving a car of this caliber levels you on a whole new perspective on cars, putting your finger onto what exactly makes it so special, and why exactly does it cost so much. Let's get the facts and figures out of the way. The 488 Spider costs RM 1,158,000.00 before tax, duties, and optional extras. Now, at that level of price, the average Ferrari clientele won't even bat an eye signing a cheque to get one. The game has changed, because concessionaires like Naza Italia offers 7 Year free service on any brand new Ferrari. And if you spec one up today, you're looking at a 12 months wait. No matter though, because they'll happily fly you first class to Maranello throughout the build to see your car being built at the factory itself if you're set on indulging into the Tailor Made Programme where sky's the limit. Oh yeah, thats the level of status that you get buying a prancing horse, one that indulges into the glamour of it all, well beyond the whole driving experience. Something I have to admit, is completely out of reach for someone like myself.
But as a car guy, I'm going to ignore the price and lifestyle of it all, and share with you guys what truly matters, the experience of driving one! Getting into the 488 for a start isn't a difficult task. As oppose to jumping into a Lamborghini Aventador with its Scissor doors or a McLaren 650S with its carbon tub, you slip into the seats of a 488 like any normal GT car. The controls will take a little bit of time to understand, because Ferrari believes in the F1 style controls located on the steering wheel where nearly all of the functions of the car are accessed. But once you have that out of the way, the 488 moves off from a standstill as easy as our Malaysian Supercar does, the Myvi. The 488 isn't exactly the latest from Ferrari's stable. It was launched in 2015 and introduced to Malaysia officially by Naza Italia in 2016. Ending the reign of normally aspirated V8s from its predecessor, the 458 Italia/Spider, its new twin-turbocharged 3.9 litre V8 produces 660bhp and 760nm. That's an output of 170bhp per litre that'll propel the two-seater to 100km/h in just 3 seconds. At this level of performance, its normal. Moving mid-speed from 100km/h to 160km/h to 200km/h and all the way to even higher illegal speeds just happens so effortlessly.
As anyone would be, you'd expect the car to be brutal in its acceleration but because the 488 is so smooth in its power delivery, you won't even realise that you've moved multiple folds beyond the speed limit when you drive. Is that a bad thing? Yes and No. We took a drive to Kuala Kubu Bharu dam where I know there would be empty, winding roads and its a whole different experience driving up there in a Ferrari. The car feels so effortless, the steering is so sharp with positive feedbacks to let you explore more of the chassis capabilities. If there is one thing I loved most of the 488, it had to be the gearshifts! Its so quick and crisp, and you keep hearing the exhausts pop every time you grab a gear. I'll be honest, I didn't dare explore all of the 488 Spider's performance and handling potential on public roads but even putting it through its paces in about 50%-60% throttle, its already more than what you would use normally hitting hard on something like a Civic Type R.
In just 13 seconds, you can expand your experience chart even more by opening the roof from Berlinetta mode into Spider. And from this point on, I can completely understand why someone would opt to have a Spider over a standard Berlinetta. You set yourself into the elements. You have a million mile headspace and you get to hear so much more of the exhausts and gear shifts when you drive hard! For this experience alone, its worth more than the asking price of a 488 Spider. All in the details, this very car sampled was painted in Giallo Modena, this very car has minimal exterior optional extras, but are packed with various carbon parts on the interior. Turning heads everywhere I went, its clear that the shape of the 488 is unmistakably Ferrari. And there's a lot to love in the design where science and art comes together.
Every curvature on the car is designed to channel air for Aero and Cooling. It may look subtle, but even to a part as simple as the door handle was specifically shaped to channel air towards the cooling vents on the side. And now with the more powerful, lightened, and more aero tweaked 488 Pista rolling out, it'll be a wonder just how much crazier that car would be to drive. I end my review on one single note though – there's a sense of romance with the badge. Today, it isn't even the quickest Supercar you can buy, so if you want the fastest thing out there, look elsewhere. But if its a sense of occasion that you want, if you have one of these 488 Spiders, you'll always be in a Ferrari. 😉
#NoEqual #NEReviews #Ferrari #488Spider #NazaItalia