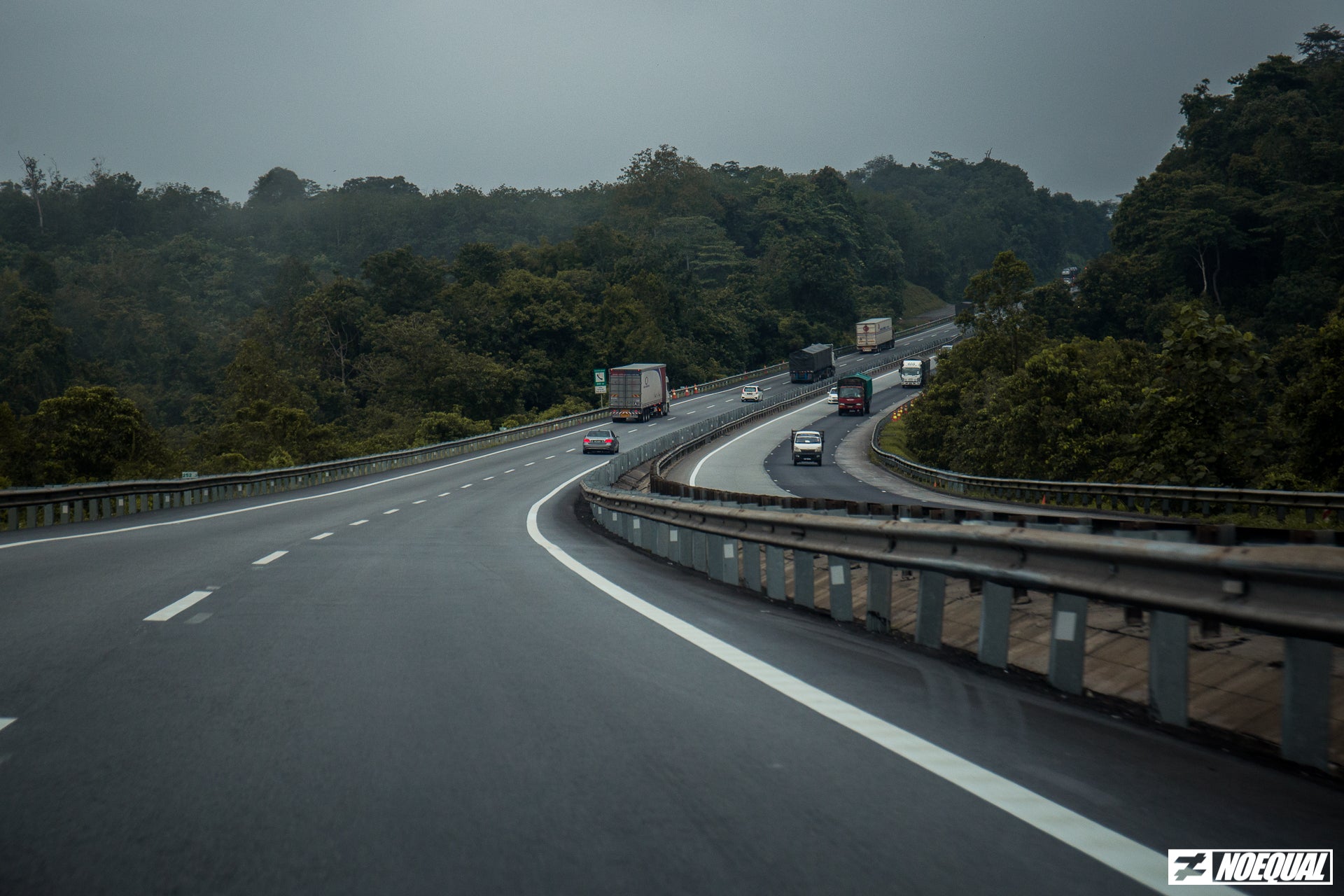 In life, some things are just better left unplanned. The element of surprise that comes with the unplanned occurrence sometimes made the whole experience a lot better. Ending our 2018 – we found ourselves with a lot of free time with Art of Speed Malaysia taking a break from organising AOS Johor, as well as our friends in Borneo taking a break from organising Borneo Import Night. With the absence of these two huge events, we needed to fill the content cavity and that was when we were informed that Das Treffen 3 is happening around the corner. We thought they already had it earlier in April but we guess that was a joint event in conjunction with Porsche's 70 Years celebration. We quickly ring our air-cooled friends and asked if they were going. Not only are they planning to go, they've also a drive trip there with their air-cooled cars. The only acceptable follow up question was would there be a vacant co-driver seat for us and that's how we found out that we are in for a surprise 3000KM drive to Bangkok.
Quelle surprise? – Because we have had no experience in long drives in 20-plus year old air-cooled Porsches before. We know 911s are great cars and known to be one of the most reliable cars ever built, but when it comes to driving a 20 over year old car, you can't always be too sure. It would only make sense to have one dedicated technical partner a.k.a panel workshop and mechanic to go with the convoy and for that we thank Bob and Nigel of One911 Autoworks to take care of the cars from time to time along the journey.
Day 1 – Kuala Lumpur – Surat Thani
We clocked over 800KM from our HQ to our first pit-stop destination, Surat Thani. Since we were not in any rush to get to Bangkok, the 800KM journey ended up taking us about 15hours to reach with multiple stops in between. The border crossing didn't cost us too much time as it was during weekdays and the Malaysian side was newly renovated which improved the procedure and saved us a lot of time. Our ride of the trip is a 993 Carrera RS replica that comes with Recaro fixed bucket seat. Not the best choice for long drives but surprising it is a lot more comfortable than we initially thought. In fact, it may have caused us to dozed off a little bit during the journey but maybe because we didn't had any sleep the night prior? Who knows?
Day 2 – Surat Thani to Bangkok
Second day seemed much more relaxed as we only had to drive about 700KM and no border immigration to cross into. On one of the many unscheduled stops, we impulsively stopped at a Shell station and was warmly greeted by the owner and operator of the station. We assumed that the appearance of 7 air-cooled Porsches is a rare occurrence that gutted the warm welcome by the locals. The group kindly returned the favour with a photo session and quick visit to her cafe within the station's compound. To our surprise, the cafe was modelled with a lot of automotive memorabilia, mostly related to Shell heritage and images. One thing we discovered through this journey was, every petrol station there is like a proper RnR with cafes and convenience store and this probably was our best encounter with a petrol station operator.
During our lunch break, we were approached by a local Porsche enthusiast who owns the pictured Karmann Ghia and were kindly invited to check out his make-shift workshop. Upon arriving there, our mind were almost blown out when we saw an empty shell of what appears to be a 964 and a 356. Upon further inspection and conversation with the guy, it seems that those are in fact replica bodies made by guess what? Volkswagen Beetle as the base chassis. The guy with his two friends have been a long time Porsche enthusiast but can only afford to build replica of them for the time being. But what made us impressed the most was the fact that they have very little encounter with any real Porsche so their measurement was solely based on die-casts, photos and internet references. Few of us dropped them a quick tricks of the trade and off we go afterwards.
Day 3 – Bangkok City Tour
In Bangkok, we stayed at Novotel Bangkok Impact Hotel which was just a stones throw away from Das Treffen 3's location – Impact Speed Park. Day 3 was free and easy day so we decided to wash and detail our cars and visit Bangkok city. Our detailing and wash were sponsored by WAC Auto Detailing Bangkok as the owner is a good friend of one of the convoy member and fellow air-cooled Porsche owner. What a sight to see – Air-cooled wash party. The owner of the place drives a pretty clean looking 964 Carrera with RUF bits and pieces including the highly sought after discontinued 18-inch wheels made by Speedline. We spotted a pretty sick McLaren 720S with full Novitec Carbon Fiber bodykit. The owner was kind enough to let us hear the start up and some engine revving but no matter how loud it was, we were still blown away by the classic Porsche line up.
As we have B-Quik crews (Ismail and Idris Ibrahim of Faroib Autosport) and their Malaysian partner – One911 Autoworks, it would be rude not to stop by at the B-Quik centre for some catch up session. This also gave the opportunity to drivers who needed some attention on their cars as we still have to cover 1500KM on the way back. While at B-Quik, we get to see various race cars that they have been racing with over the years. We have noticed some of these cars during various races in Sepang previously but we have never known that these cars were mainly handled and maintained by our fellow Malaysian, Ismail and Idris of Faroib Autosport. Towards the end of the previous racing season, Alif Hamdan has also been racing with B-Quik in Thailand Super Series for a few rounds.
As we don't want to poke  our nose too much into their daily operation, we spotted something that is in line of our interest – JDM cars. Not one, not two, but a bunch of them casually lined up within the compound of a premise across the road from B-Quik. Upon closer look, it was actually a second-hand car shop by the name of Banzai. Unfortunately due to language barrier, we couldn't get much info and stories as they have pretty extensive collection of cars on 1:1 scale as much as the smaller scales. We love the fact that these cars, which most JDM enthusiasts in Malaysia will search high and low for, are just casually parked just waiting for someone with enough cash and passion to own them.
Day 4 – Das Treffen 3
The day of the event. As it started at 3PM and as we stayed very close to the event venue, we decided to check out local craft market before we head to the event.
More photos from Das Treffen 3 can be found here and here.
Day 5 & 6 – The Journey Home 
We stopped by at Trang for a night as we were not in rush to get back to KL. This gave us a lil bit of time to explore the beauty and the food of the locals which was one of the many reason people would visit Thailand for. As half of the convoy is Muslim, we are required to only eat Halal food whenever we eat in group and we are thankful to have tolerant and understanding friends in the convoy. Finding Halal foods in Thailand is apparently quite easy up to about 10PM when most of the shops and eateries are closed for the day.
Our ride during the trip back was Peter's 911 Carrera 3.2 racecar. When we say racecar, we literally mean racecar that he used to race in Asia Classic Car Challenge. But as crazy as it sounds, they actually put back some comfort elements including re-upholstered Satria GTi seat, air-condition system, road tires and much quieter exhaust system. As we didn't quite get the driving shot that we wanted during the journey up as we don't want to hold the convoy back, we decided it would only appropriate to get it during the journey down. To make it better, they chose the scenic route heading to Wang Kelian border post instead of Bukit Kayu Hitam route. If any of you reading this and looking to drive to Thailand, we highly recommend Wang Kelian route as the traffic is way lower and the view is way better not to mention, twisty roads!
Our fun was cut short for a while when the fuel pump of Peter's car decided to fail and made the car jerky and stalled mid-drive. The importance of having technical crew was really apparent here as Nigel and Bob helped by Idris and Ismail quickly solve the problem until we found a random workshop and borrowed their work station to change the faulty pump to spare unit to last till KL. Thank God it was nothing major and we managed to cross border slightly later than our targeted timeline and made it home slightly after midnight.
What a trip it was! Definitely one of the highlight of the year for our team and we would definitely do this again next year! We would like to thank MY Porsche Air-cooled Group, One911 Autoworks, Faroib Autosport, B-Quik, WAC Auto Detailing and last but not least, our friend Azahar for letting us be a part of this memorable trip!
#NoEqual #LayanEverything #DasTreffen3