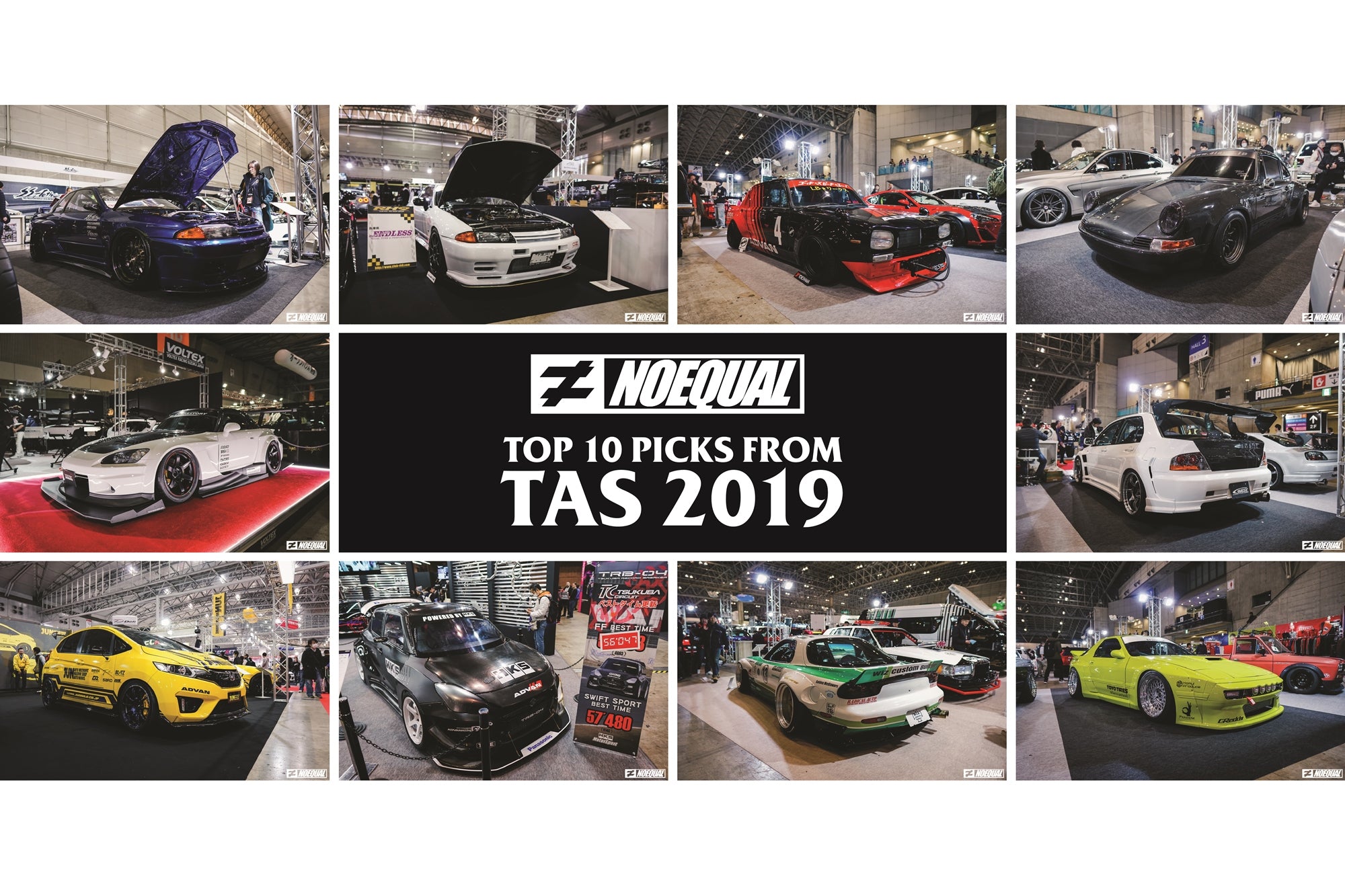 Time flies ruddy quickly, and just in a blink it's already 1 week since TAS 2019 officially commenced. Now that you've seen our gallery and coverage, think it's time we share you our picks from the show.
We've selected only 10, which is only about 1% of the total cars that was at the show. With over 900 cars on the floors at Makuhari Messe, you can imagine how buzz-eyed we got amongst all the crowd that went for TAS this year. The thing about TAS is that, it being the biggest aftermarket modified show in the region, you'll easily get bogged down into adoring each and every car on the stands. Most builds are absolutely complete, from the exterior outlooks, to the interior completeness, and the engine too. If you're in to get inspired, then look no further than at this show itself. So many fine quality builds to choose and adore from, and whilst these picks may not have been a crowd favourite on social media, it is however from the views of our eyes itself.
1. Voltex S2000 Time Attack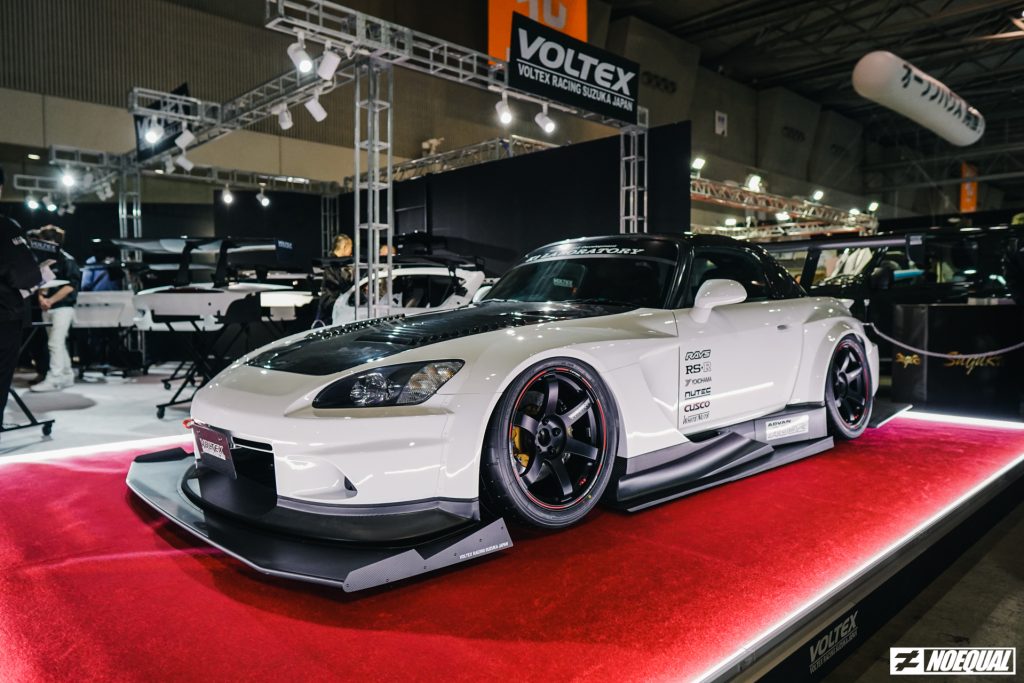 On the Voltex stands at TAS2019, you'll only find one vehicle on their showcase and it was this insane looking S2000. It's a no-brainer this, because the company has always been famous for producing aerokits for Time Attack machines in the likes of Evos, Imprezas, and of that kind. And whilst of course the Voltex Top Fuel S2000 has made a name on Fuji Speedway with Nob Taniguchi at the wheel, this one played a little different role at the stands. Rocking the latest TE37 Saga wheels, and sporting with the latest aerokit from the brand, this was a definite showstopper for everyone. Definitely played the part and it's certainly why it made it to our Top 10!
2. Carbon Backdate 911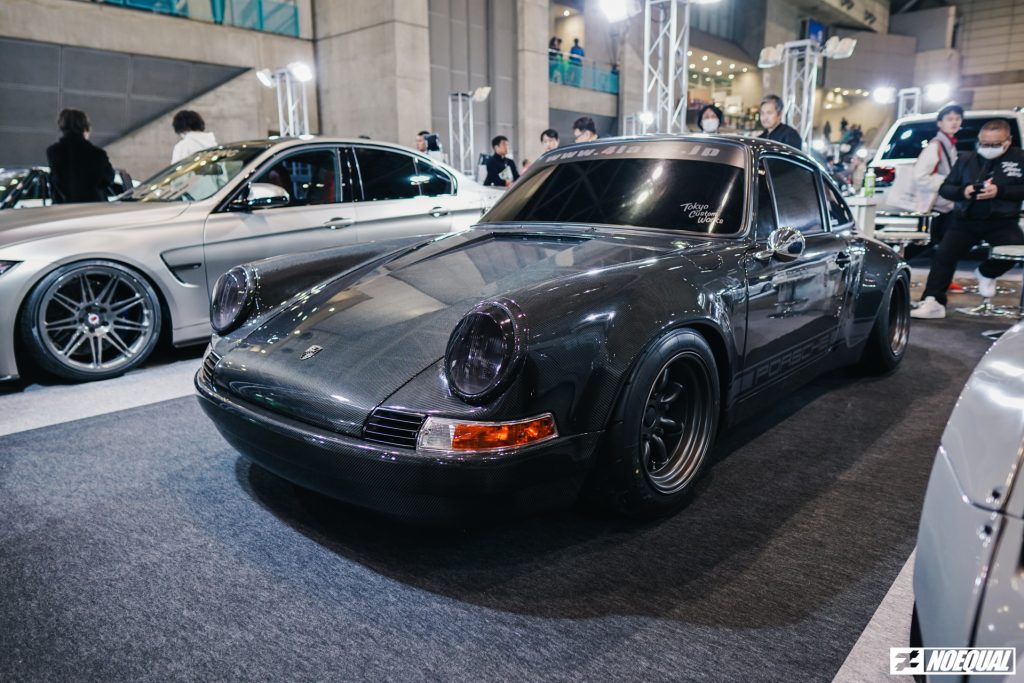 This car sort of bust it for us at TAS2019. With the whole recent malarky of a full carbon-wrapped 991 GT3 RS in Kuala Lumpur, this car was a big middle-finger to those who think a full carbon 911 is impossibly expensive. Sporting the backdate classic 911 outlook, matched with a period correct Watanabe wheel set, this 911 certainly kicked some quality into the show. Loved the extensiveness of the build, even going into as detailed as the pillars and roof as well, all in REAL CARBON FIBRE! It's of course, not an RWB but this is a cool showcase of possibilities from the hands of the Japs to people like Singer and Guntherworks whom specialises on 911s like this!
3. Top Secret BNR32 VR38DETT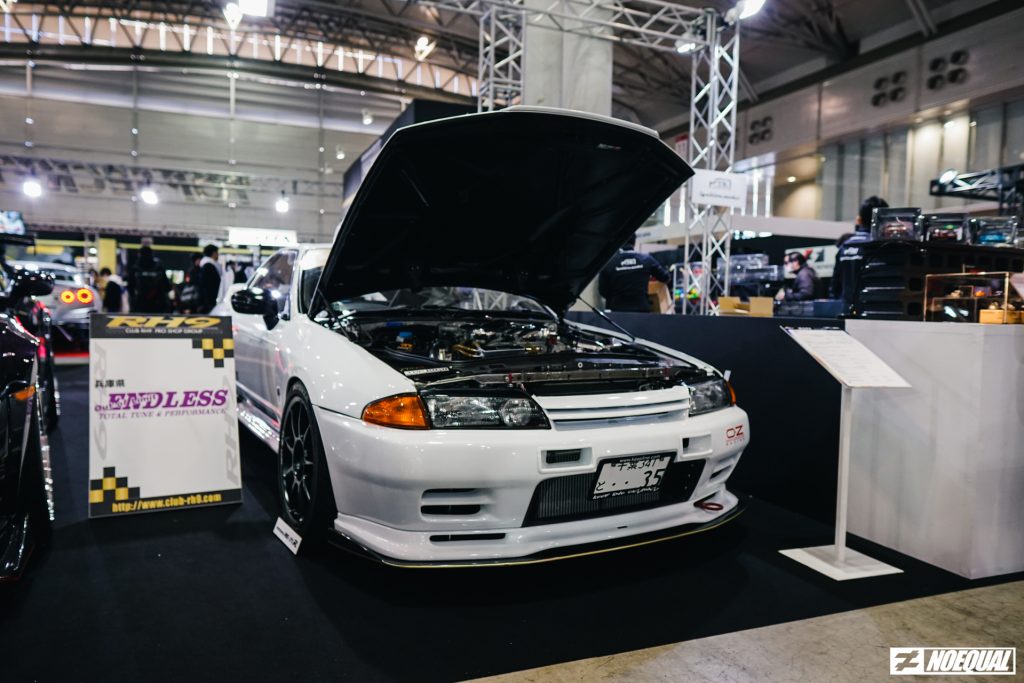 We thought this BNR32 was a whiff of fresh air at the show. The Top Secret booth was absolutely filled with cars, all Skylines in particular. No doubt we were hoping for the legendary V12 Supra to be on the stands, but this Skyline R32 fitted with an R35 GTR (VR38DETT) engine is definitely something crazy. ON the spec sheet, this is producing over 700bhp to the wheels, and it's fitted with almost all the ancillaries that Top Secret makes for the VR38 engine. Heck, even the interior sports a Nismo GTR dashboard! Wonder how much this one costs…
4. Rocket Bunny RX7 FC3S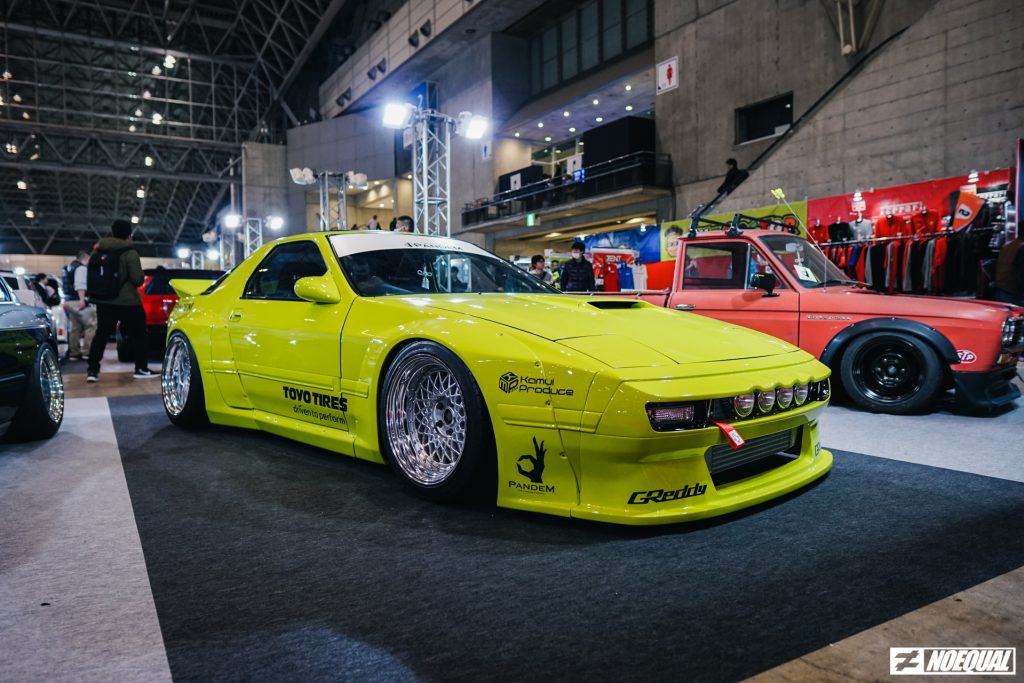 One thing about this year's TAS was, there was certainly an RX7 overload at the show. Almost around every corner, there would be an FD3S set to feast your eyes away. But undoubtedly, this Green Rocket Bunny FC3S caught our attention most! In fact, this particular car might just be our favourite from the show. Not too sure what exactly makes this car so DAMN perfect, but what we'll tell is it looks far from being overdone. Its just a super clean build, matched with a sexy flushed fitment. The coolest part to the kit was of course the 4 spot lights on the front bumper, well placed with the kit design. Hope to see more of these FCs around, especially in Malaysia which is a pretty rare sight!
5. Virtual Reality RX7 Rocket Bunny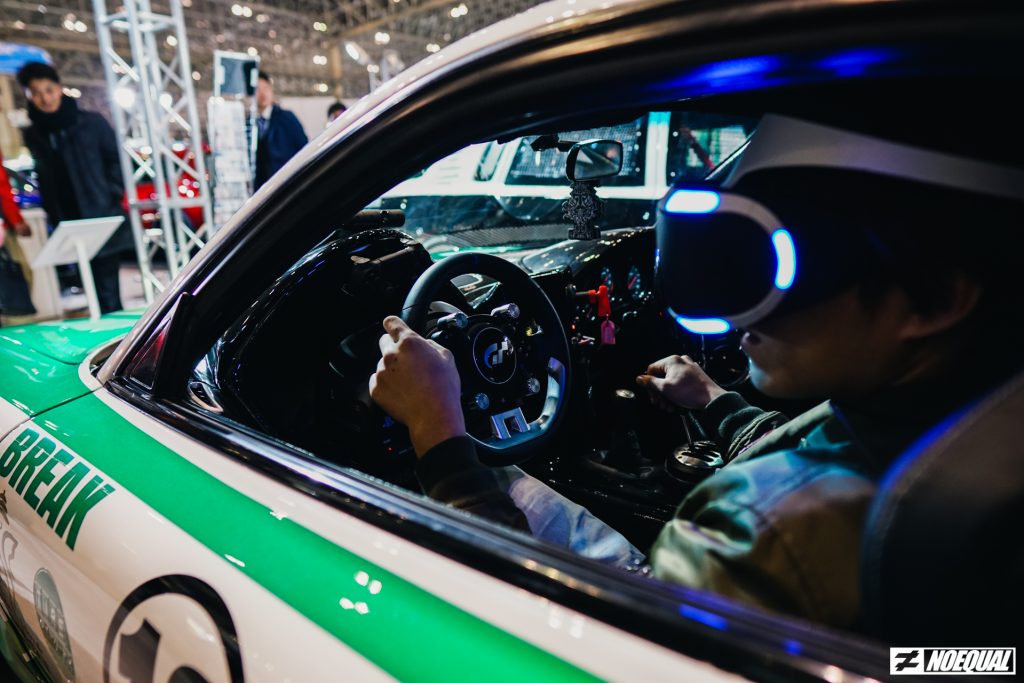 Like we said, there were too many RX7s at TAS2019. But we had this FD3S in our mind all the way because it most certainly had a different feature than others at the show. This particular car is fitted with Rocket Bunny's kit, matched with Rotiform wheels. Nothing out of the ordinary at first glance, but we saw the rather huge LED TV stuck at the back of it's boot. Only to find out, that the car also fits a Gran Turismo VR game inside. It's a gamer's dream ride. Right hand drive on the car, left hand drive on the gaming wheel for the passenger. Odd concept? True, but because this was in Japan, it definitely fits the bill!
6. Garage Active Blue Carbon R32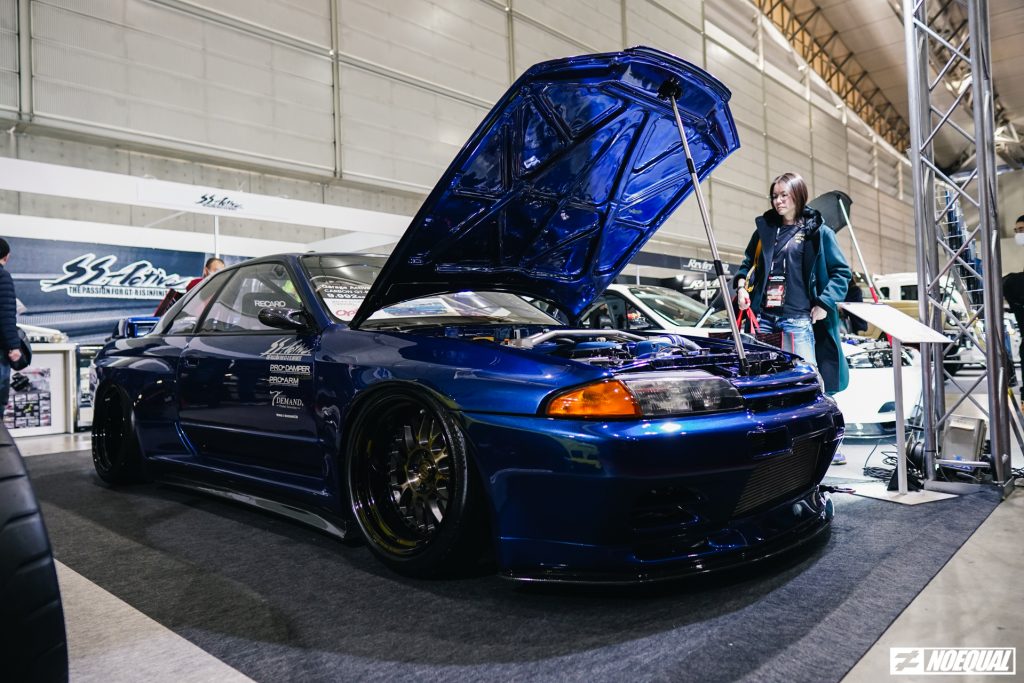 How about a full carbon R32? Garage Active isn't exactly a famous brand, but they've been making strides since their appearance last year at TAS2018. This year, they came with a full blue tinted carbon car that came packing with a lot of muscle and guts! Loved how this was packed nicely against many of the other Skylines at the show. The wide kit still retains much of the R32's bodyline, yet still remains distinctively wider. Quick research, we found that it's about 40mm wider than standard. Massive! Under the hood, much of the parts are from HKS on this car, which means it should pack quite a punch as well from the RB26. Let's hope to see more quality builds like this in Malaysia soon…
7. JUN Fit GK5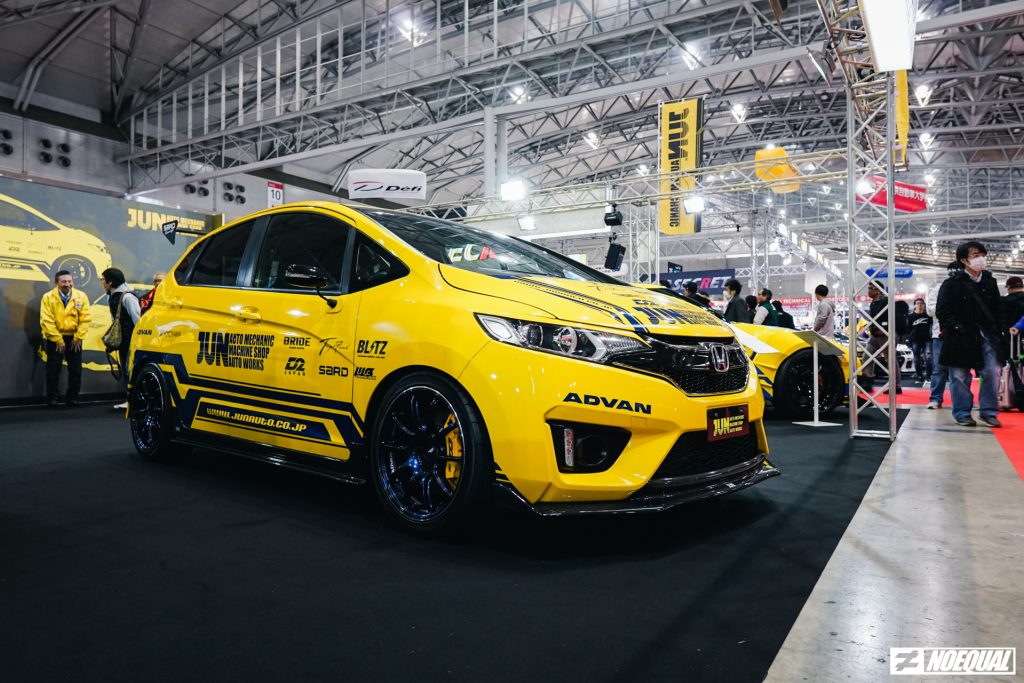 I admit, this is probably the least fitting car within this Top 10 list. But since it's also a pick through my eyes at Tokyo Auto Salon 2019, I thought I'd slide this one in a little. Why you may ask? Because well, I own a GK5 myself, and also because this was the only modified Honda Fit/Jazz at the show. I came to find that the Japs are very much involved in building up the new Suzuki Swift Sports right now, pulling the influence and attention away a little from the Fit. At the same time, this is the first time we hear of JUN, a company infamous for building top notch Evos and Skylines prior to this, starting to play around with the wider production scale of cars. So most certainly, I thought this one was a little special! Check out the pics.
8. HKS Tsukuba Time Attack Swift 4G93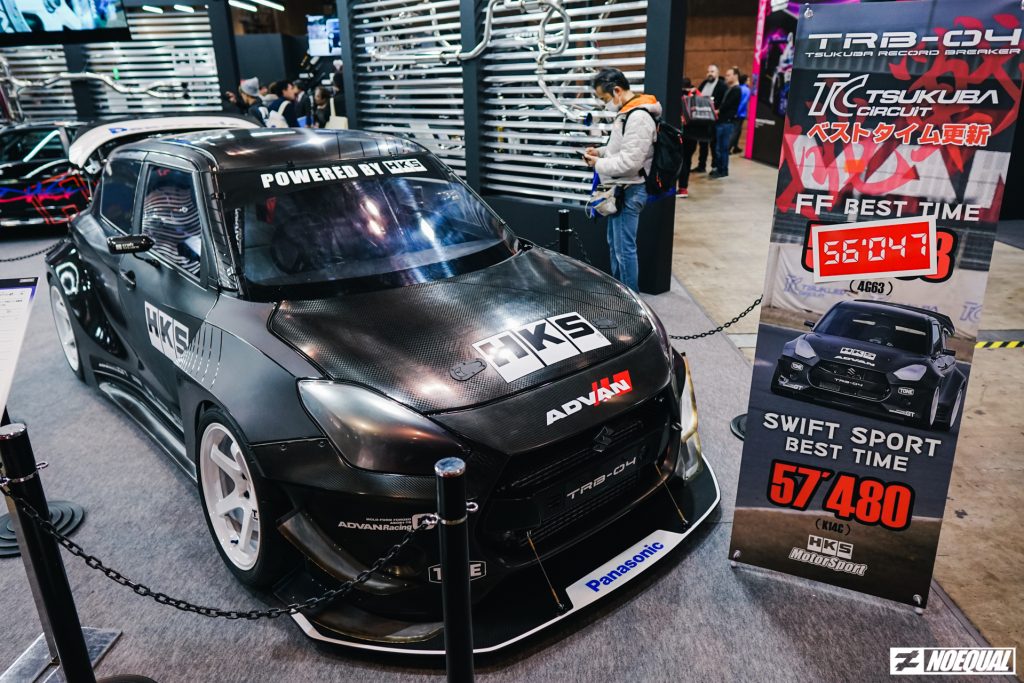 And while we're on the topic of Suzuki Swifts, this one has to definitely be on this Top Picks list! If you're an avid follower of Tsukuba Time Attack, then you'd probably have heard of this insane project by HKS. They began with what was essentially the new fourth gen Suzuki Swift chassis. Then they went a bit nuts and built the K14C engine for the Time Attack. After clocking a super respectable 57.480 seconds, they realised they didn't quite go stupid enough and then decided to throw a 4G63 inside to beat that record into a 56 seconds flat. MAD! Wonder what this will do around Sepang. Hmmm…
9. Liberty Walk's Advan Hakosuka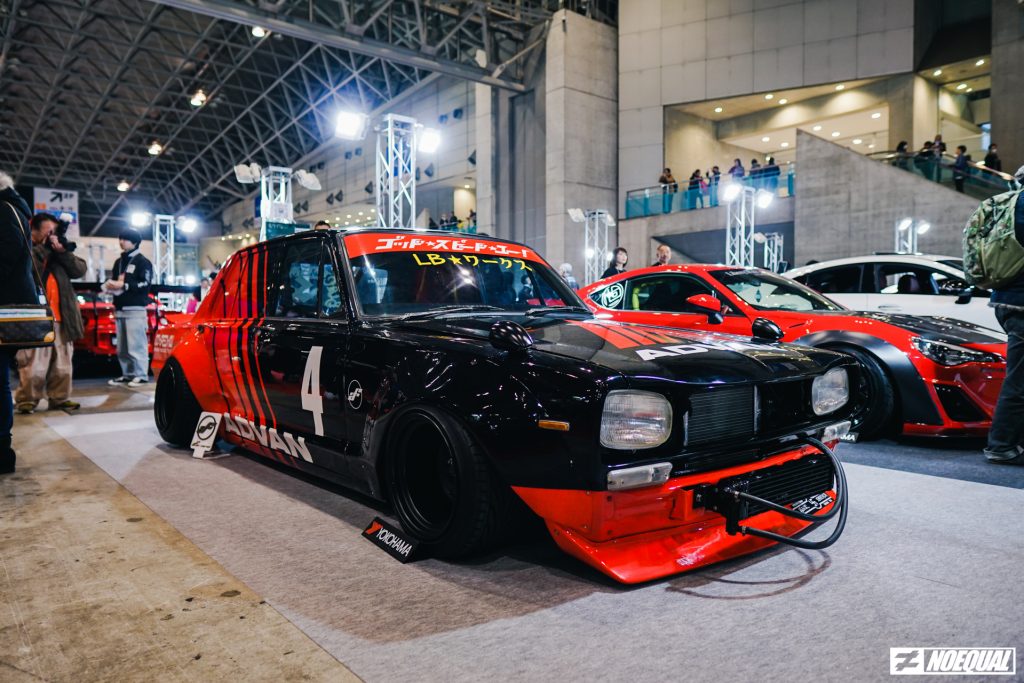 We love Skyling Hakosukas and to be honest, it's a little sad that these things are so rare, anywhere in the world. Even in Japan, you don't see this car around as often as you'd imagine, yet Liberty Walk loves to go crazy on their builds. This one here is a 4-door Hakosuka, and on the aesthetics side alone, we think it deserves to hit the Top 10 on this list. Wearing no grille, nekome headlights, a black external oil cooler and deep RS Watanabes, this ride pays homage to it's racing brothers. Loving it's fitment and stance, gives that totally off the scale outlook that Liberty Walk plays.
10. The only EVO at TAS2019?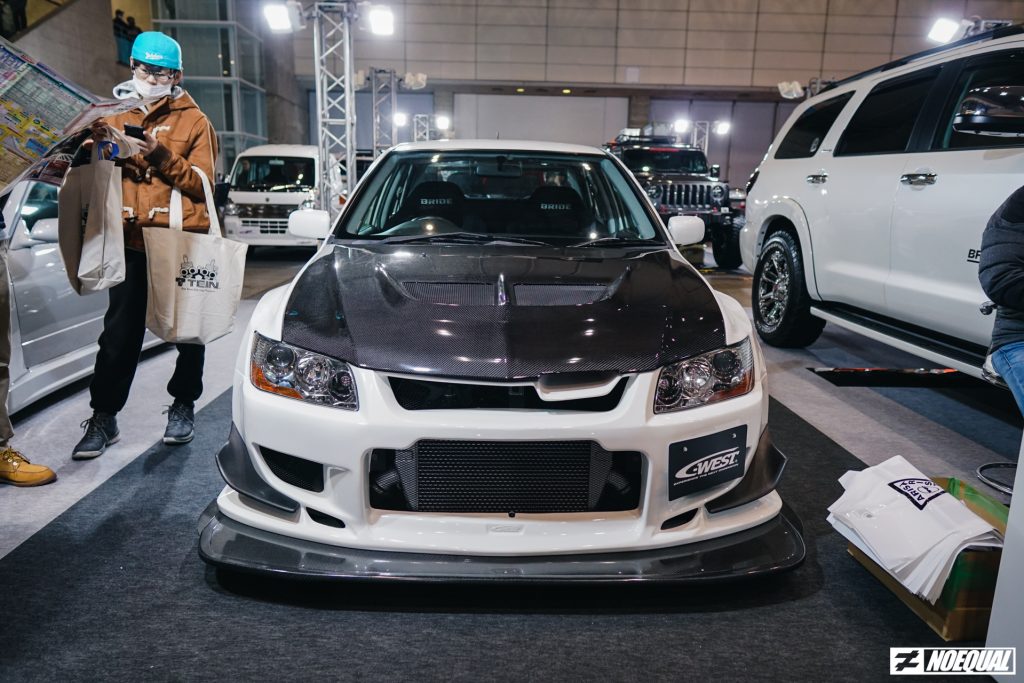 This one's more of an appreciation post, because clearly, many of you have been buzzing the comments section on our Social feeds about – "What? There's only 1 Evo????". Well yes, and it was parked at the C-West booth. Let's be honest, this isn't exactly the maddest, baddest Evo out there but to our surprise too, the Evo cult were far from present at TAS2019. Pretty sure there were a few X around the show, but we didn't quite spot any other in the crowd. Odd when you think just how crazy people are about Evos all over the world. On the streets in Tokyo itself, there were more WRX STIs than there were Evos. So maybe that explains it?