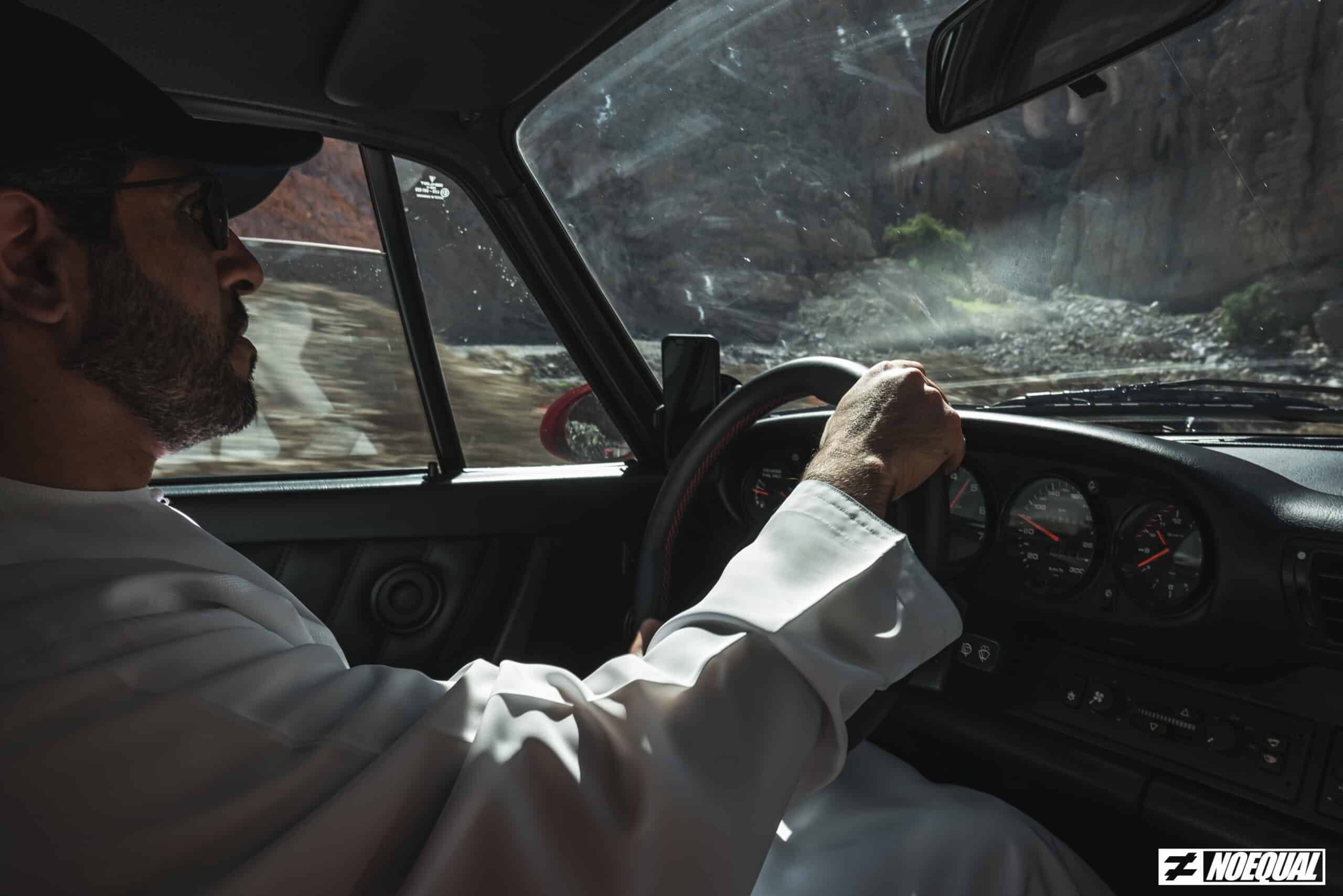 NoEqual.Co has always followed the rule of 'Layan Everything' since the company's inception. Through the possibilities of social media, we've had the chance to shoot and experience some of the finest specimens of interesting cars in Malaysia and some overseas. As most of us in the NoEqual.Co crew are avid Porsche 911 enthusiasts, we would never pass up an opportunity to experience one no matter where we were. Naturally when you are at the supercar capital of the world, Dubai, you're bound to find an enthusiast who would show a 911 that's "Built Like No Other"
Back in the pre-COVID era of 2020, with only a couple of days to enjoy what the UAE has to offer, we managed to join a local group of Porsche enthusiasts for a drive from Dubai to Jebel Jais, a mountain in the Ras Al Khaimah region of the UAE that borders Oman. Despite being about an hour and a half away from Dubai, it is pretty much one of their few go-to Touge routes with an elevation of 1,934m. And what better car than a 911 to enjoy a spectacular road as this.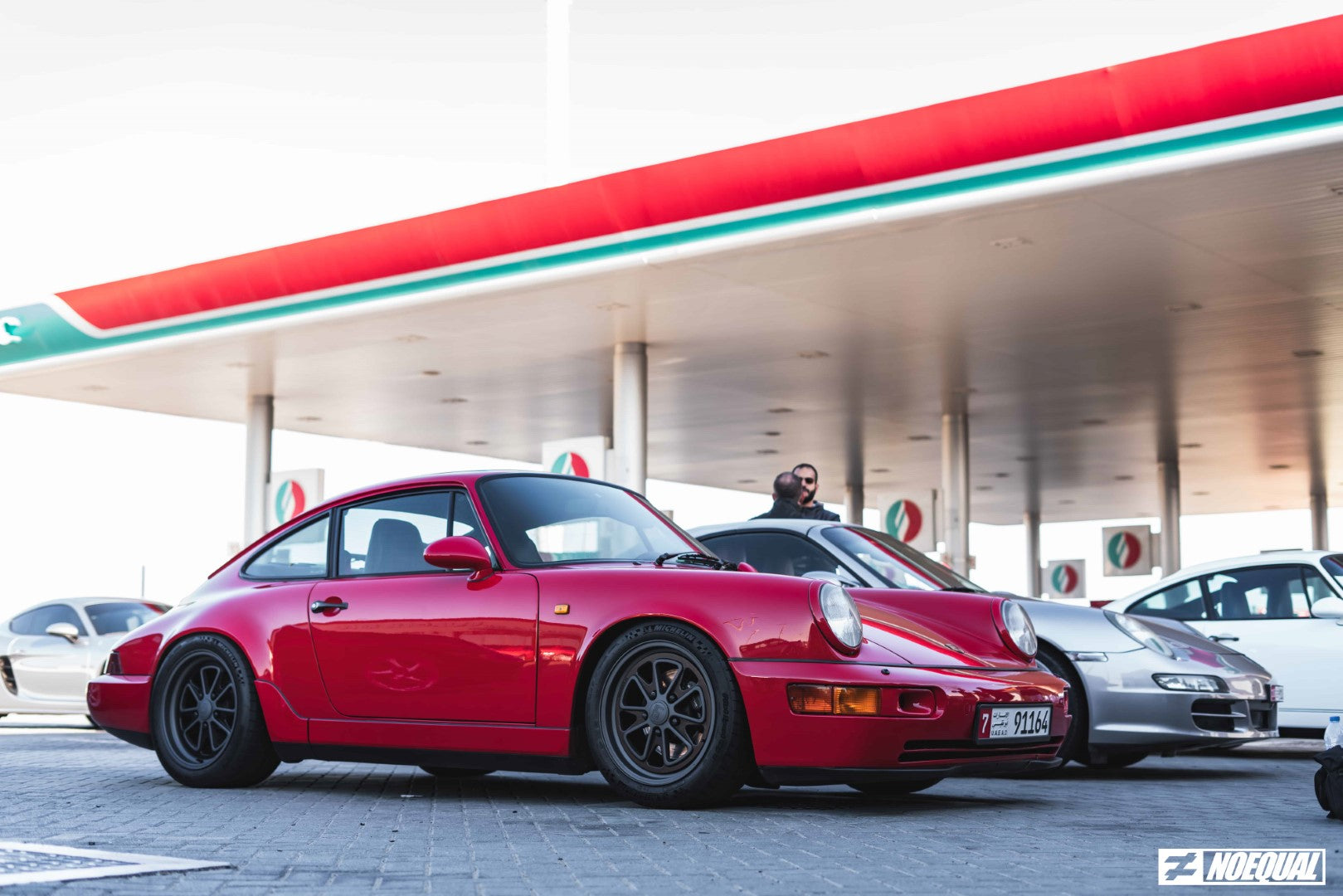 Ahmed's journey into 911 ownership.
Here, we find Ahmed and his 964 Porsche Carrera 2. As with most car enthusiasts, there's always a story behind them and how they acquired the car. And just like any other Porsche enthusiast, he has always wanted a 911. A 964 to be precise, as back at the time they were reasonably priced. With $25,000-$30,000USD, a good condition Carrera was obtainable and if that's not enough, $45,000-$60,000USD could land you the Turbo 3.3 model. These were before the prices skyrocketed, now being double for the Carrera and triple for the Turbo due to the likes of Singer, Urban Outlaw and RWB builds.
At the time, Ahmed knew that prices were starting to rise and he needed to get his 964 before it became too expensive to own. During his extensive search for his dream 964, he stumbled upon a manual 1990 964 Carrera 2 in Guards Red on a Japanese auction website. Ahmed knew that it was either a hit or miss and decided to get his beloved 964 even though it's on a different side of the world. Despite finally getting his 964 from Japan, he was not free from issues as with most early 964s, leaks are inevitable and Ahmed's 964 had a leak. As most air-cooled enthusiasts know, it's not an air-cooled 911 if it's not leaking.
Air-cooled in the desert heat.
Knowing that the air-cooled life is not going to be a cheap life, Ahmed toyed with the idea that a purist would consider as blasphemy. An LS swap on an air-cooled 911. Though it would be a cheaper way to keep the car for the long run rather than rebuilding the engine, he decided to not run with that thought and admitted that he is glad he did not pursue that route. And quite frankly, we're kinda glad that he didn't do it as well.
Ahmed got in touch with engine builder, Jonas from JZM Gulf in Abu Dhabi due to his extensive knowledge and experience with air-cooled Porsche engine building. After ditching the idea of doing an LS swap, Ahmed set his sights on building his engine to a 3.8-litre. With a lot of back-and-forth discussions with Jonas, they finally manage to find an excellent condition high revving engine to pursue his 3.8-litre build with the added bonus of an RS lightweight flywheel and clutch pre-installed.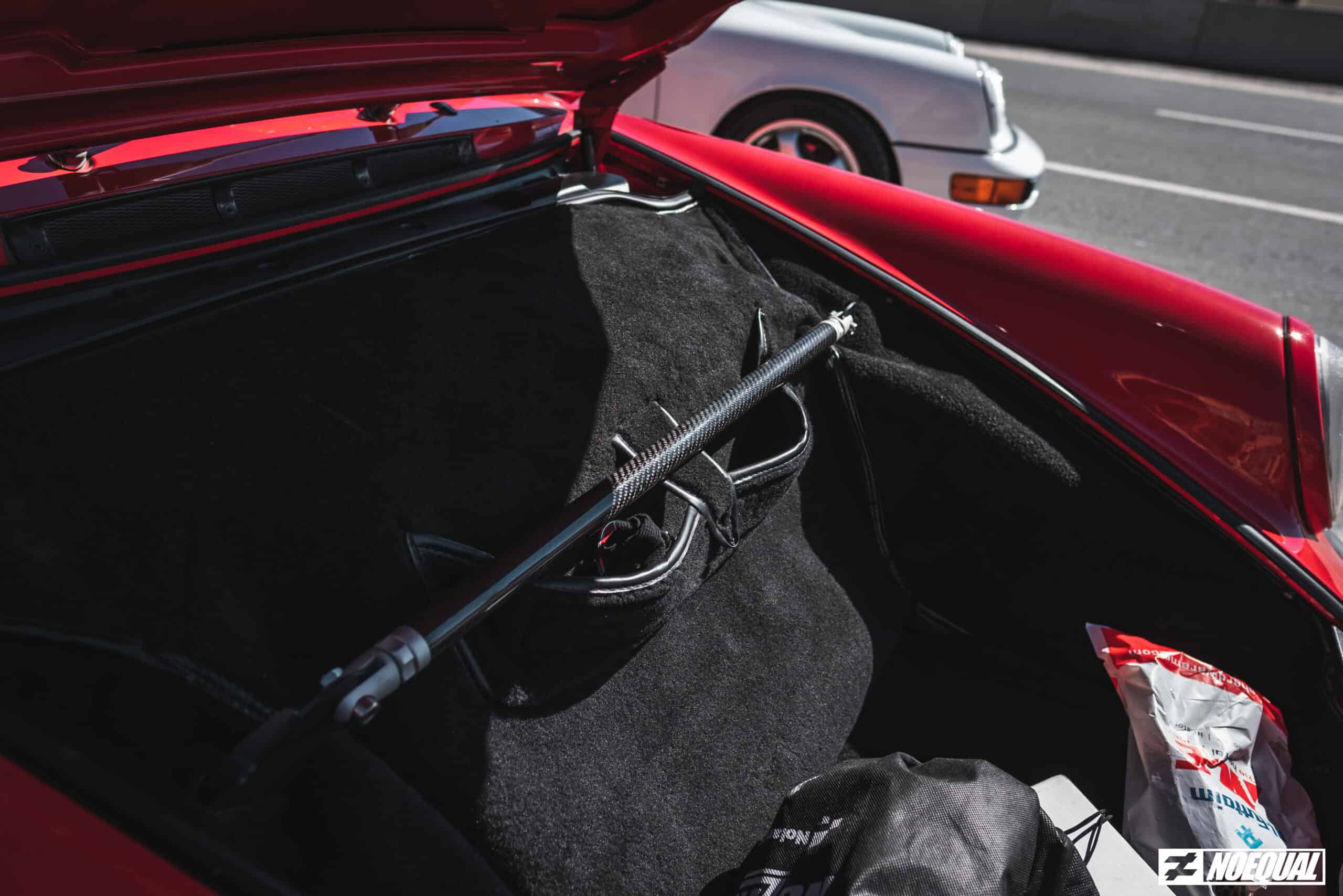 There's always room to fine tune.
With the engine now sorted, the build did not stop there. Despite most air-cooled 911s being sort after, Ahmed had much bigger plans for the car. He wanted to track the 964 like how proper 911s should be treated and he did not skim out on what matters most. The suspension. He wanted to get some of the best available and got himself a set of Öhlins' Road and Track coilovers. And truth be told, this is no garage queen as Ahmed had brought his 964 on a run around the Yas Marina Circuit in Abu Dhabi prior to this writeup.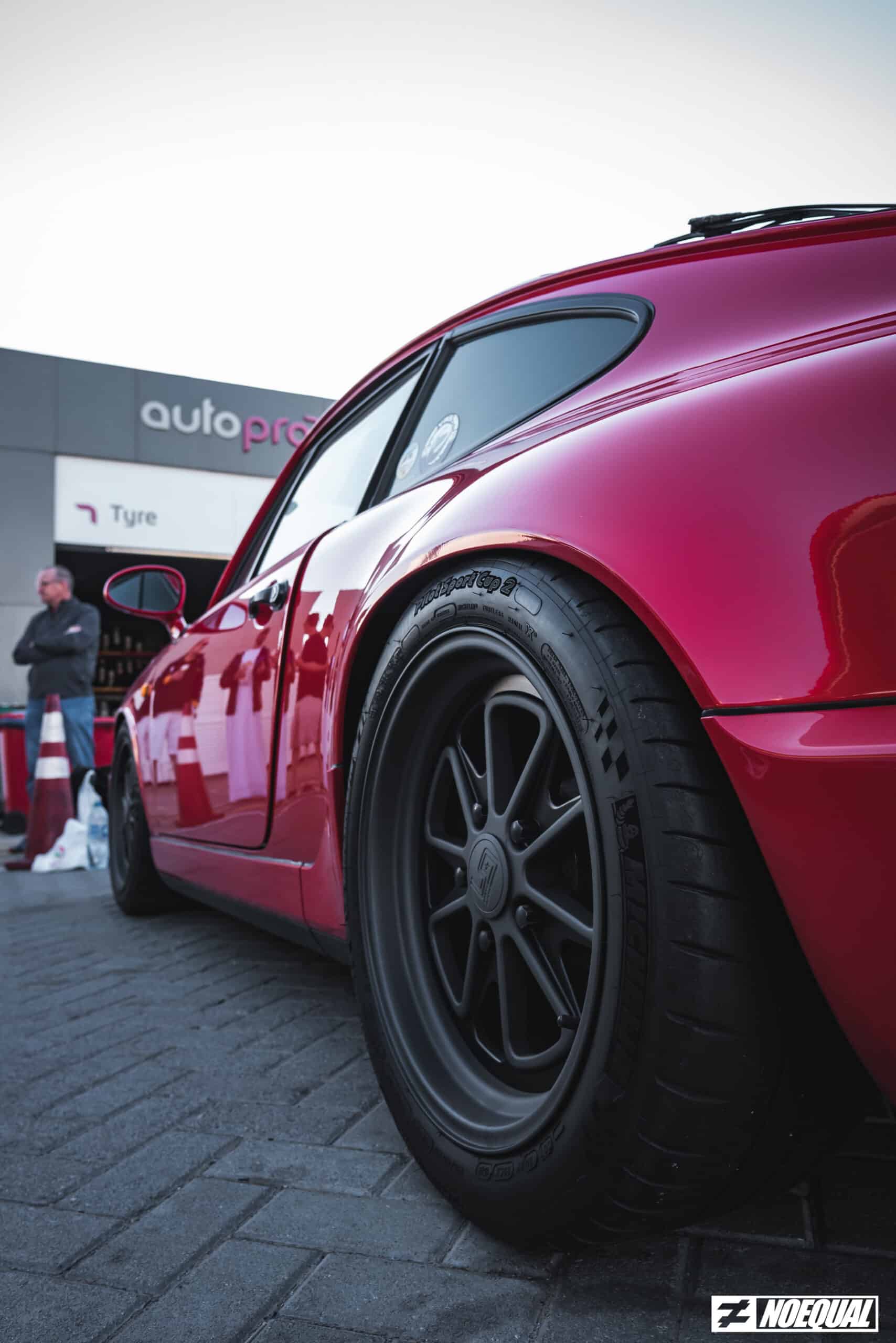 Ahmed has said that the coilovers totally transformed how the 964 handles and the feel of the car itself. Though, he did setup the car's suspension as it now follows the ride height of the 964 Carrera RS. With the car now running on black with charcoal accent Fifteen52 Outlaw 001 black with 17×8 at the front and 17×9 at the rear wrapped around a set of Michelin Pilot Sport Cup 2, it should be capable to cope with the beefed-up engine. Added to the setup as well, is a carbon fibre strut brace.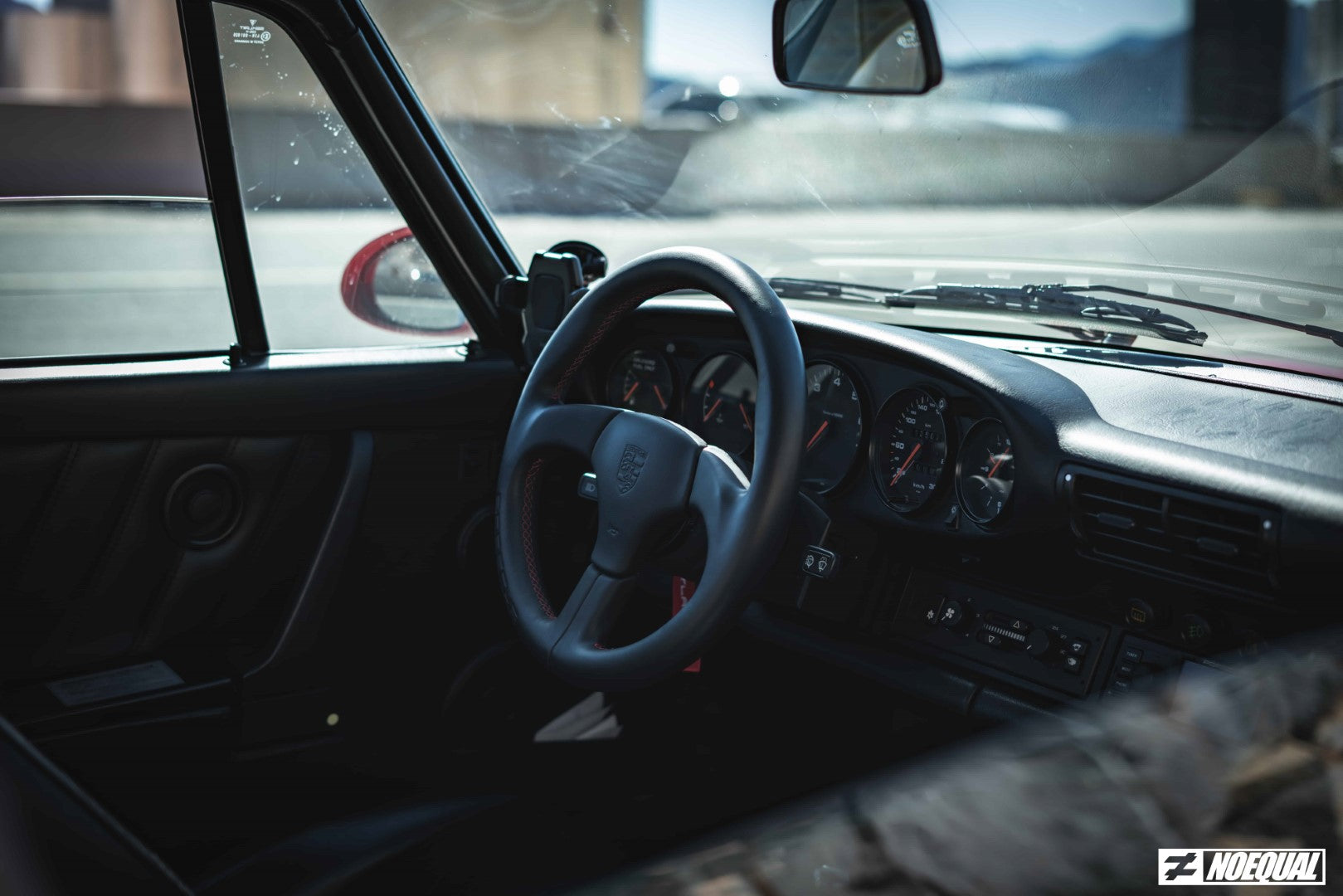 A driver-centric cockpit.
The interior was given some personalised touches by Ahmed himself. The full-black interior was given a splash of colour with a bit of red accents placed on the carpets and shifter housing to match the Guards Red exterior. Speaking of the shifter, Ahmed added a Rothsport short shifter for shorter throws and precise shifting coupled with a Rennline 4-piece pedal set with throttle adjustability, easing the need to heel and toe. The original 964 steering wheel was ditched in favour of a Porsche-embossed 930 steering wheel with the addition of red stitching. A rather subtle yet functional driver-centric cabin.
Priorities set straight.
The exterior was left rather untouched apart from the wheels. Though, Ahmed did add front scoops as well as an RSR front splitter to complete the 964. You can tell that the main priority of the car is to be an excellent driver's car. No doubt as it is a 911 after all. Despite that there are many ways social media shows us how you can do your 911, be it Singer, Urban Outlaw or RWB but Ahmed built his 964 his own way, passionately.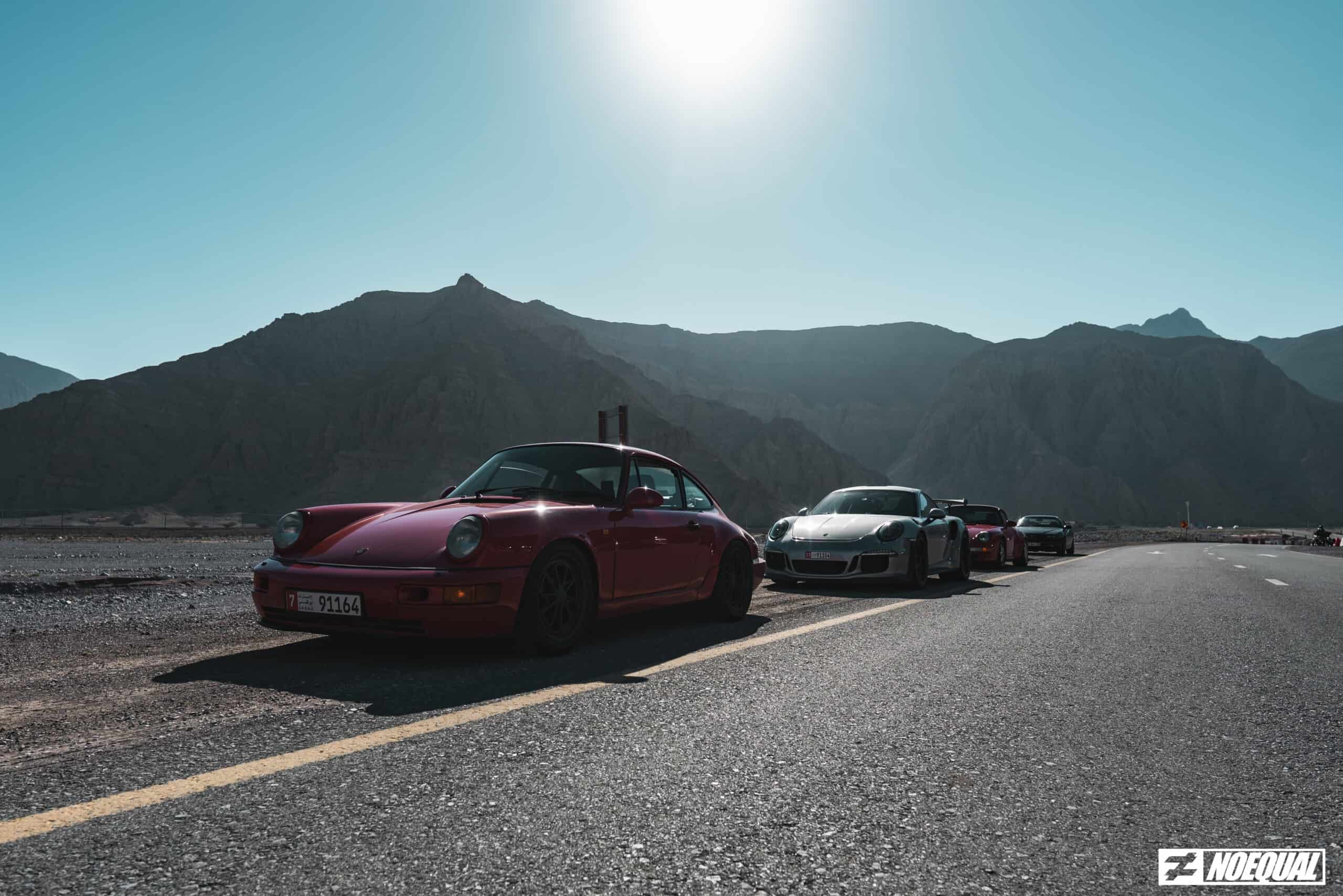 However, the build is still ongoing. Ahmed still has future plans with the 964 which includes bucket seats, larger brakes and Carrera RS carpets in order to shave off some weight. He says this wishlist is "for more fun times on the track". Now that is a man of focus, commitment and sheer will. We hope Ahmed gets to carry this project forward as it has been such a fantastic journey.
Written by | Danial Malek
Photos by | Farhan Aiman