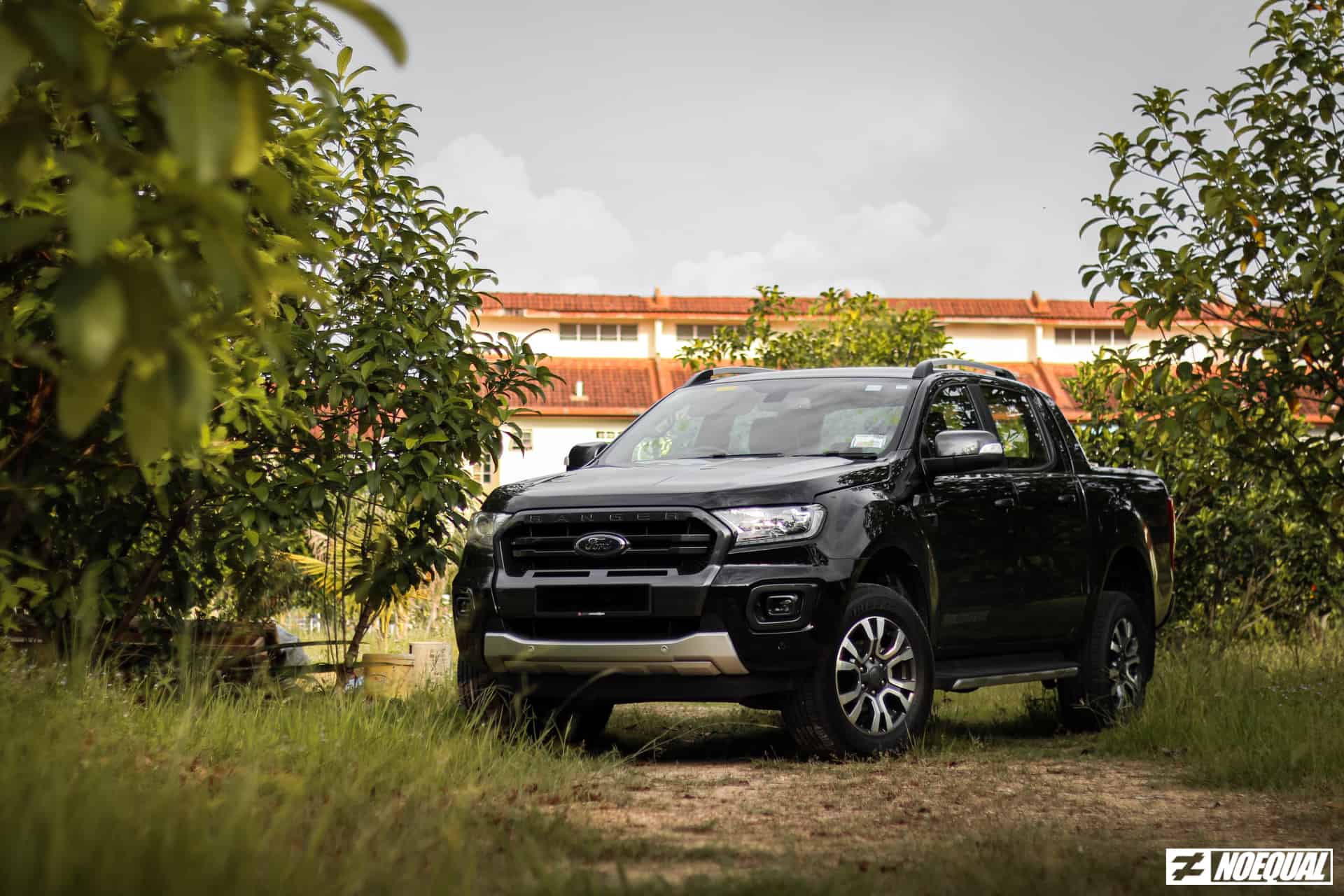 If you have a flashback to the year 2005, you would assume a person driving a pickup truck will either be a building contractor or possibly even a seller at the local market. Fast-forward 15 years later, pickup trucks much like the Ranger Wildtrak are increasingly turning into family cars and that got me asking, what is the appeal of pickup trucks that attract the general public?
Unlike the massive yeehaw trucks in the US, the Ranger is considered to be a mid-size pickup truck but that being said, it's still quite a huge vehicle considering Malaysian roads are mostly packed with tiny hatchbacks. In other words, big truck between small cars in the big city, I would barely consider "practical" to run as your daily runabout. I admit, I've always been a fan of pickup trucks but it doesn't make sense to own one, until now.
Over the recent years, the Malaysian market generally favours the crossover segment and that was made even more clear with the recent Proton X50 launch as the public immediately fell in love with it and if you think about it, most crossovers here are basically just lifted hatchbacks with front-wheel drive and fender extensions to give it rugged credentials that it doesn't deserve because it will never be able to do the rugged things as perceived. So why not just get something that is actually able to provide you with what you want? Wagons should be the right answer but the general public's perception of a wagon has been tainted as most think it looks like a hearse. Utes are a cooler option but sadly those are only for the Australian market.
The truck is better at being a car than most cars.
So, why should you even consider a pickup truck? Over the years, manufacturers have been adding tech from their regular saloons or SUVs onto this beast of burden. So naturally, trucks, much like the Ford Ranger were given new tech and nice materials that ends up making them sorta luxurious. Hence the birth of the Ranger Wildtrak.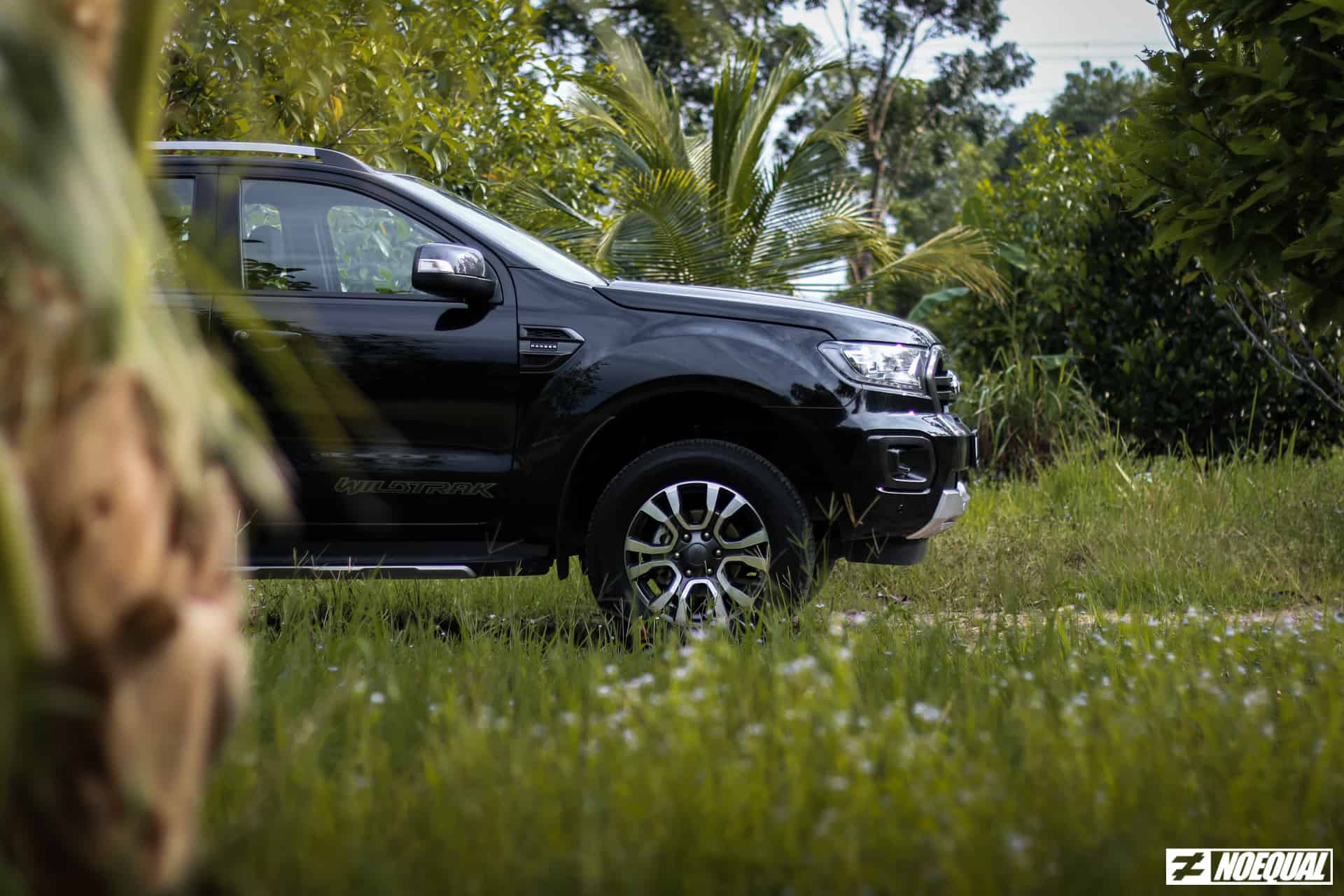 Okay. So, some leather seats and sat nav, cool, but still, why would you need something this big with 4-wheel drive if you live in the city and work at an office? That is where this Wildtrak makes sense. This is not your off-roading, trail crawling, brute of a truck. No, no, this is the truck for the masses.
This particular Ranger Wildtrak is 2-wheel drive. You might be saying "hold on, why would you ever buy a 2-wheel drive truck?" and yes it doesn't make sense but if you think about it, do you really need a 4-wheel drive? Unless you live in the more rurally areas of the country, there really isn't a need for 4-wheel drive anywhere in KL because let's be honest, most motorist would rather be in standstill traffic rather than wade through a flood that is barely ankle-deep let alone go off-roading.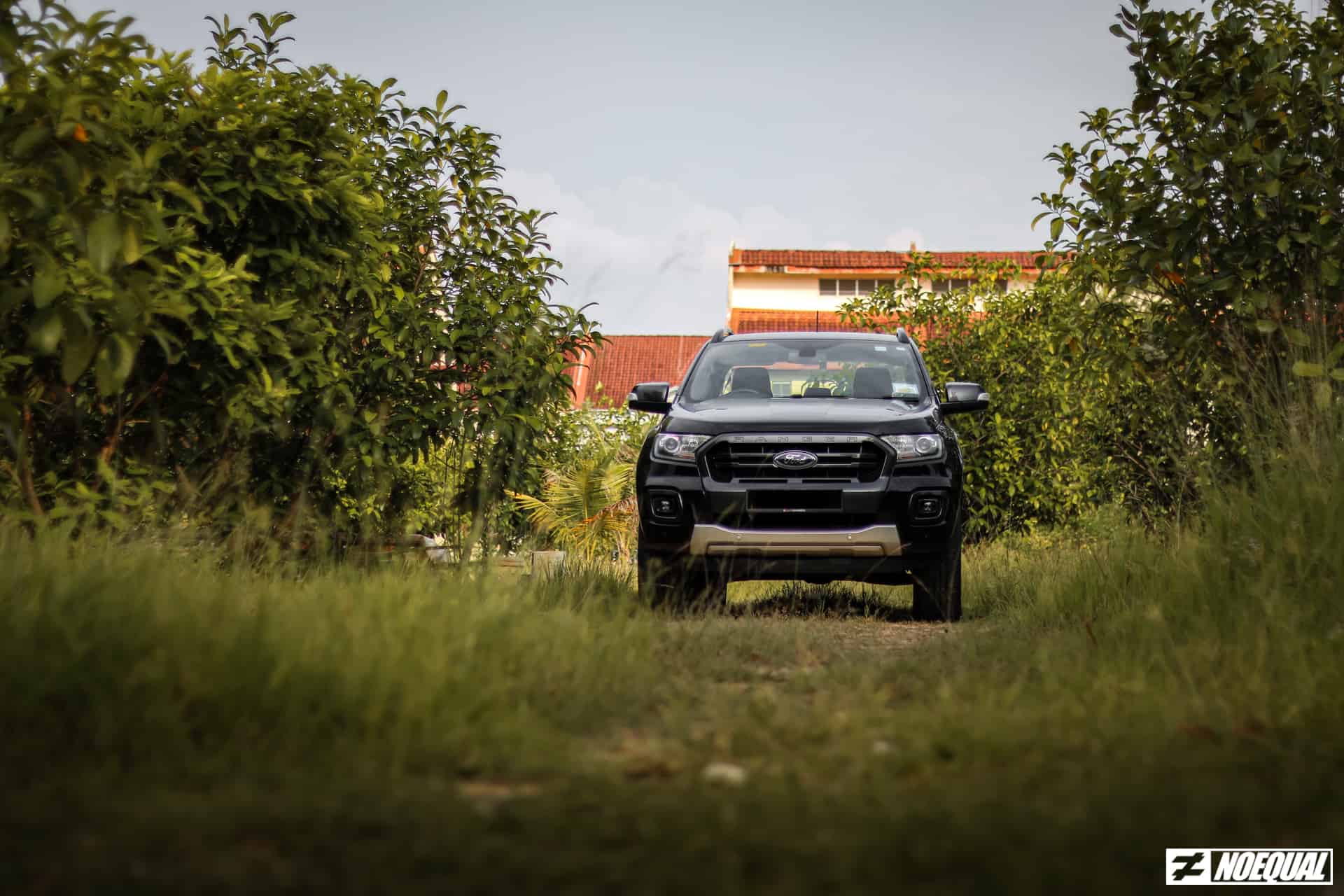 The brute force powering the beast
So, a RWD truck is starting to sound a bit more fun. Now, for the more slightly depressing side of things, this is not the 3.2-litre engine nor is it the 2.0-litre bi-turbo 210hp Raptor engine. It's the 2.0-litre single-turbo 180hp engine from the XLT+.
But again, if you're driving it around town or your family to do your weekly groceries, it should be rather adequate. 180hp at 3,500rpm with 420Nm of torque at around 1,750-2,500rpm should be enough to put a smile on your face during wet nights on empty roads if you catch my drift.
The Ranger Wildtrak does come with the same 10-speed Automatic Ford-GM R1080 gearbox shared between the Ranger Raptor and their American F-150 sibling. However, instead of the magnesium paddle shifters that you get in the Ranger Raptor, the Wildtrak only gets the SelectShift '+-' button as standard on the gear lever.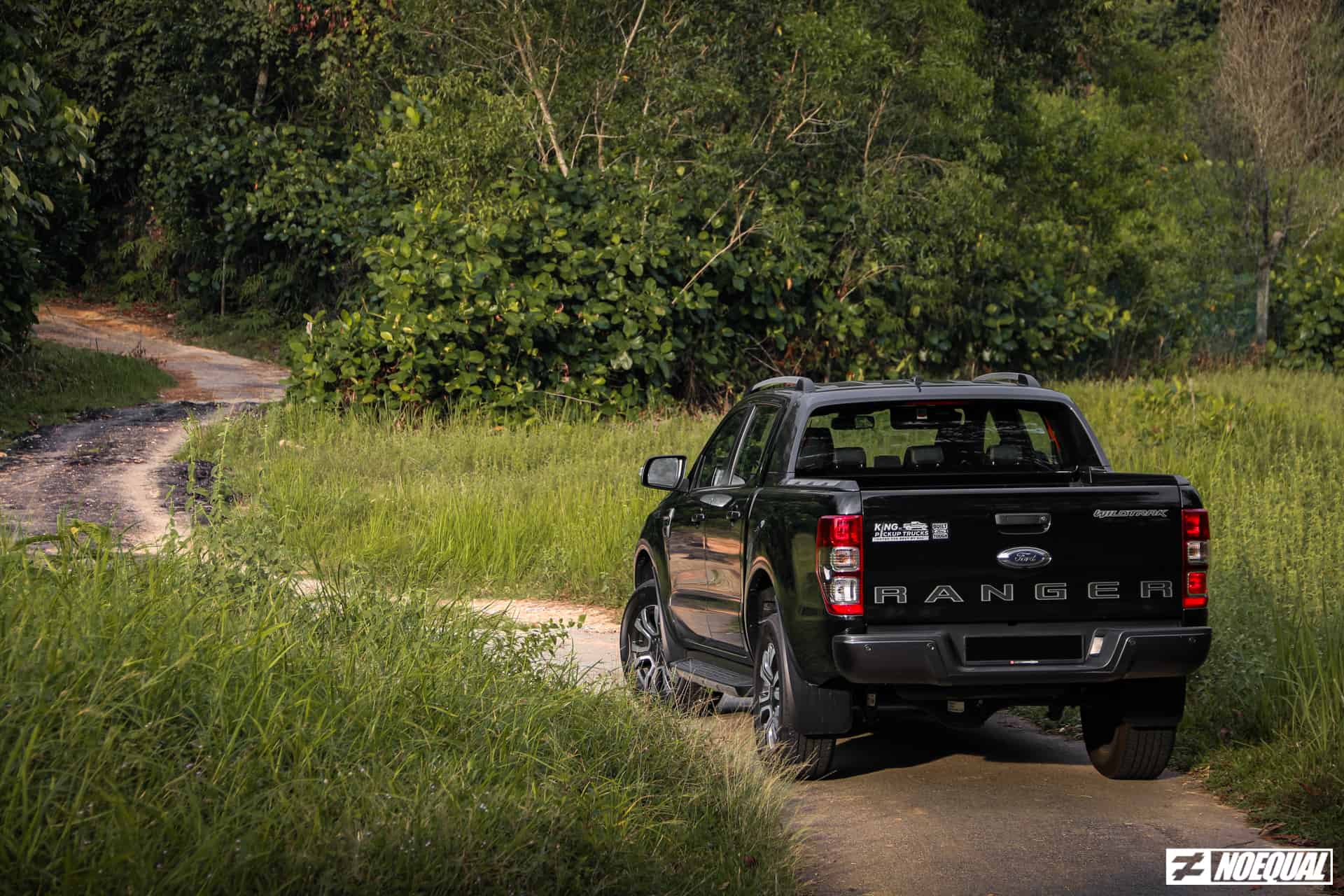 Driving a truck is not much different from a sedan
Despite being the 2.0-litre option, you do not feel the lack of grunt while driving it in town. Albeit, you do feel the weight of the 2-tonne truck whilst waiting for the turbo to spool up and kick in but it drives and shifts smoothly without having the need of putting your foot down. Highways should be a breeze as these trucks could cruise comfortably at speed limits and the fun part is most cars will get out of your way if you're behind them in the Wildtrak.
After getting acclimatised to the height, weight and size of the truck, it just feels like driving any other saloon, especially with the help of Ford's Electronic Power Assisted Steering (EPAS). Although, it feels rather weightless but it makes the pickup easy to manoeuvre. The turning radius is excellent considering how long it is. With the cabin being heavily sound insulated, you will barely hear a thing from under the hood. And boy, oh boy, is that a wonderful cabin to be in.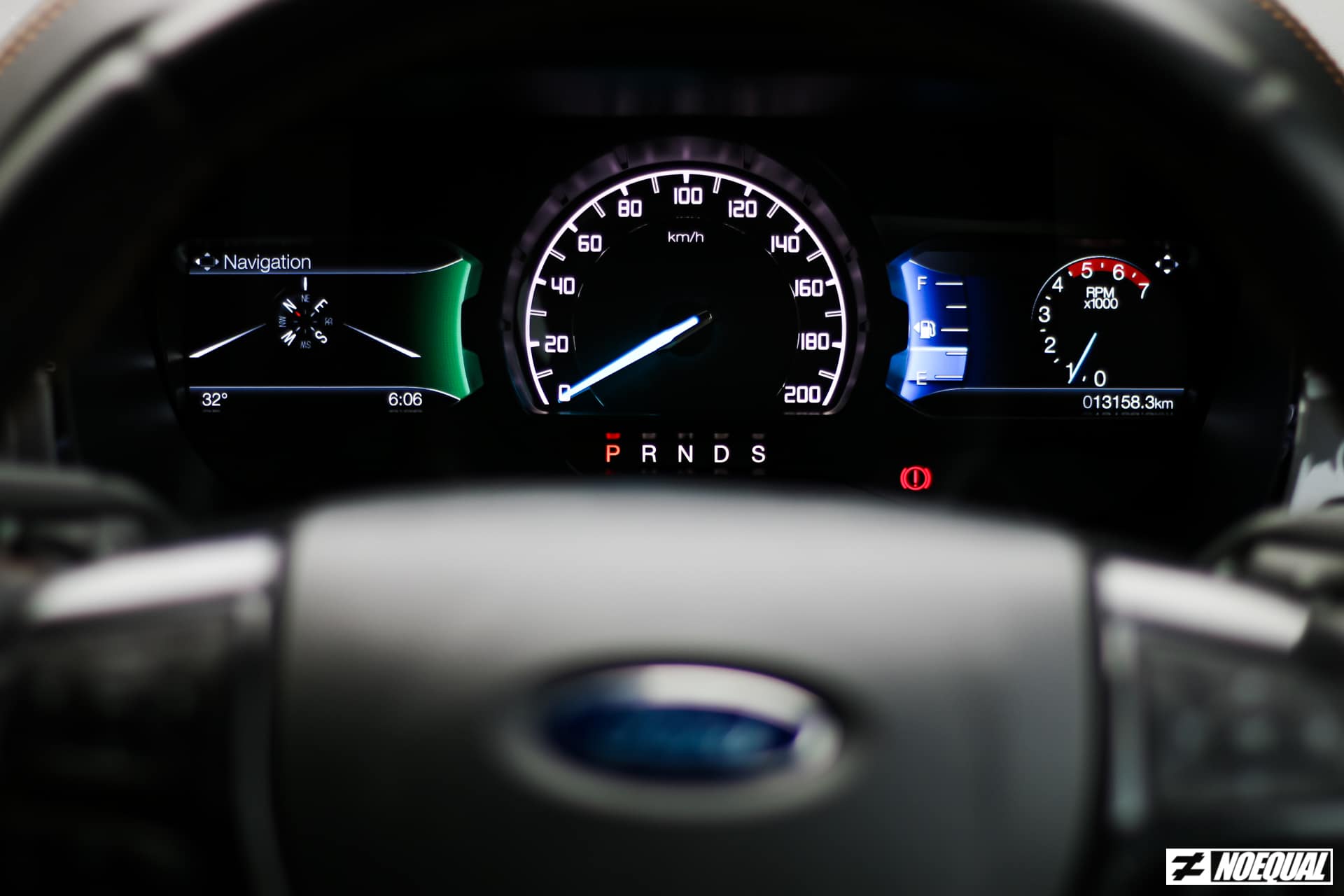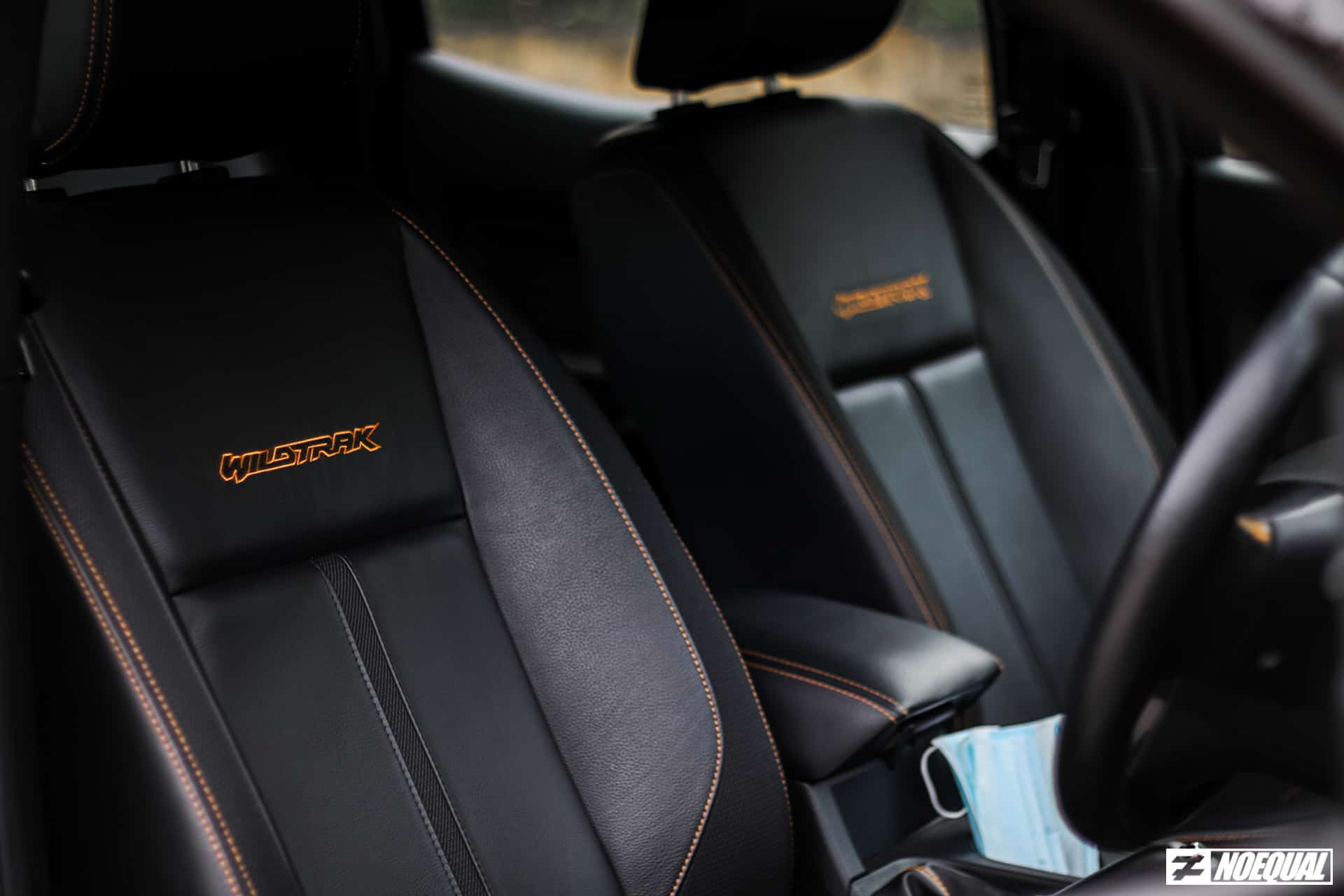 Into the belly of the beast
Don't expect Rolls-Royce quality but we're talking about a pickup truck here and this one has a soft touch dashboard with contrast stitching. The cabin feels a lot nicer than most cars at that price point. You get an 8" touchscreen display with Apple CarPlay and Android Auto as standard. As well as 2 USB ports and automatic dual zone climate control.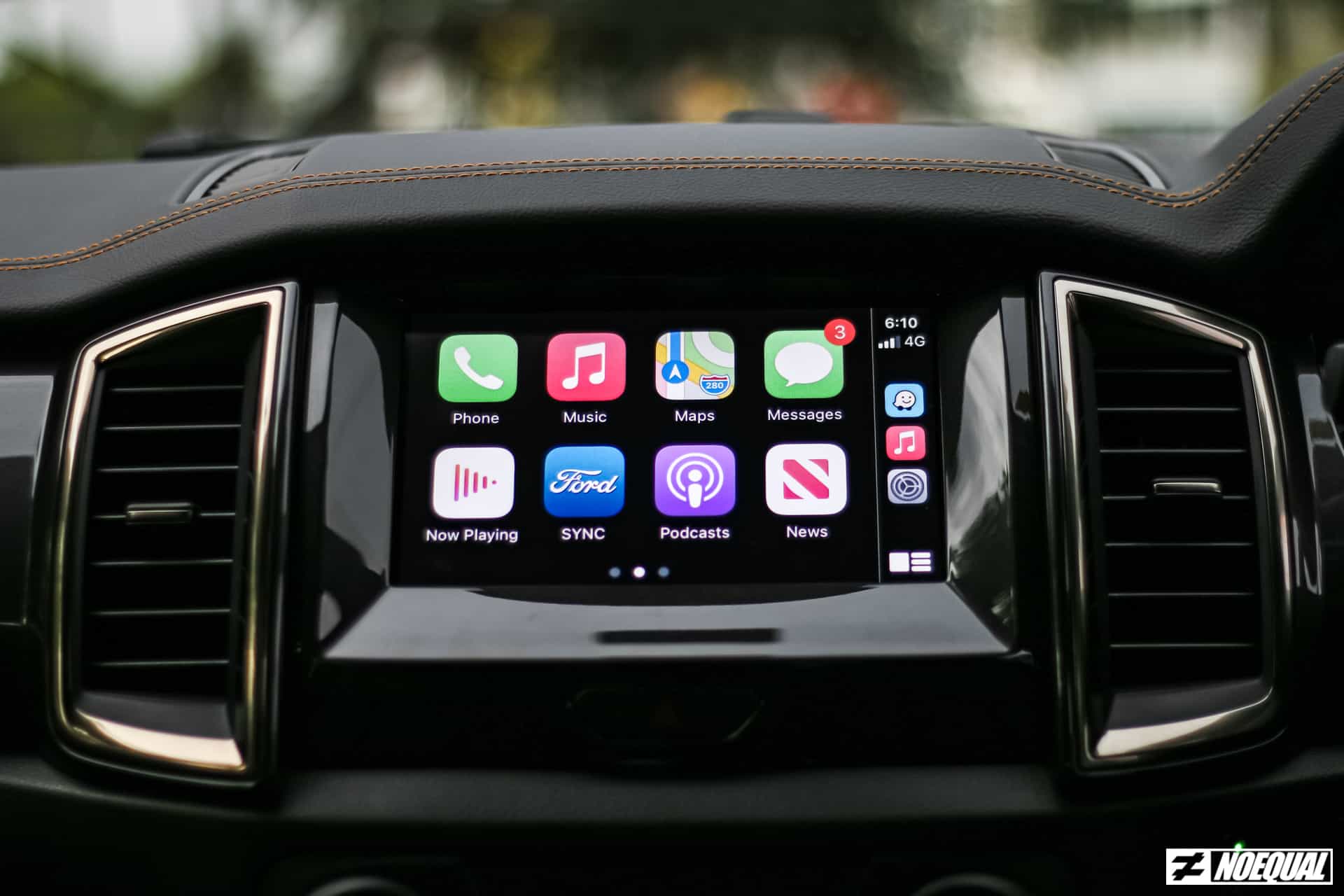 Electric seat feature only comes on the driver's side but both front seats has "Wildtrak" embroidered onto the leather and there are "Wildtrak" badging on the dashboard and carpets which is a nice touch to remind you that you got yourself something nice. Rear seats are leather seats as well and they are not too upright, meaning long distance trips should be rather fine. If you want interior storage apart from the center console and glovebox, there are two compartments under the rear seats.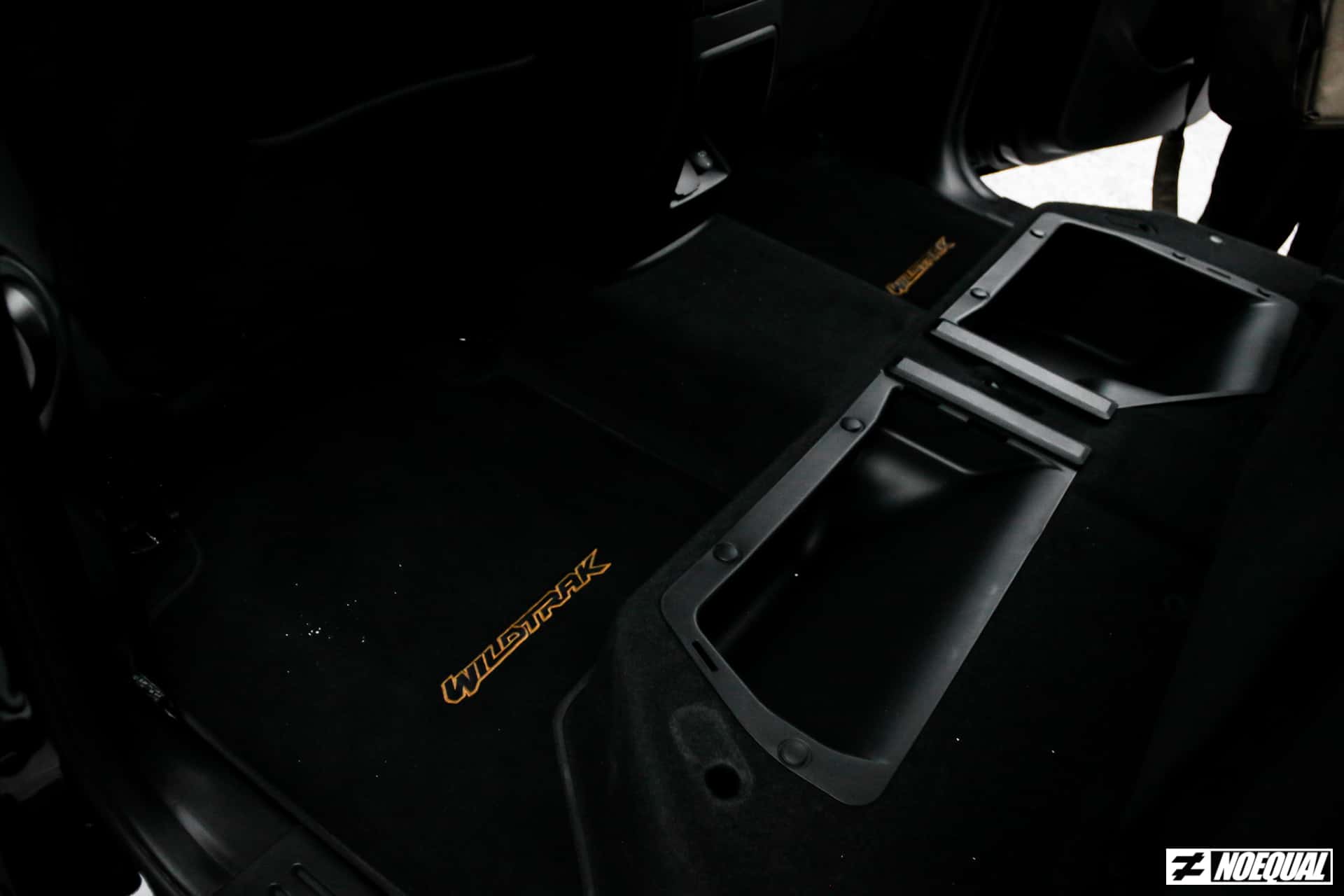 Where it matters most, the exterior.
The Ranger Wildtrak is a very good-looking truck overall. Although the bigger Ranger Raptor brother has much more muscle and Fox Racing suspension, the Wildtrak has a subtler approach. The rear uses leafsprings but even without weight, comfort was not compromised. The bed can accommodate 1,120kg worth of payload and if you intend on using it for towing, you are able to tow up to 3,500kg externally. The rear bed sports bar is a nice touch to give the Wildtrak some sporty credentials.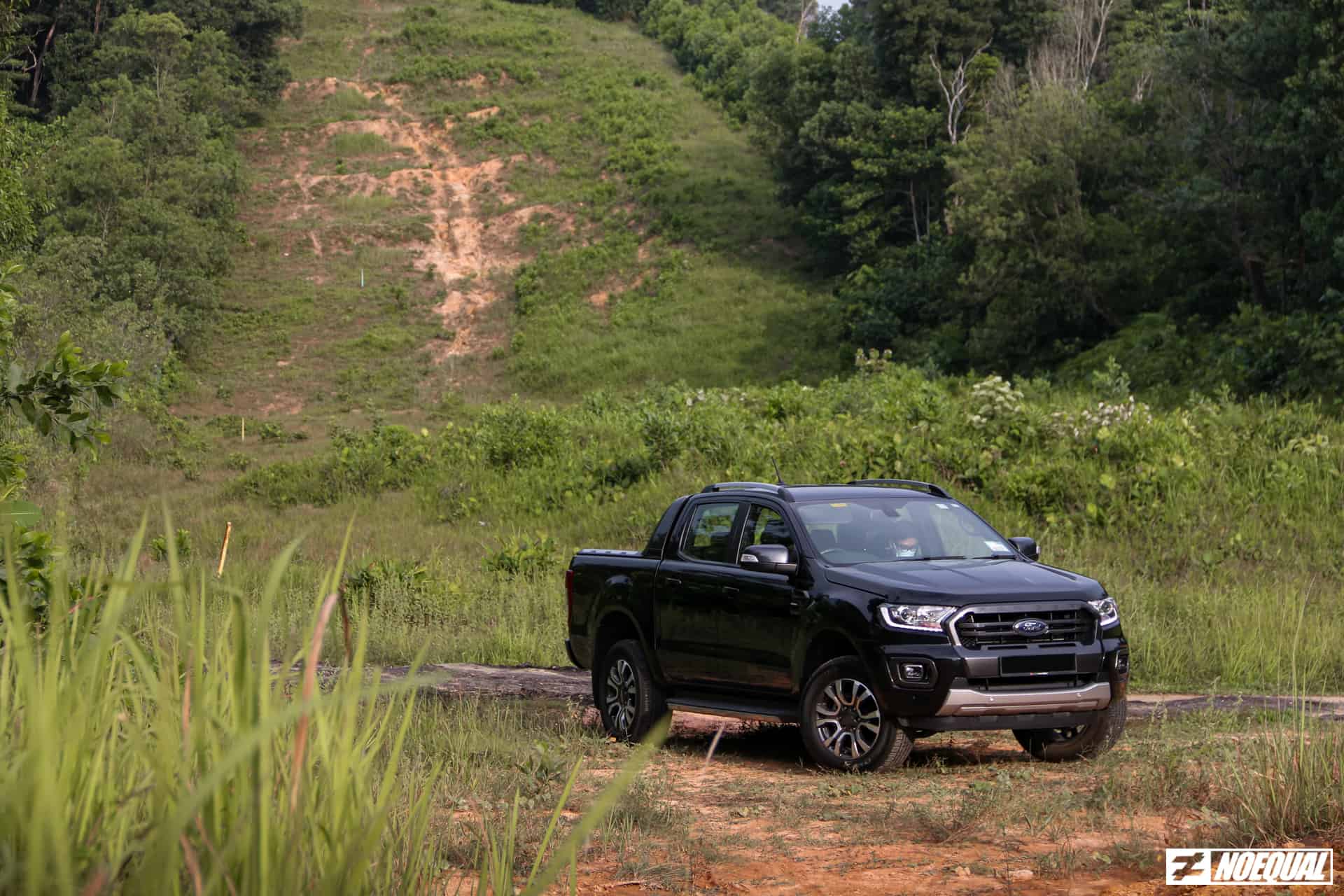 It comes with useful features on the outside too with automatic HID projector headlamps and LED daytime running lights. The tailgate has an easylift feature which, with a lift of a finger, can latch the tailgate back into place. LED foglamps are also an upgrade from the XLT+ variant. Roof rails are standard on the Wildtrak just in case you want to install a roofbox or carry bicycles for the weekend.
Speaking of weekends, the Wildtrak would make a very useful camping vehicle. A lockable rear electronic differential will help you pave through your path with front and rear parking sensors helping you with sensing larger challenges. Ford installed puddle lamps on the wing mirrors for added convenience. A three-pin plug socket is available on the center console to charge your lighting equipment or electronic devices during your trip. If that isn't enough, three 12V socket is available with 2 being in the cabin and one being in the cargo bed. And in case you get lost, the infotainment has navigation too.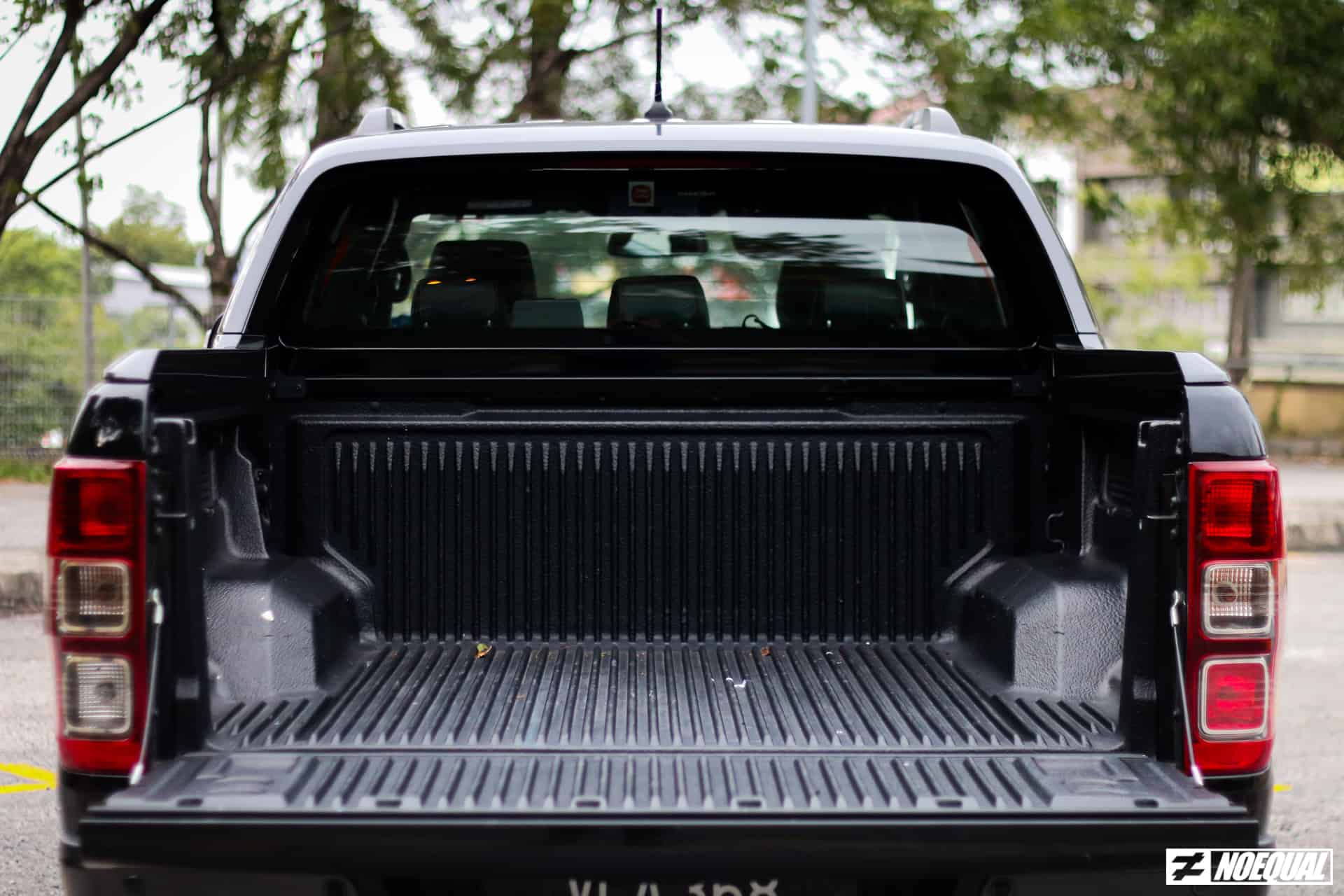 Safety is a big factor with trucks. What about the Wildtrak?
Once you're out of the woods with your family and friends, rest assured you're travelling back in safe hands. The Ranger was the first pickup truck awarded with a 5-star Euro NCAP safety rating back in 2012. 6 airbags, childproof rear door locks and ISOFIX child-seat mounts are standard if you're wondering. See, it's very safe for kids!
Should you get this over a crossover or saloon?
Definitely yes. At RM134,888 (OTR without roadtax and insurance), it ticks a lot of boxes and it's about RM70,000 cheaper than the Raptor which is a bit unnecessary (although I do like it a lot). The Ranger has proven safety ratings with a nice cabin and a large truck bed. Though, investing in a truck bed cover in order to not create drag or get you items stolen when parked might be a smart idea. Other than that, the Wildtrak averaged about 10.6L/100km of diesel, which is relatively good for a pickup truck. In conclusion, this tame off-roader is appropriate for those families who live in the city with an active lifestyle or if you need to collect your overnight parts from Japan for your project car.
Written by | Danial Malek