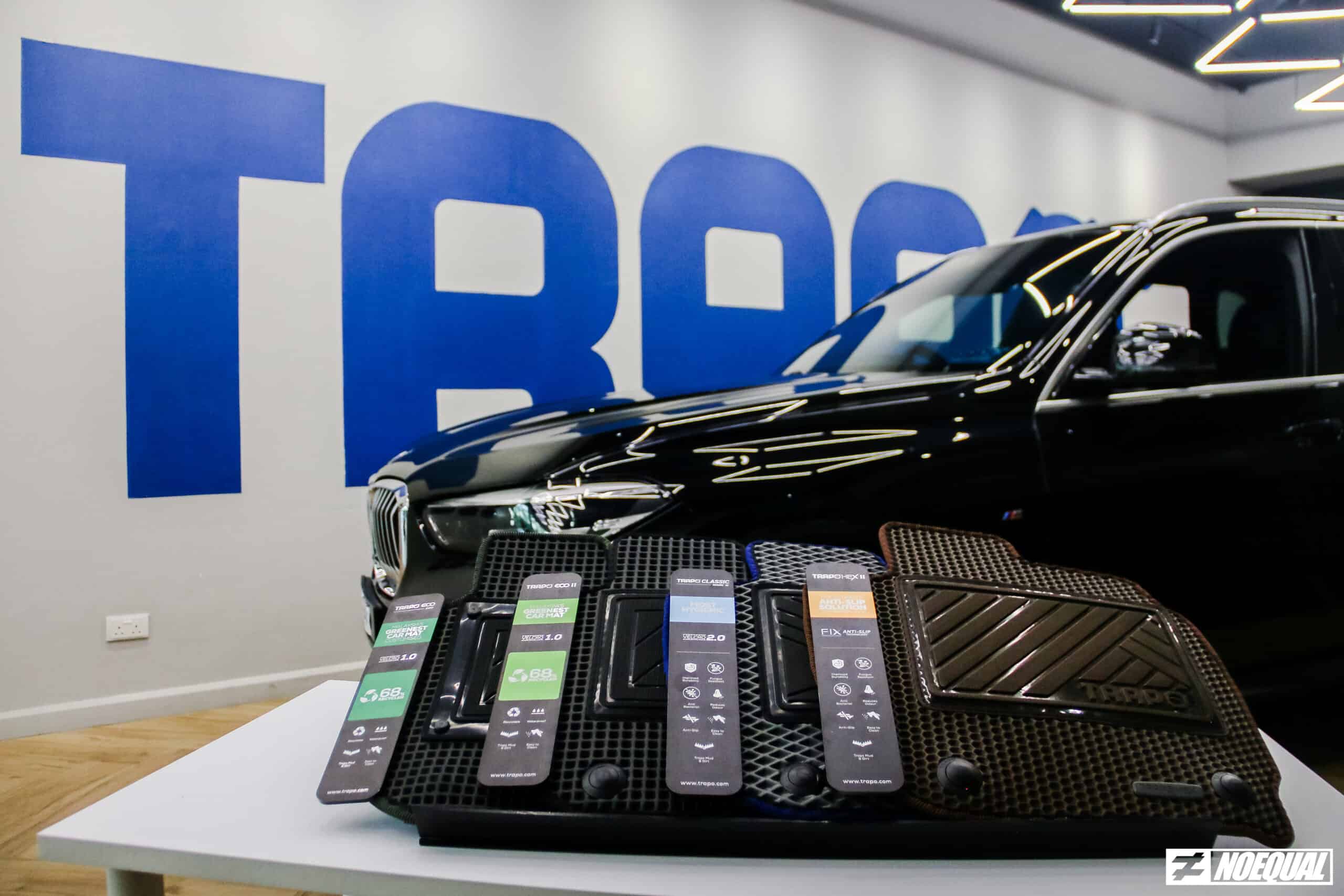 Ever since the first Movement Control Order (MCO) back in March 2020, new product launches and events have been put on hold while some went online via Facebook live and such as they were the only means of connecting consumers to brands. It's a breath of fresh air when we got to know that Trapo was officially launching their new line of car mats at their Glenmarie Hub.
While car mats may not be the most interesting product to talk about, they are often overlooked as something important in your car. Most new cars nowadays do come with mats that will trap any form of dirt from your shoes however, these are also the same mats that will trap dirt even when you're trying to remove them. And let's not even start about trapping water.
That is where Trapo can help you out. They have simplified the whole car mat game by eliminating the coil mats altogether. By doing this, car mats are easier to clean, dry and install. They are also lighter in weight, more durable against wear and are also made with killing bacteria in mind. Rather fitting in this day and age where face masks and hand sanitisers are sold by the millions.
The Next Generation of Car Mats
Trapo has launched the successors to their current line-up of car mats with the Eco II, Classic III and the Hex II. Improvements have been made on the material itself with their whole range being great at trapping dirt & other debris, they're recyclable, waterproof and easy to clean. The car mats have addressed many of the issues that people faced with regular coil car mats that come with the car.
Despite having quite a lot of cons, there are many car mats out there that are PVC-based with coils that actually may do more harm overtime such as moving around and getting stuck behind the pedal. However, there is now a solution for these problems with Trapo. No longer will you get worn patches overtime as they are more durable than the PVC mats nor will sand and dirt tend to get stuck within the coils or be a hassle to remove as Trapo mats are easy to clean and will dry in just 10 minutes. 
Safety, hygiene and comfort are the main concerns of Trapo. Their manufacturing methods also make Trapo one of greenest and environmentally-friendly options on the market. The toxic-free and odourless materials are made from high quality foam, a combination of 20% recycled waste material and 80% raw material. With this, you also get rid of the unappealing PVC smell that regular car mats have.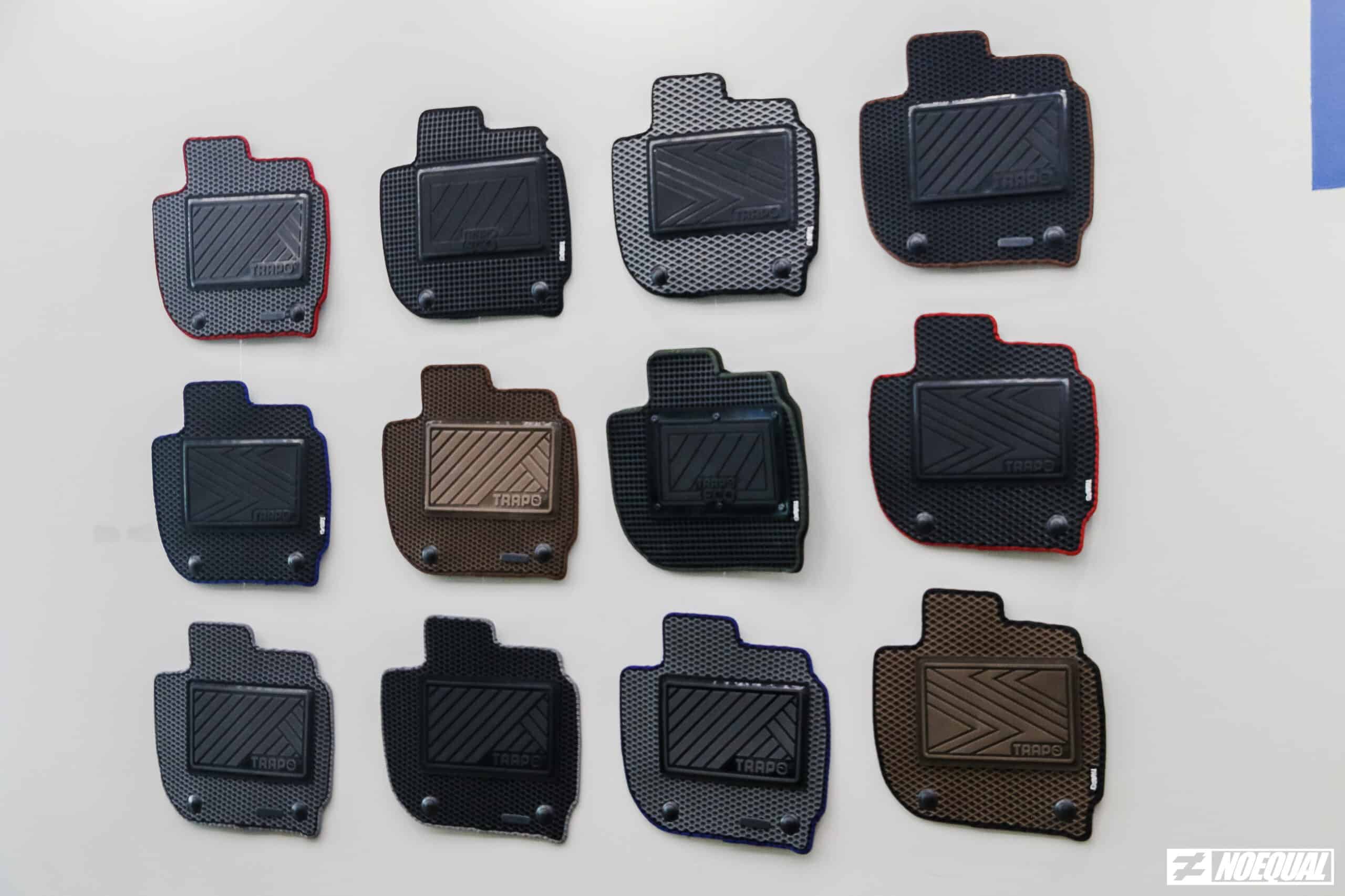 What's New On Trapo's Car Mats
Trapo's whole range of mats now comes with recycled PET (or Polyethylene terephthalate) plastic or simply RPET lining. PET is one of the most common plastics in the world that is used for plastic bottles. For each set of Trapo standard sized car mats, Trapo uses around 12 recycled 500ml plastic bottles to create the lining. With five coloured linings to choose from, you are able to choose whether you'd want a vibrant interior or something much more subtle.
The flexible padding is a removable padding that is installed on the car mat thanks to new Trapo eyelets. It is placed on the driver mat to reduce wear on the mats. However, the flexible padding was not removable on the original Trapo mats. The area of the new and improved padding is also larger as compared to the predecessor. The area is now 20.5cm x 29.5/31.5cm against the previous 19.5cm x 30.5cm and now with finger-operated clips to hold it in place. The padding is also now offered in grey or brown.
Trapo adopts their patented technology into their mats with the 'Bactekiller' which eliminates 99.9% of bacteria and also solved the issue of slipping mats with their 'FIX' premium anti-slipping solution in which the whole mat grips the carpet instead of small velcro patches. However, not all Trapo mats come with the Bactekiller and FIX anti-slip solution.
Trapo Eco II
The Eco II is a dual layer mat with 4mm on the top layer and 4.5mm on the bottom. The RPET lining now comes with a new optional 'Dark Green' colour other than black. The flexible padding is also included on the Eco II. Trapo Eco, as the name suggests, is our most eco-friendly product to date. Made almost entirely from recycled materials, Trapo put manufacturing wastage to greater use. Since it is made from recycled material, Trapo Eco is the most affordable car mat in the range.
Trapo Classic Mark III
The Classic Mark III is 2-times more durable than the previous Classic Mark II. The RPET lining is offered in five colours while the mat itself is offered in 3 colours. The Classic Mark III is developed with a deodorizing mechanism. Through years of development and research of the Bactekiller, Trapo classic car mats now infused active bacteria-killing agents.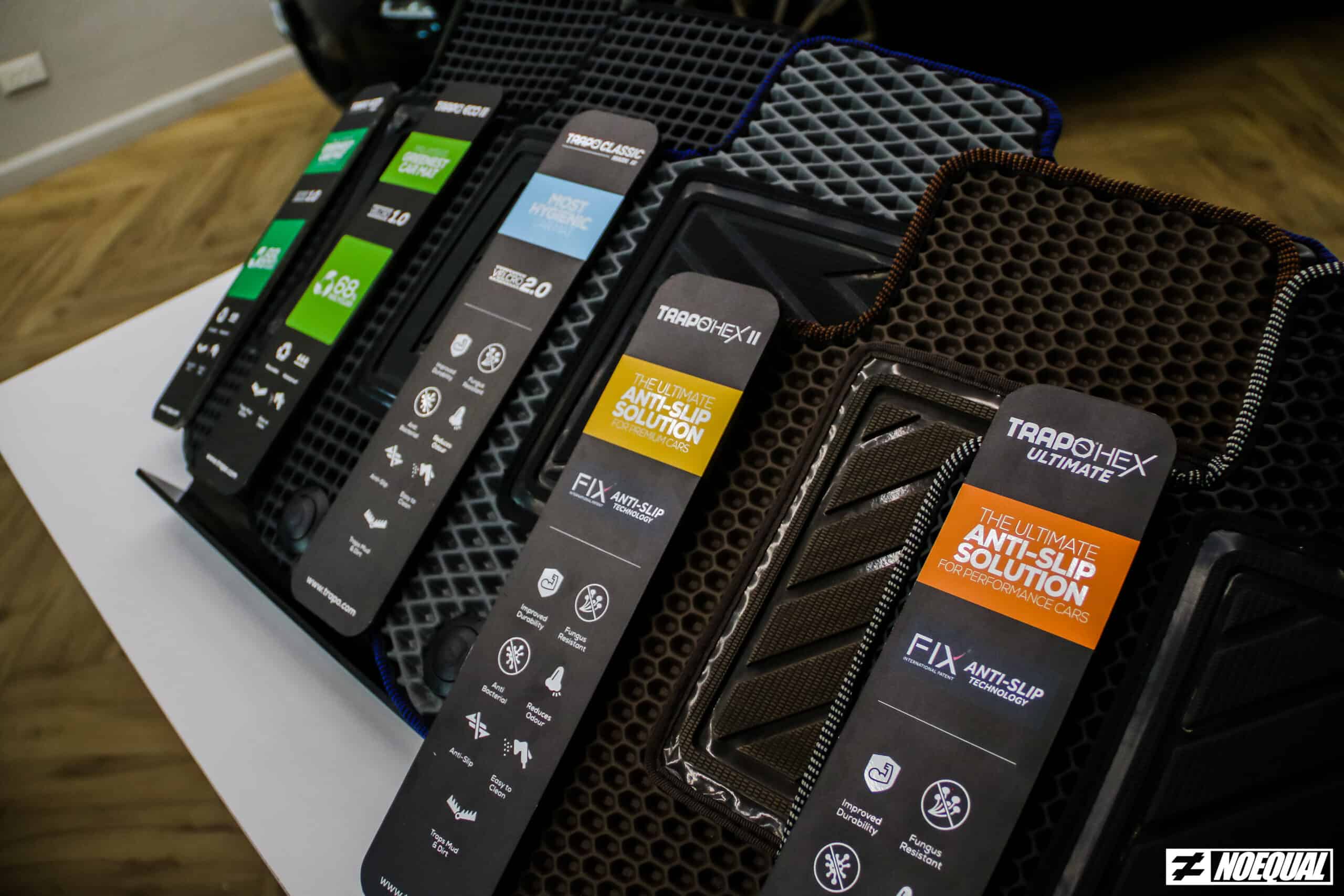 Trapo Hex II
The Trapo Hex II is the thickest offering from the Trapo car mat lineup with 10x better durability than the original Hex. With the Hex II being 2x heavier than the original Hex, Trapo has also increased the hardness of the material. That being said, it also comes with the deodorizing mechanism and the Bacterkiller. The Trapo Hex II stands as the top-of-the-range Trapo car mats. A blend of design and functionality, the Hex II includes Trapo's superior anti-slip solution thanks to their patented 'FIX' technology.
Introducing The Revamped Hex Plate
On the original Trapo Hex car mats, Trapo included a precision laser-cut metal plate with 'Trapo Hex' engraving to complete the premium package. However, Trapo is staying true to its roots with an environmentally-friendly alternative.
Trapo Car Mats are made with being environmentally-friendly in mind. The production of the car mats are heavily based on materials such as recycled foam and recycled plastic. This production method inspired Trapo to revamp the Hex plate by using a mixture of 50% polypropylene plastic (PP) and 50% rice husk instead of metal.
If you're interested in getting your hands on some Trapo car mats, do use our discount code 'NOEQUAL10' on all of Trapo's online sales channels. Per customer is entitled to a 10% discount on all products sold by Trapo. But hurry as the discount is only limited to 1000 customers. Terms and conditions apply.
Where Can I Find Trapo Mats For My Car?
Glenmarie

Mid Valley

Cheras Maluri

Desa Park City

Melaka
Listed above are Trapo's physical stores. However, to encourage social distancing, you can also find Trapo on Facebook, Google, Shopee, Lazada or directly from their website here.