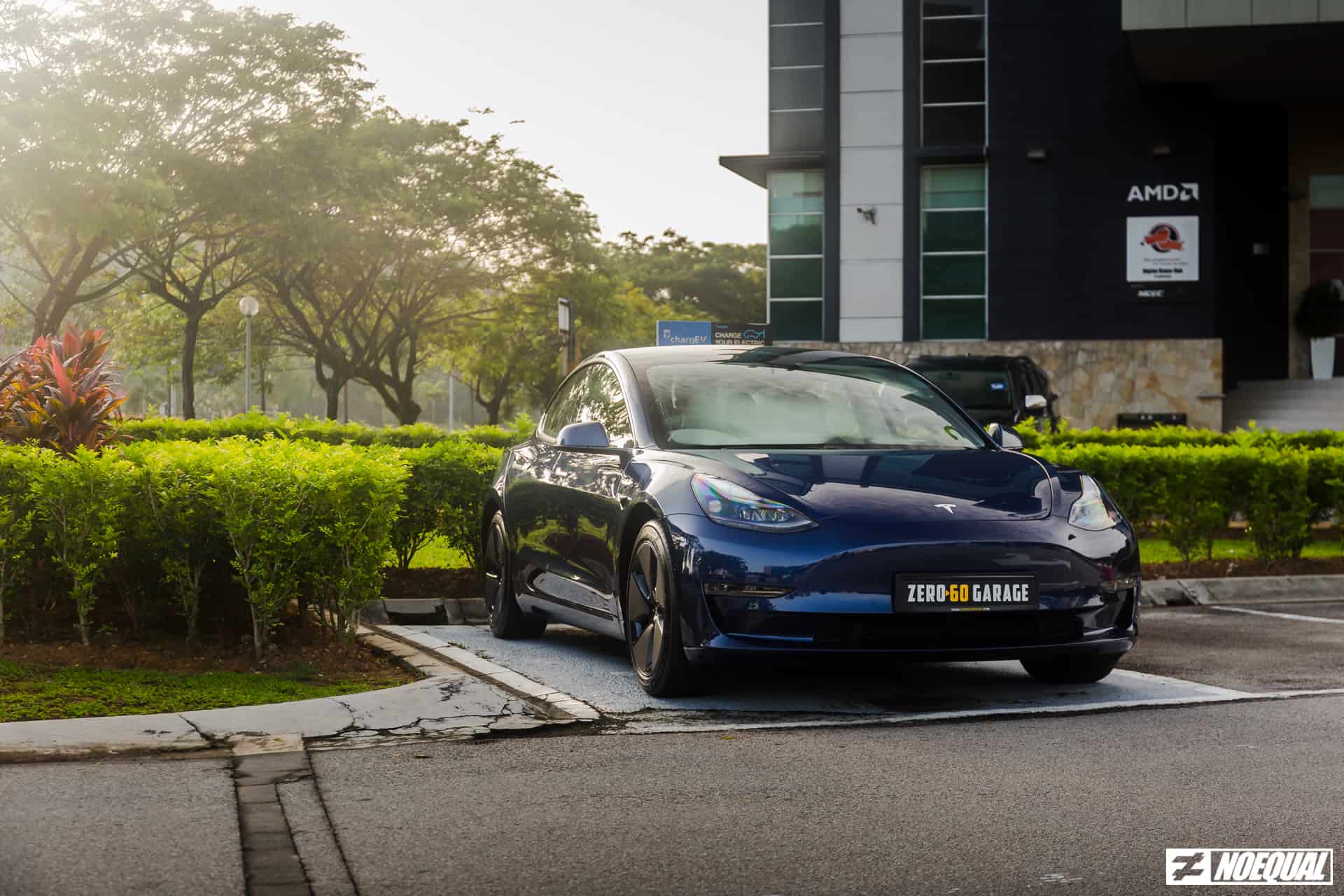 We are often criticised for being hypocrites with our #LayanEverything culture. More often than not, we tend to focus on what people like the most, which usually happens to be Japanese cars. But let's be honest because JDMs in Malaysia are arguably some of the best around and day-by-day we find some hidden gems. That being said, Porsches are also something that we adore religiously. We love them so much that we dedicated a whole week to just celebrate the existence of the Porsche 911.
However, ever since I joined the NoEqual.co team just more than a year ago, I wanted to embrace the culture even more to the extent of that I wanted to #LayanEVerything instead because we have never really gotten a chance to check out an electric vehicle. When I was asked what I'd actually wanted to review, I just told everyone I'd like to have a go at an EV. While it may be confusing to some why I'd rather have a go at an EV instead of JDMs and Porsches, I personally think we need to embrace the future rather than ignore it.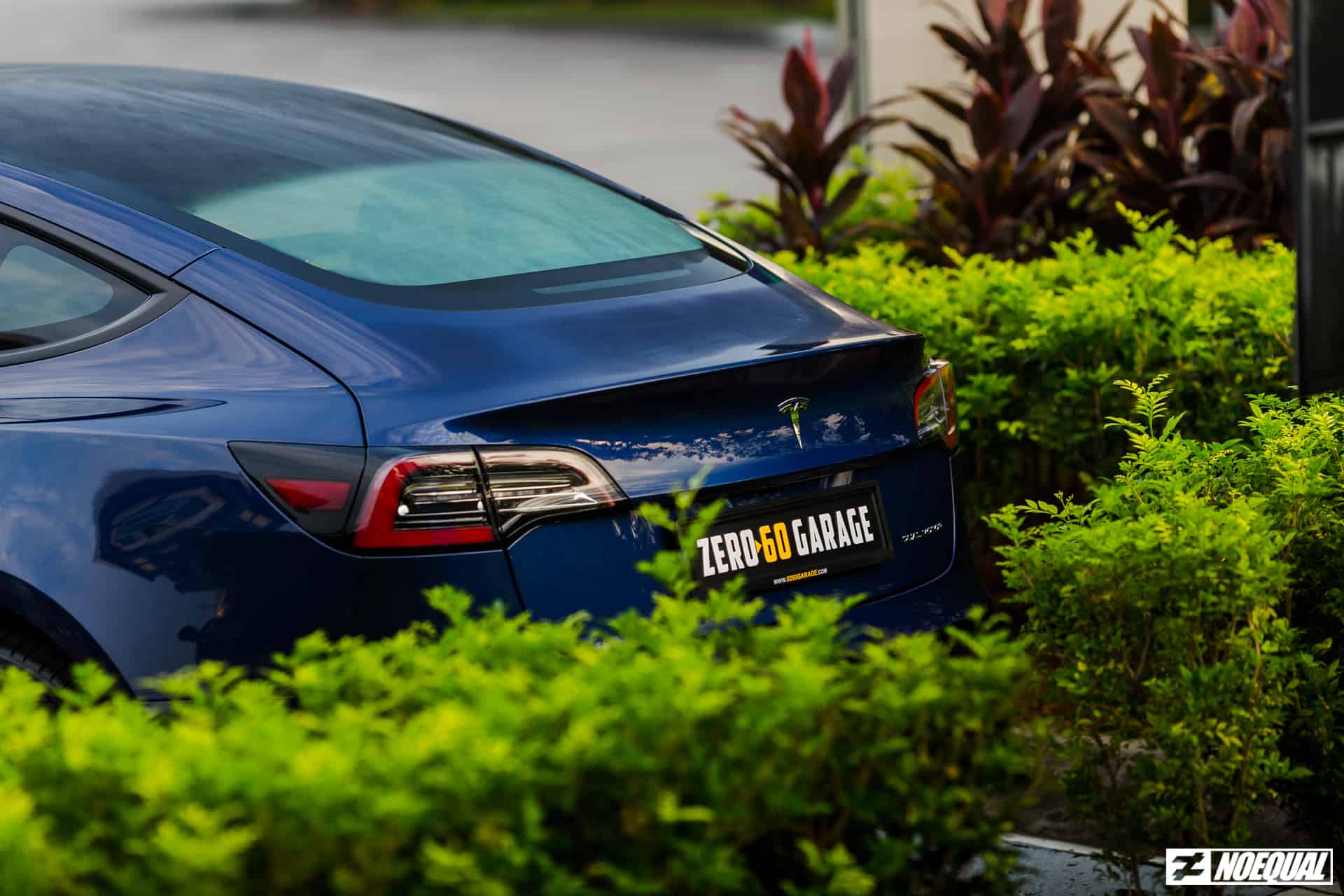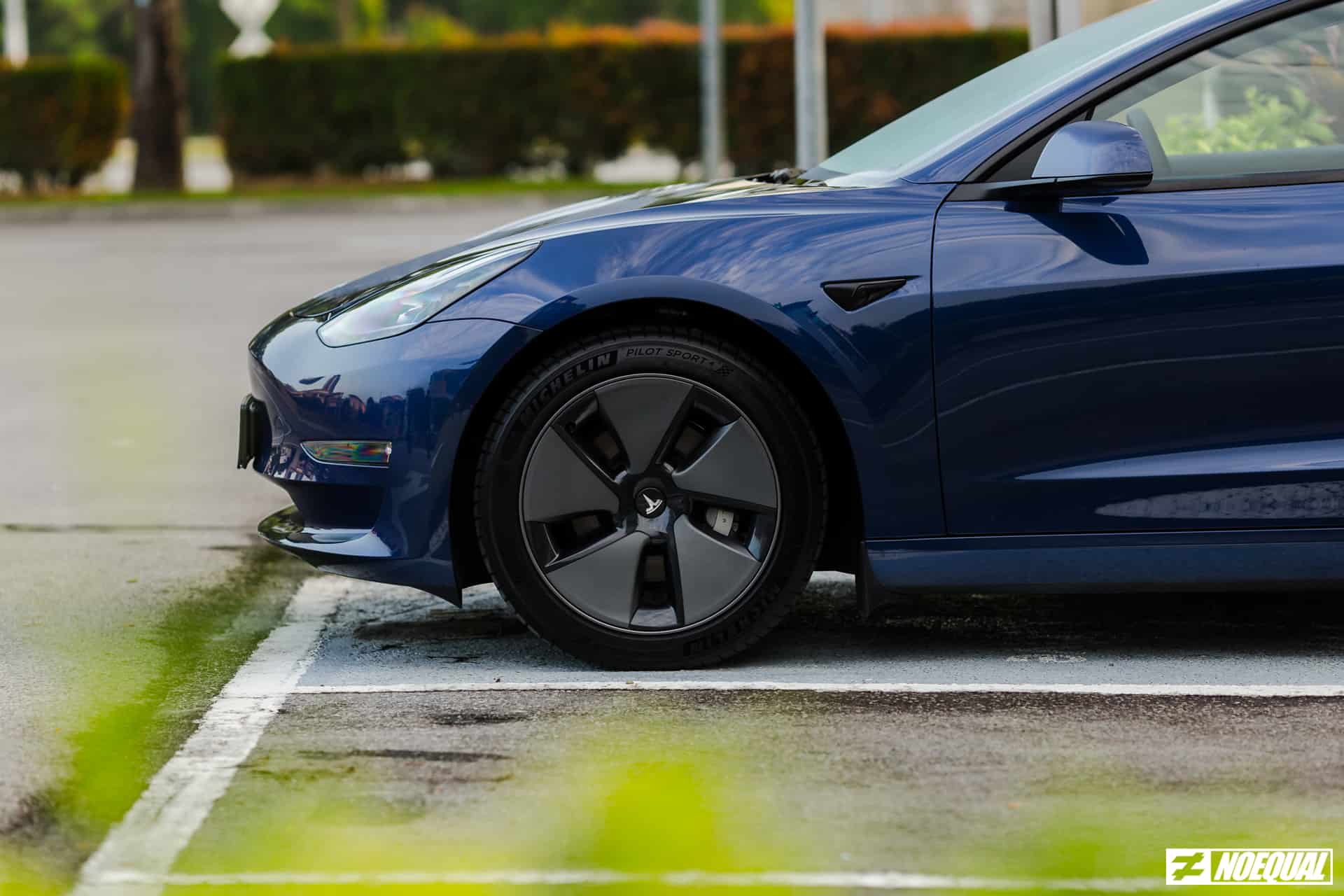 While the EV infrastructure in Malaysia is still rather weak, I really wanted to know if it was feasible. So, I got in touch with Zero to Sixty Garage who imports Teslas into Malaysia and it just so happens that they had a Tesla Model 3 on sale and was willing to let me have a go as long as I kept the mileage low. However, trying to review a brand-new unsold Tesla was harder than I thought because I needed a location that's rather fitting for a Tesla without it being too far.
Somehow, I ended up in Cyberjaya, basically the technological hub of Malaysia. If you think about it, Cyberjaya is just like a heavily-discounted version of Silicon Valley. And to my surprise, there is actually an abundance of charging locations scattered around Cyberjaya. While my video review is actually more focused on the fun part of the Tesla while trying to answer absurd questions, this writeup will be more in-depth focusing on the car and lifestyle itself.
First Impressions
What I tested was a blue 2021 Tesla Model 3 Long Range, the mid-range spec of the three available variants. Even though I've always wanted to try a Tesla out, I've never actually been that fond of how it looks. Personally, I think the design is rather mundane and a bit too simple. However, Tesla does adopt a very minimalistic approach on cars. Tesla is a bit like IKEA in that sense where everything is designed to serve its purpose.
But I personally think that's why Tesla is appealing to a lot of people. Because beyond the styling, it's something brilliantly fascinating. It's faster than most cars on sale today and you can charge it at home while you sleep and just use it the very next day. While this isn't uncommon in the EV lifestyle, Tesla somehow revolutionised the entire game by making everything about the EV lifestyle fun. With that, a lot of manufacturers are pressured to make EVs interesting instead of the cockroach-shaped econoboxes like the Prius of yesteryears.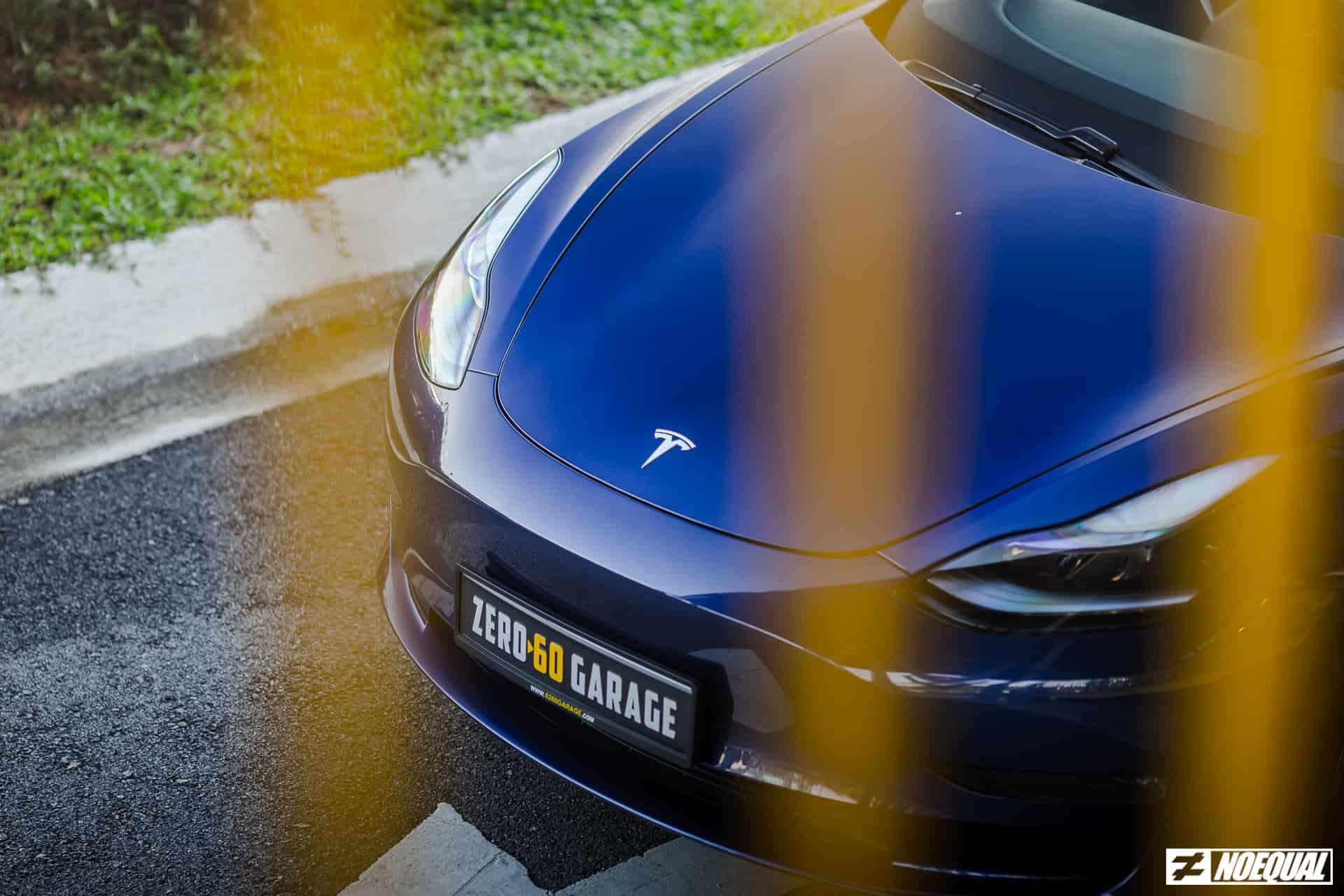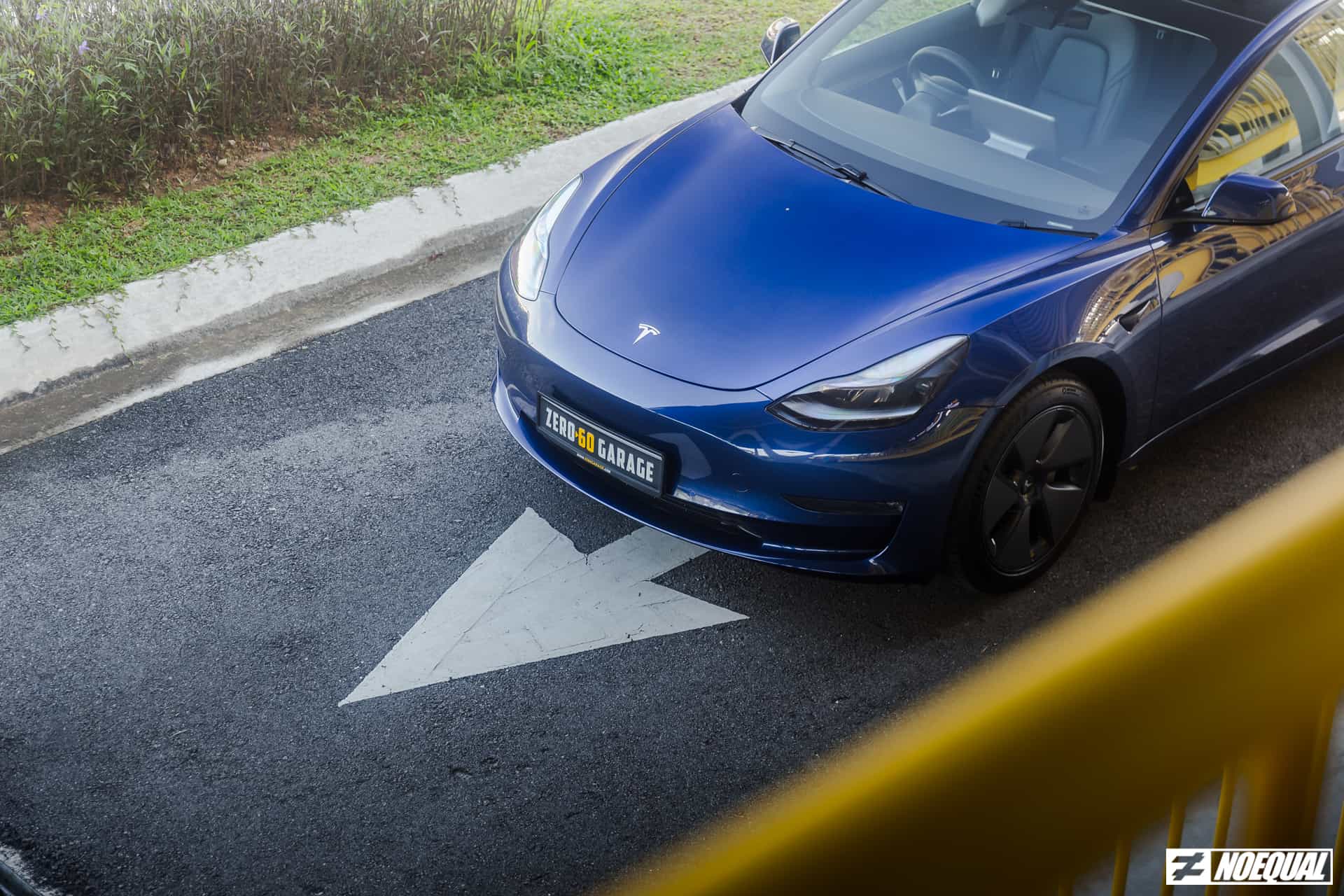 But back to the Model 3, it comes in as a rival to Mercedes-Benz's C-Class as well as BMW's 3-Series but to be honest, it's not what I would call a fair comparison anyway but we'll get back to that later on. The Model 3 is the smallest Tesla on sale alongside the Model S, Model X, Model Y, Cybertruck and the Roadster but the Model 3 is the one that caters to the mass market.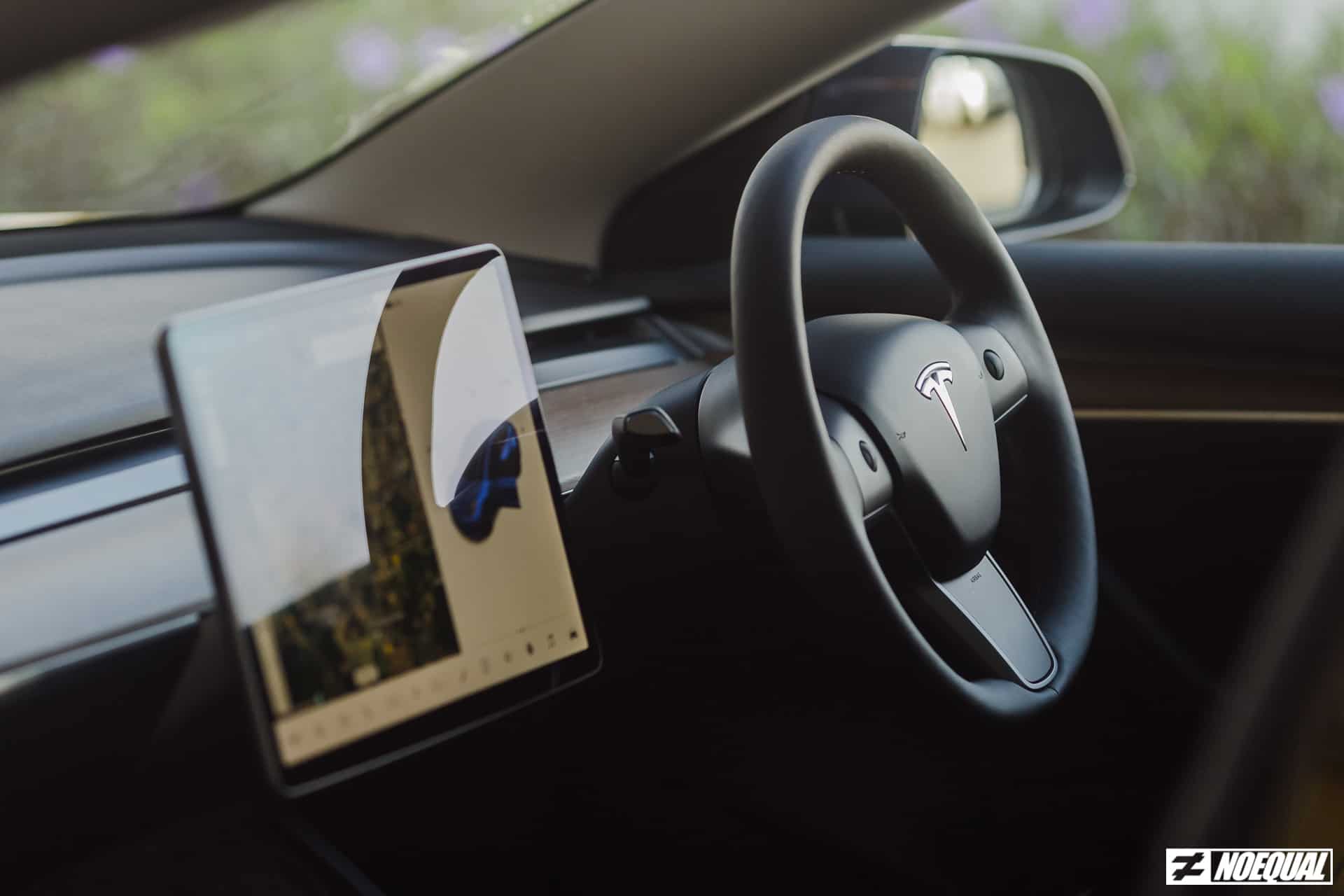 How To Drive A Tesla Model 3
From the get go, it's an interesting experience. First of all, there isn't a key fob to unlock or start the car. Neither is there a push start button to start the car anyway. You can control everything via your smartphone, however without your phone, everything starts off with a black card with the name 'Tesla' printed on it. Once again, Tesla follows the minimalistic route.
To unlock the car, you have to tap the Tesla card on the B-pillar just under the camera. That will automatically unlock the door and you can then enter the car. You are then greeted by the minimalistic interior with just a steering wheel and a gigantic iPad-like screen that controls literally every single thing on the car. 
Now starting the car is rather fascinating as well because there's no button for you to start it up. Just by sitting on the driver's seat and tapping your card on the centre console, the car is ready to go with just a flip of the gear lever in which you can choose between park, neutral, reverse and drive. Basically just like any other ordinary car. However, the car does not come with a handbrake nor an electronic parking brake, which feels rather odd.
Now once you've gotten everything in control, you can opt how aggressive you want the regenerative braking to be. There were three modes to choose from which basically modulates the speed of deceleration. Personally, I didn't find it particularly annoying but it needed some getting used to. There are also different drive modes which essentially control your throttle response.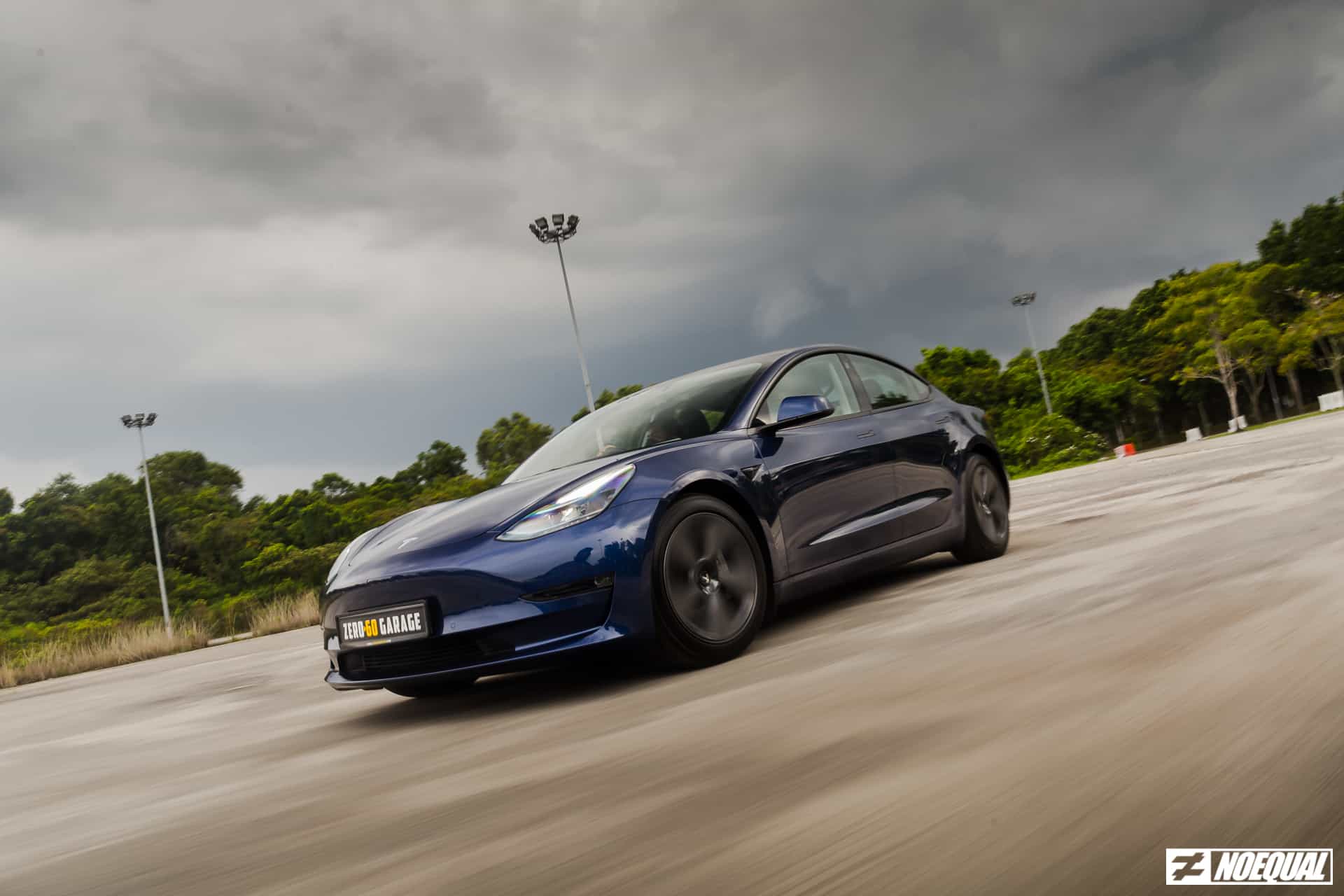 Driving The Tesla Model 3
Let me make it clear, on the most powerful drive mode, the Tesla really pulls. And because it has no engine, the Tesla provides a lag-less experience that just pushes you into the back of the seat and without you realising it, you've just done a 0 to the national speed limit in just 4 seconds with only the sound of wind passing by. A bizarrely addictive experience.
To be exact, the 0-100km/h numbers are about 4.4 seconds for the Tesla Model 3 Long Range. Which you may be wondering "isn't that slower than a Mercedes C63 AMG or even a BMW M3?", well it is slower but if you opt for the Tesla Model 3 Performance, you'd be leaving them in the dust for days in just 3.3 seconds.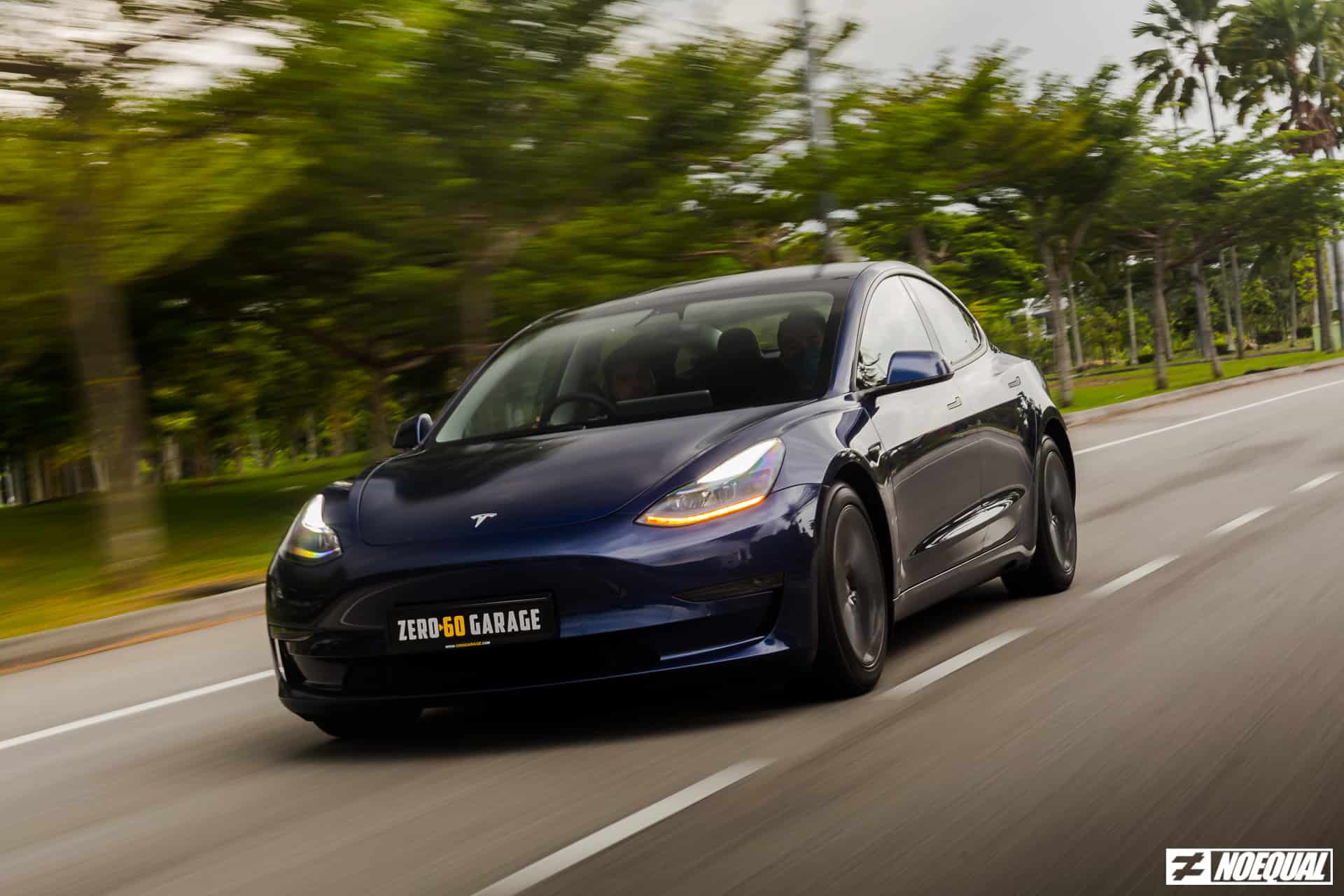 And before you ask, doing a launch in one of these does affect some of your range. On average, each launch we did costs us about 2% of the power percentage. However, it is unlikely that you'll be launching your Tesla at every single traffic light you see. That being said, I completely understand if you do though, especially if you're showing off your car to your mates. 
On a full charge, the Tesla Model 3 Long Range can supposedly give you about 570km of charge and if you keep on mashing your foot on the throttle pedal, you could still get more than 400km. Which is still a whole lot better than a Porsche Taycan to be frankly honest. Range anxiety is something to consider but these are not the kind of cars that you'd be driving long distance, well not for now anyway.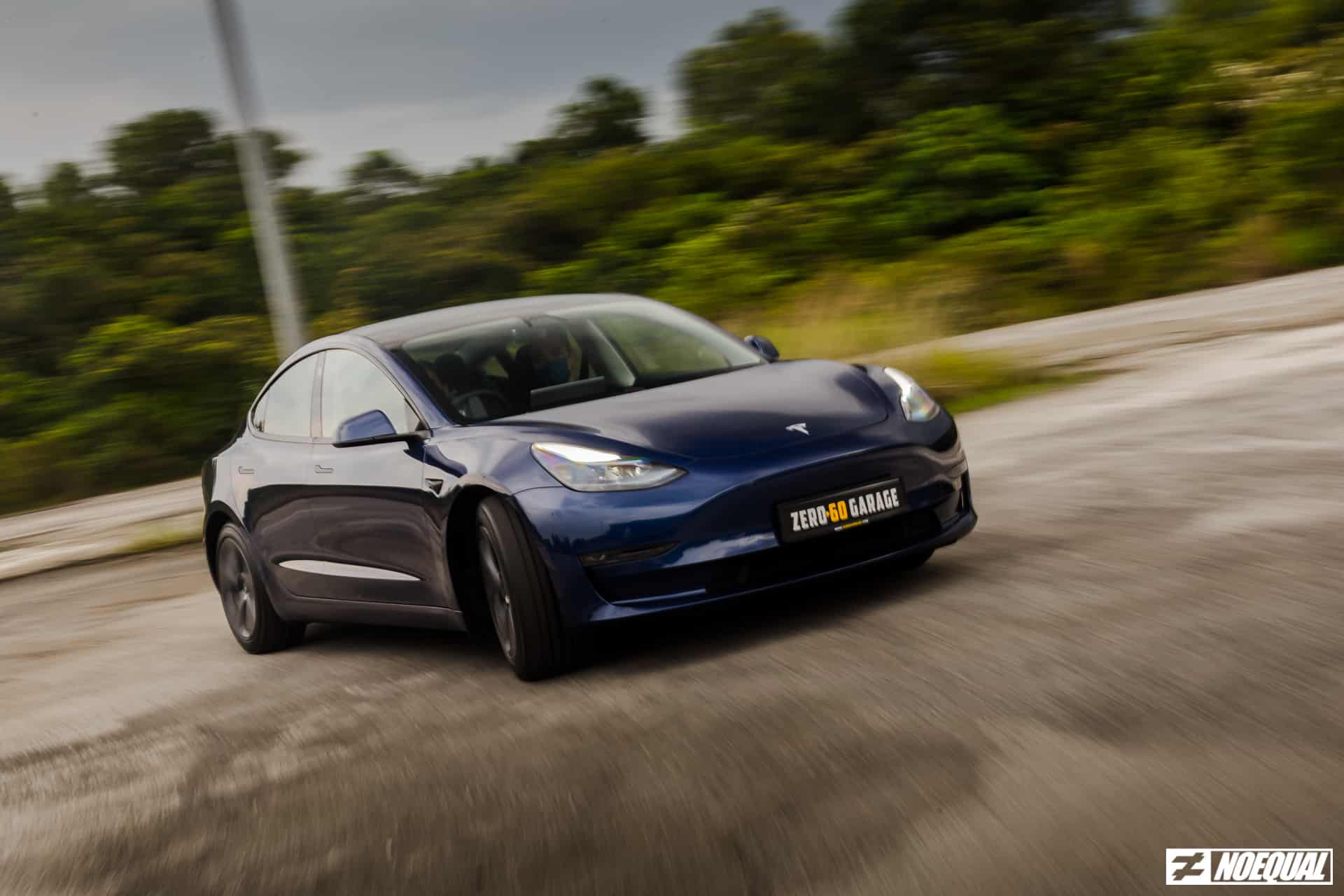 Nonetheless, the Model 3 is built with practicality in mind. There are two luggage compartments at the front and back. The car is also equipped with eight cameras all around and 12 ultrasonic sensors to it's safety systems. There is also a 'Sentry Mode' which records the surroundings of your car when you're not around. Pretty neat in a situation that requires some evidence of your car being involved in an incident.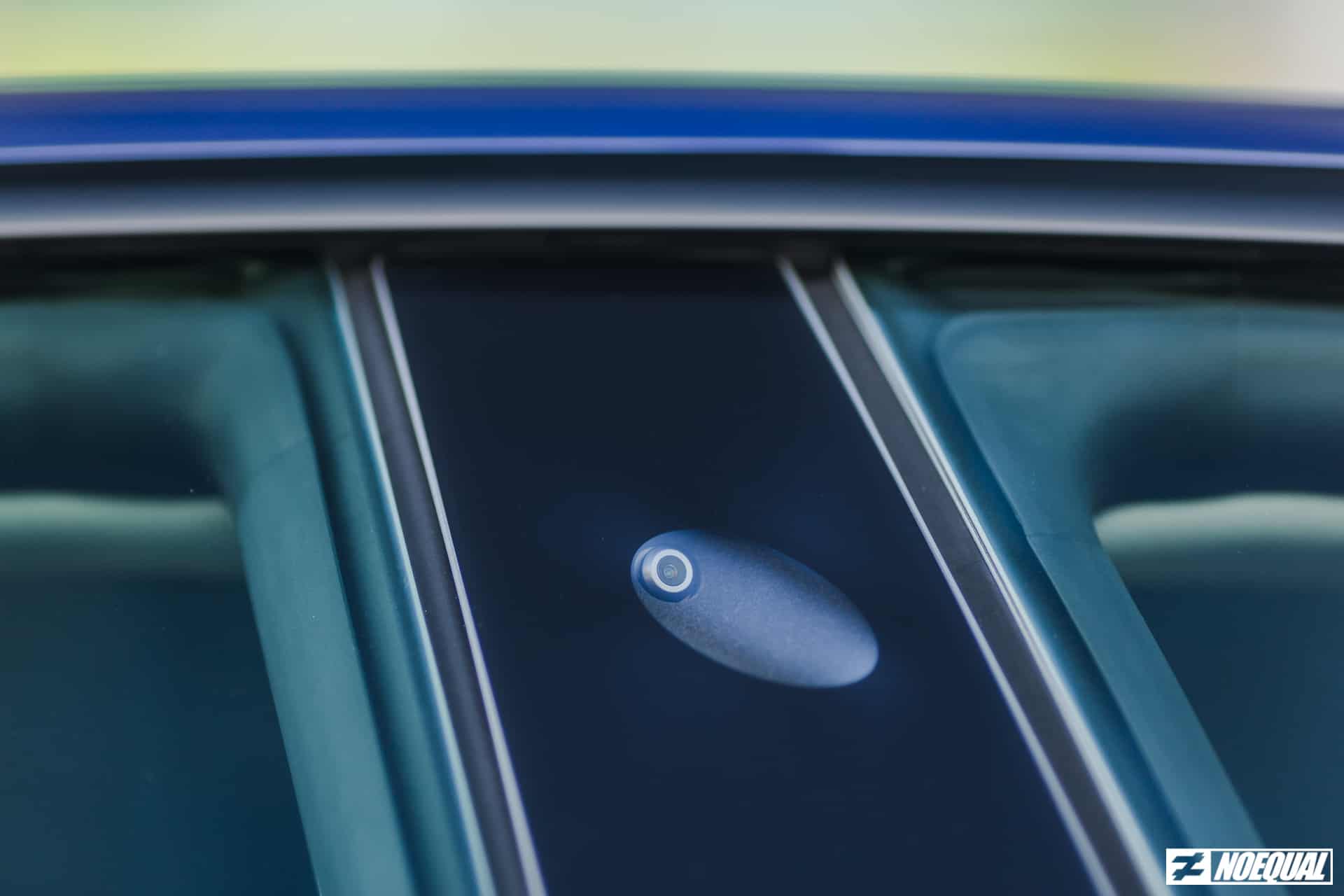 It's also something to note that the Tesla Model 3 rides softer than a BMW 3-Series or a Mercedes C-Class without the car bouncing about. That being said, you do feel the weight in the corners especially when you're accelerating. While you may not break traction on the Long Range or Performance, it could happen on the rear-wheel drive Standard Plus.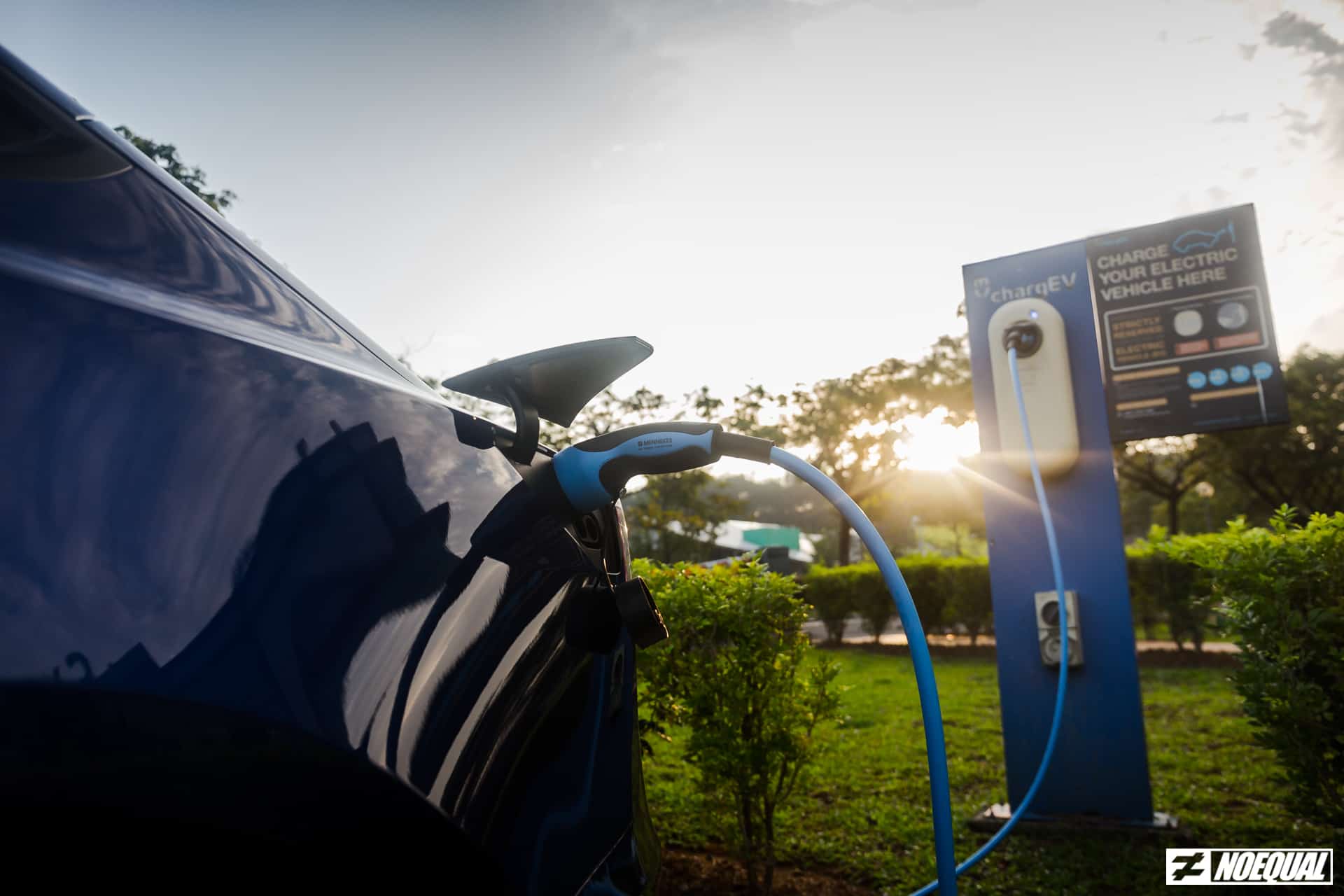 How Do I Charge A Tesla?
There are a few ways to charge the Tesla depending on what you actually have at the time. This was way simpler than I thought, to be frank. There are four ways to charge the car or at least in Malaysia, that is. Listed below in descending order is the time taken to charge your EV.
3-pin Charging
Wall Charging
AC Charging
DC Charging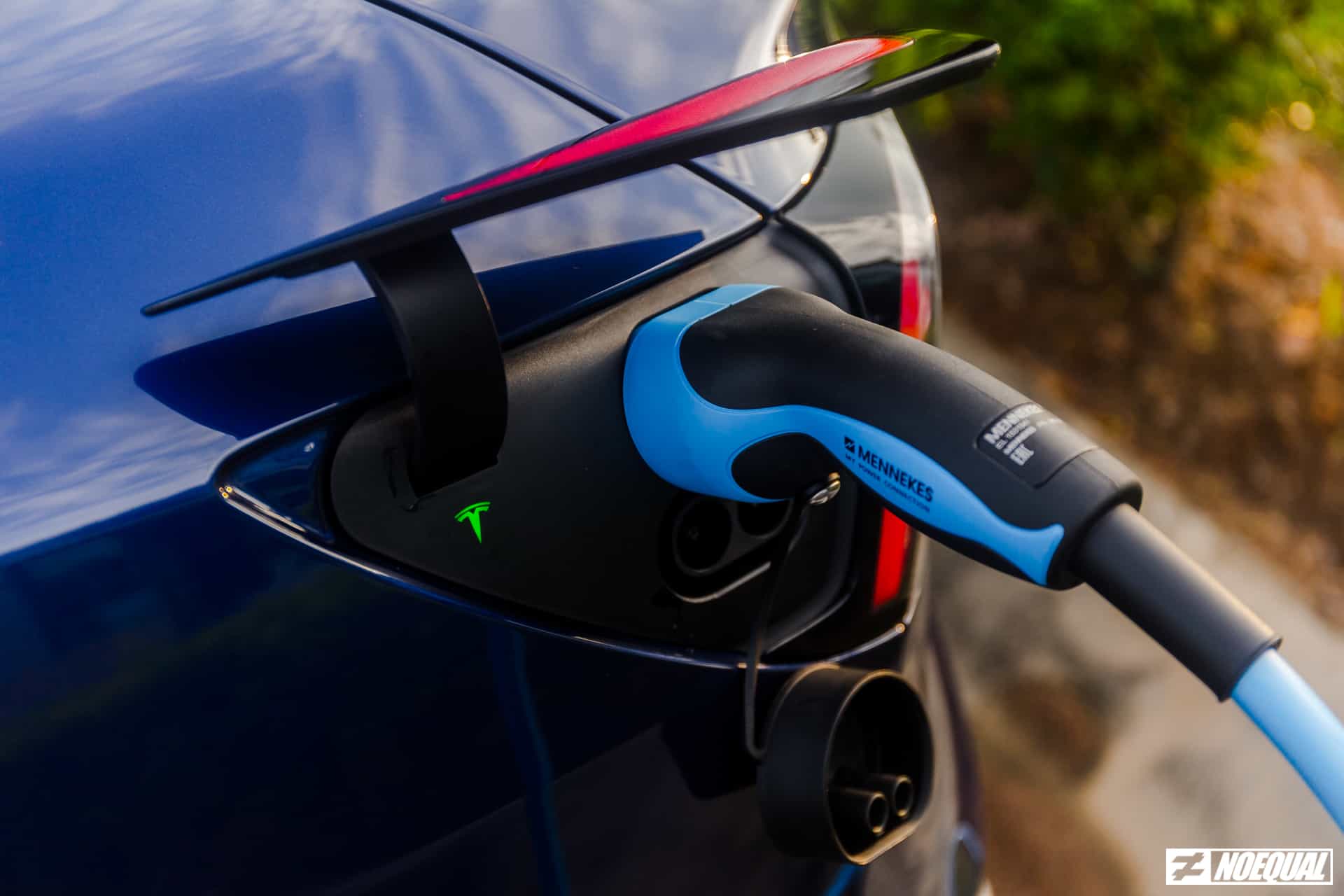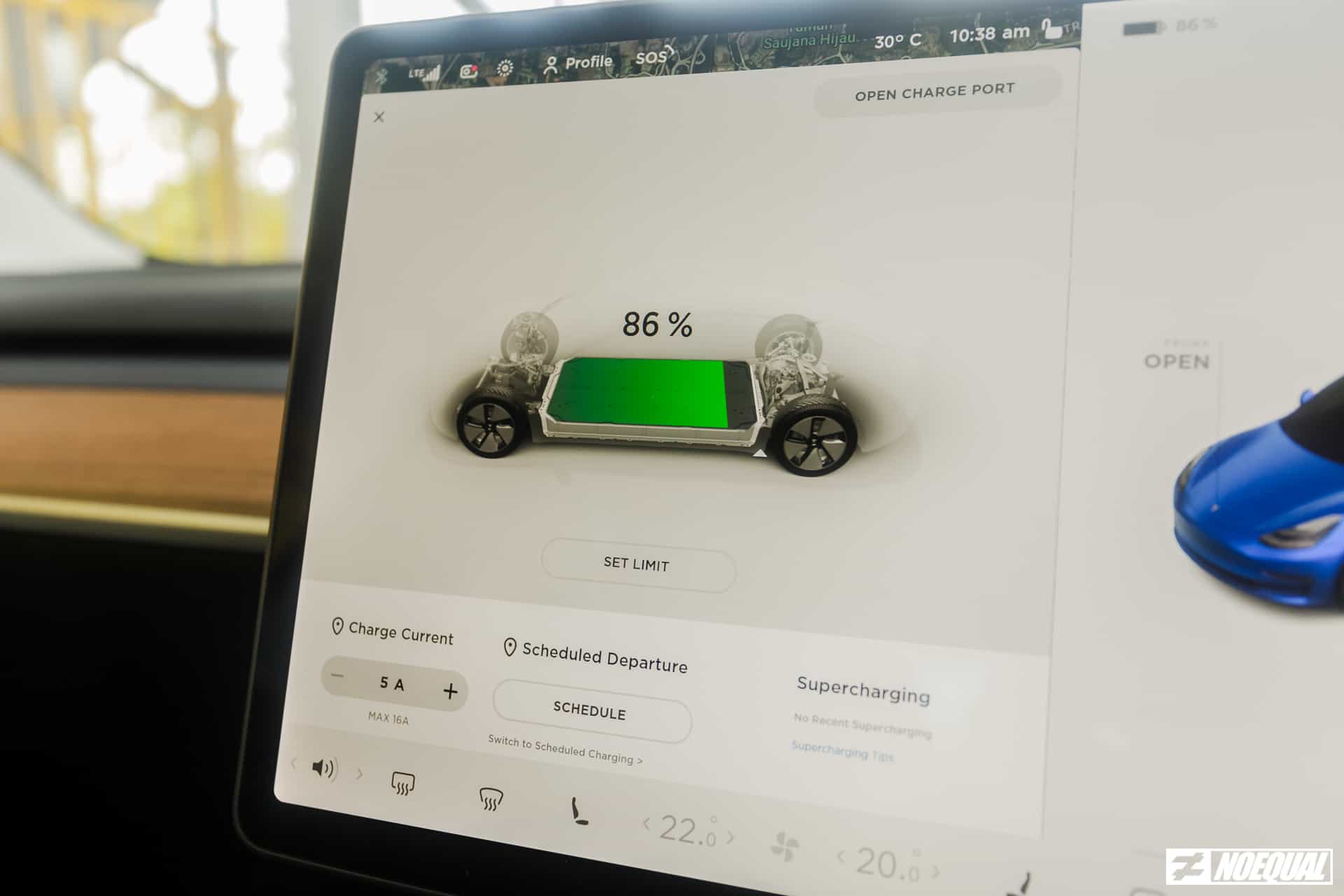 Firstly, you could charge it directly using your 3-pin plug at home via their supplied 'mobile connector', which in other words, works like a powerbank due to the accessibility. However, this does take awhile and should only be considered in the worst case of scenarios as it takes a very long time to charge.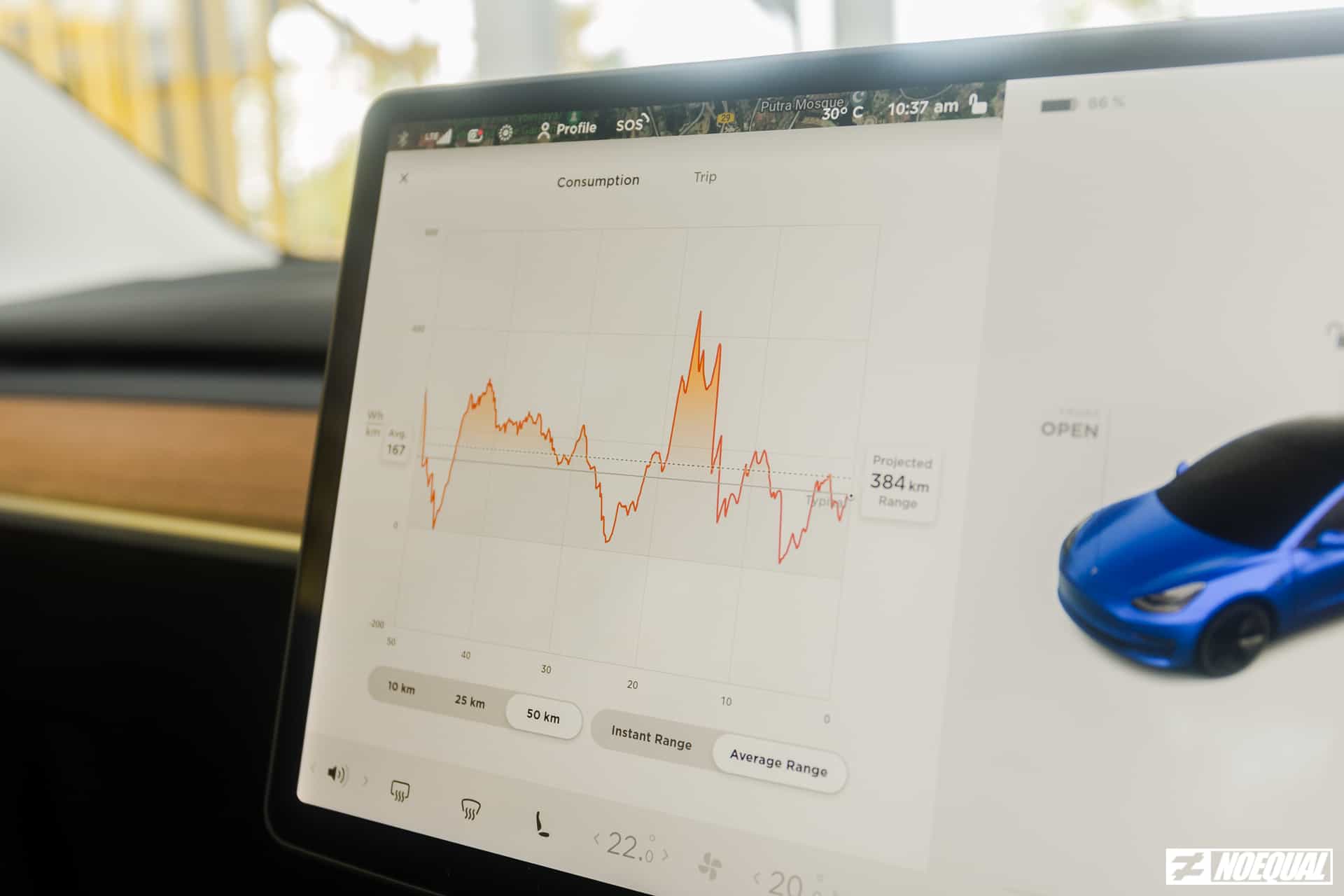 The more reasonable option is to get yourself a wall charger which can be directly purchased from a dealer for around RM2,000 and you could get yourself around 50km or more for every hour of charging. Hence, this allows you to keep your mobile charger in the car. But, the RM2,000 does not include installation charges mind you.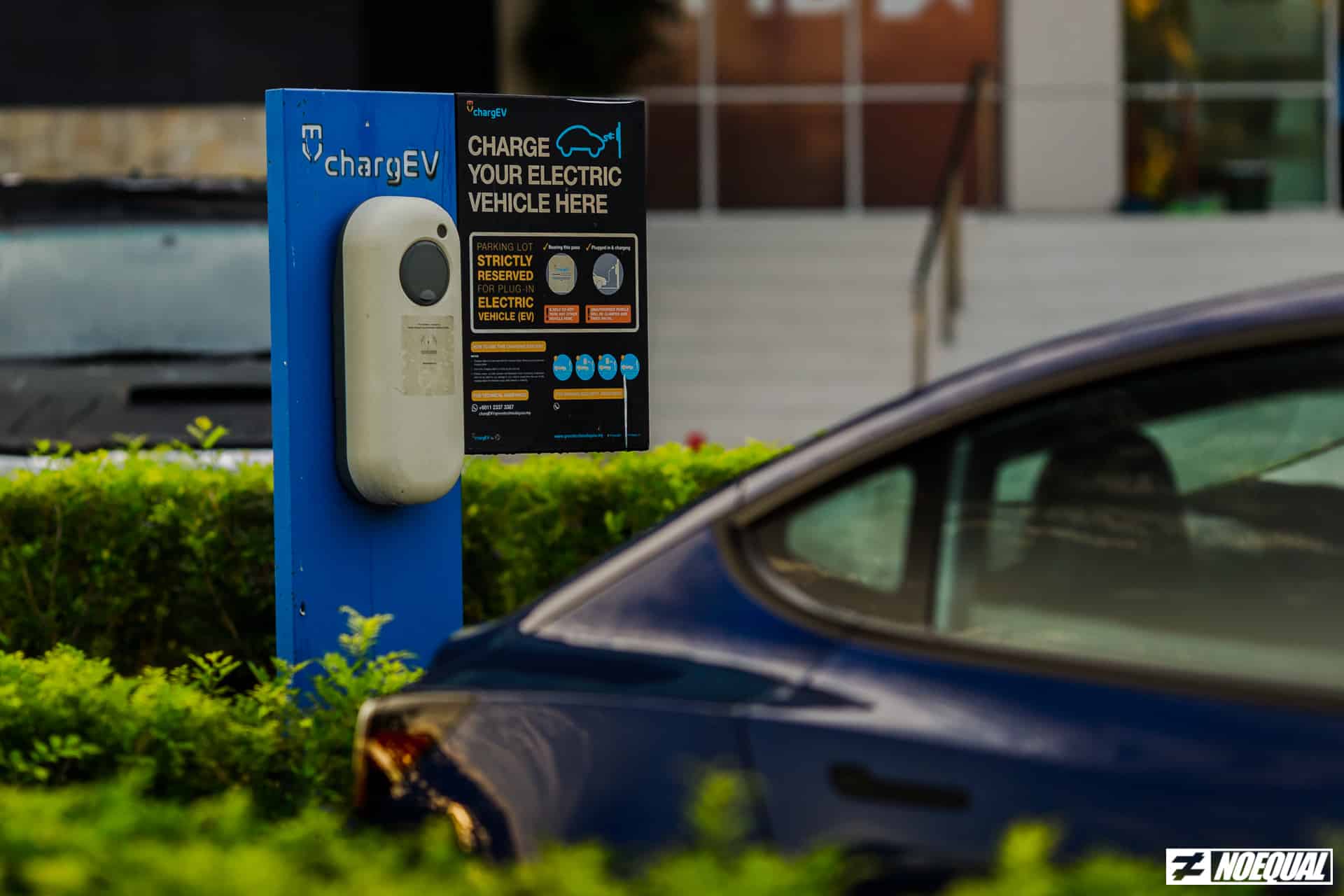 If you are out and about and looking for a charger, there are nearly 500 AC charging stations in the entire country with most being the KL and Klang Valley region. This is usually run by a company called ChargEV that offers a yearly unlimited-charging subscription for only RM240. That only comes down to about RM20/month. The best bit is that the subscription comes with the car if you buy a unit from Zero To Sixty Garage!
Another charging alternative is also the best, which is DC charging. Think of it as fast charging for electric cars. There are around 14 public DC chargers and 3 private chargers which are only supplied to Porsche owners. Some DC chargers are actually capable of supplying up to 30km per minute of charging. This year, however, Shell has added DC chargers at their stations nationwide. That being said, that too requires an annual membership.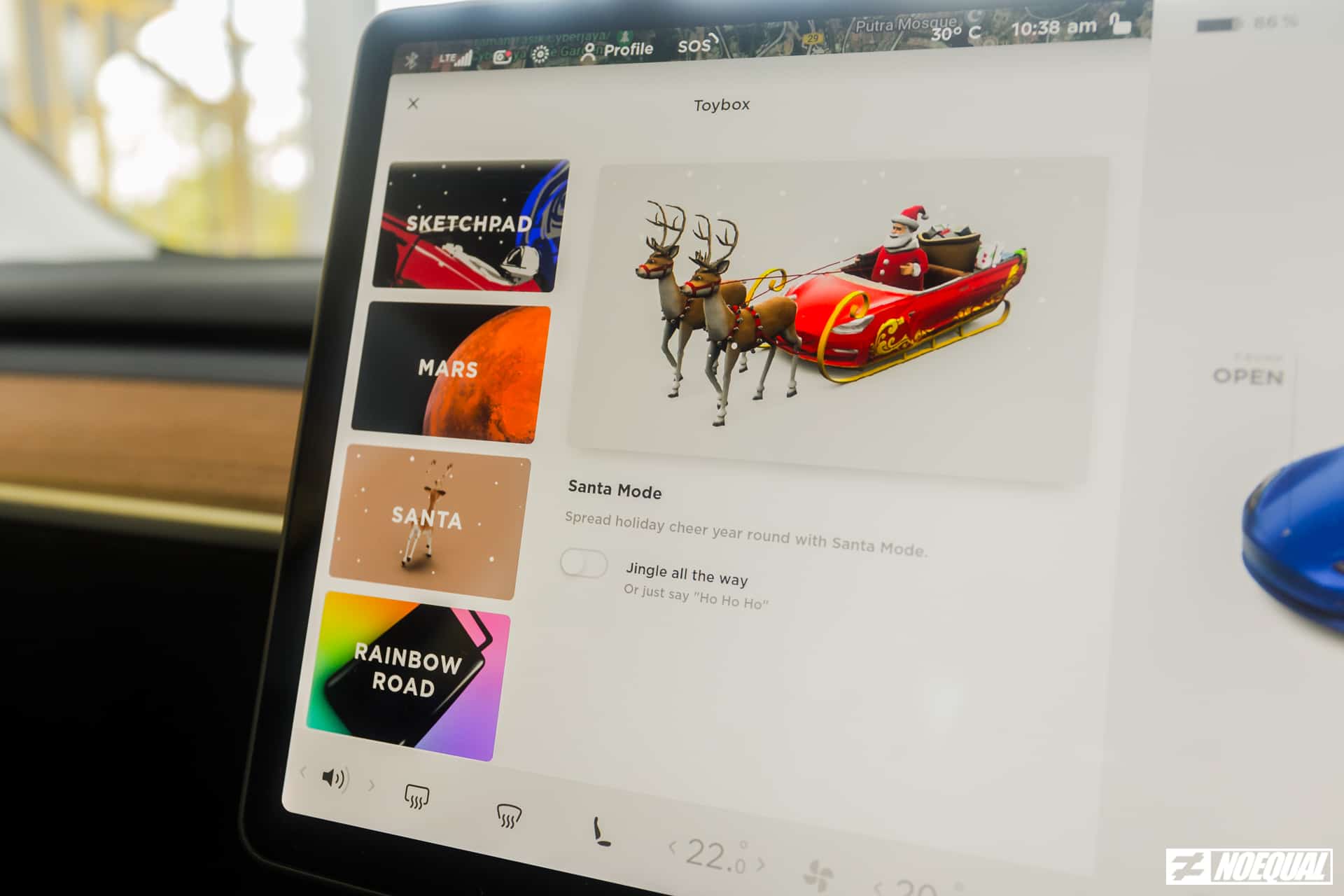 The World of Gimmicks and Features of Elon Musk
Everybody knows that a Tesla is riddled with lots of gimmicks that may amuse even the most serious of people. Among the few things that you could mess around with is Rainbow Road or Mars which makes it seem like you're driving on Mars. Well because why not I guess?
Other than that, you could actually use these gimmicks to kill some time while charging the car. For instance, there's a party piece called 'Emissions', which you may be wondering "What kind of EV has an emissions mode?". And Tesla thought it'd be funny if you could play fart noises on each seat. Again, why not?
You can also access Netflix or YouTube or if you're feeling a bit chilly with a loved one, you could turn on 'Romance Mode' which turns up the heat, displays a lovely campfire and plays songs from artists like Marvin Gaye, Al Green and even George Michael. I kid you not.
However, if you are a bit more mature, you could access some in-built games that resemble Galaga and Mario Kart but in Tesla's own version. The knock-off Mario Kart actually requires you to turn the wheel and press the accelerator of your actual Tesla to play the game. Neat trick but you really don't want to flat spot those tires in my opinion just by playing games.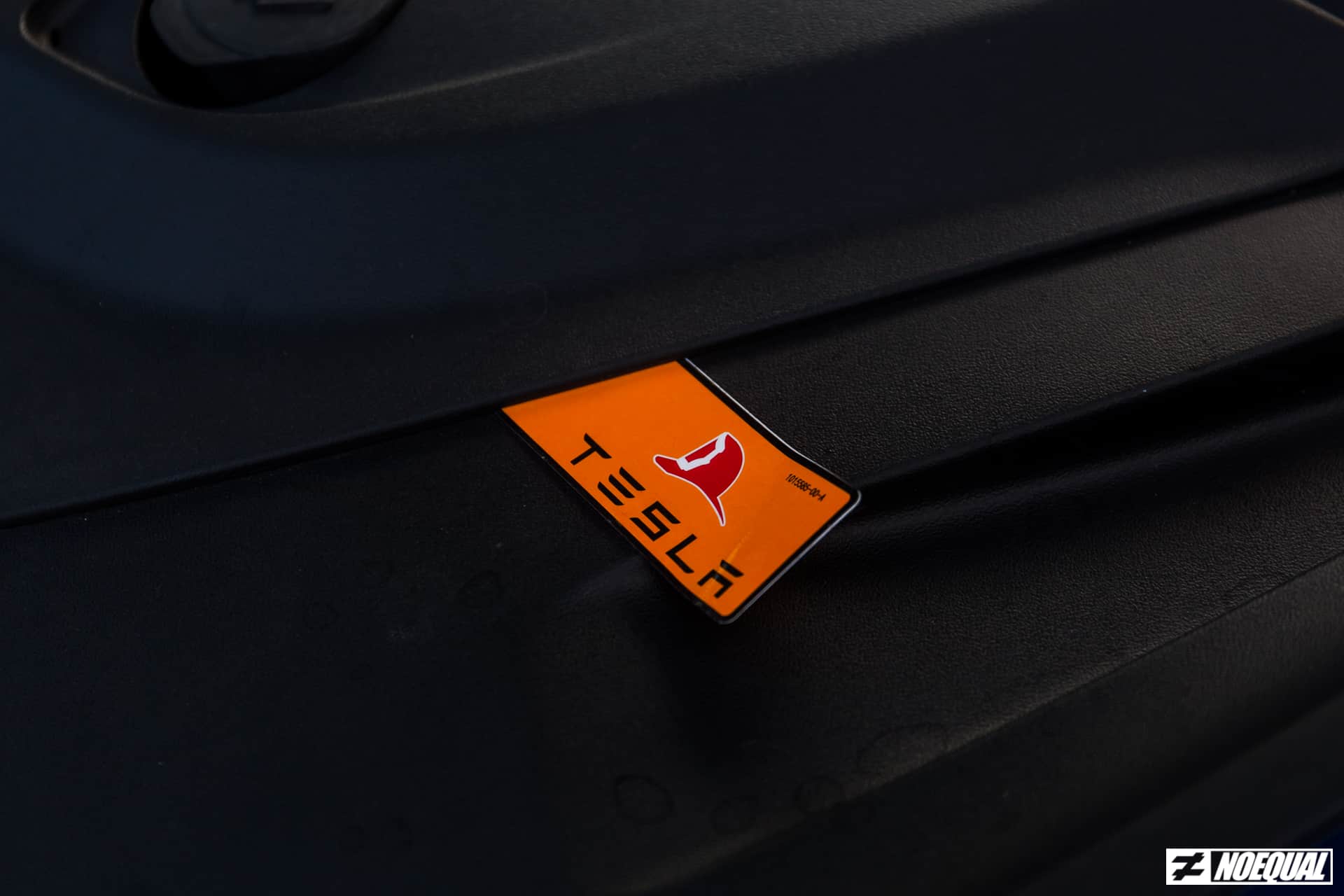 Facts and Figures Of The Tesla Model 3
The Tesla Model 3 comes in three different specs. In ascending order, the Model 3 comes in the form of the Standard Plus, Long Range and Performance. Unlike how BMW has the M-Sport and Mercedes has their AMG trims, Teslas are all relatively identical. Instead, Tesla alters the specs and figures on each trim.
It may come in handy to know that the Tesla Model 3 Long Range that we tested comes with a 441hp and 493 Nm of torque motor that sends power to all four wheels via a 82kWh dual motor. And with a top speed of 233km/h and a 0-100km/h number in just 4.4 seconds while pulling 2,301kg of its own weight. It's capable of 570km on a full charge. A pretty impressive figure in the EV industry.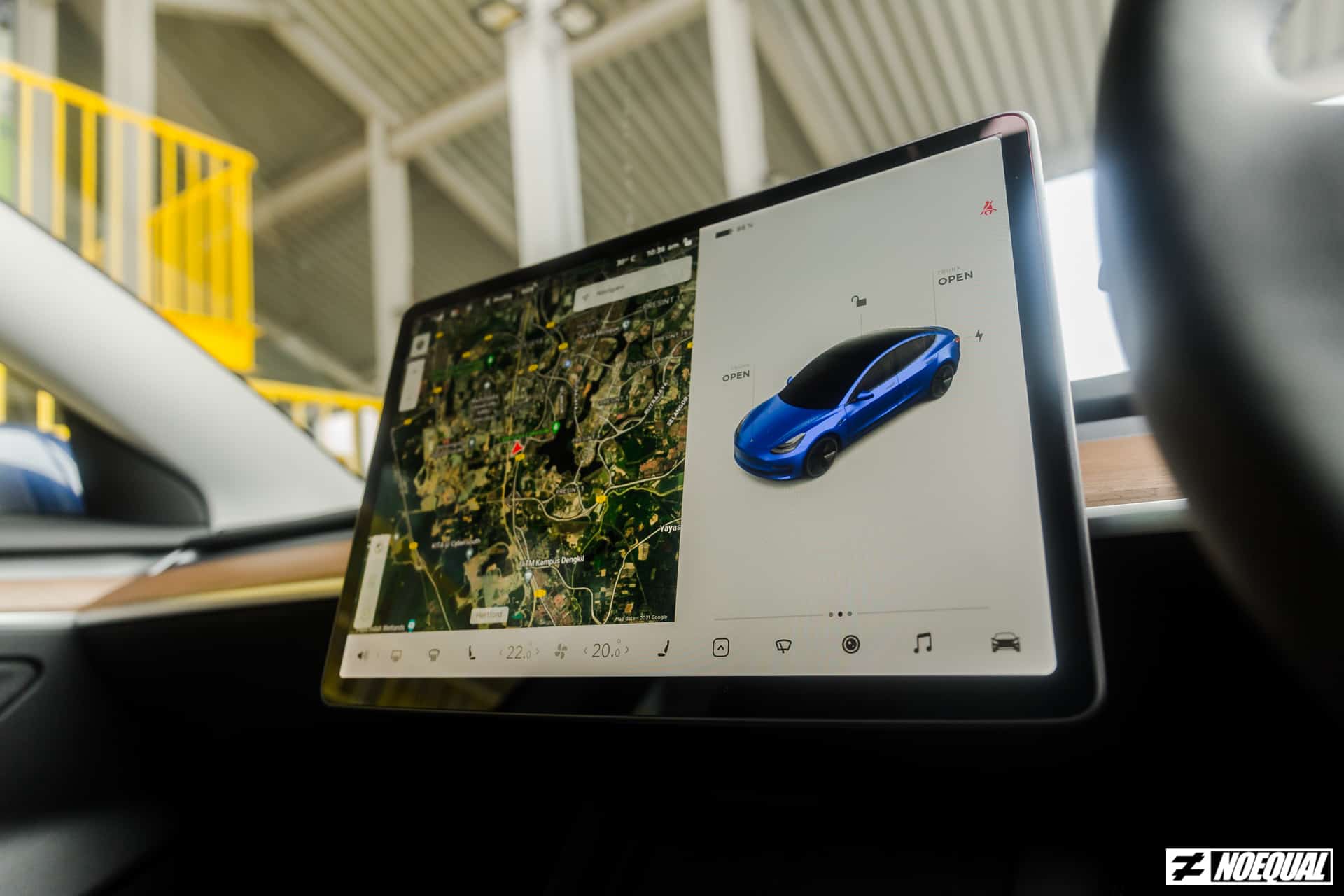 For now, Autopilot is not available in Malaysia due to the car not being officially sold here as well as there is a lot of government red tape regarding the Autopilot feature. It has yet to be approved for Malaysian roads.
And now the price, in 2021, the Model 3 Long Range is priced at around RM450,000. And yes, your thoughts are as good as mine as that isn't particularly cheap. However, this year, a tax incentive has been announced for EVs, which waives all of the implemented taxes. Hence, bringing the starting price to about RM300,000 for the Standard Plus. 
That isn't particularly cheap but for someone who is currently in the market for something along the lines of a Mercedes C-Class or BMW's 3-Series, but it becomes something worth considering when RM300k gets you 283hp when a BMW 330e and a Mercedes-Benz C350e gets you a lot less.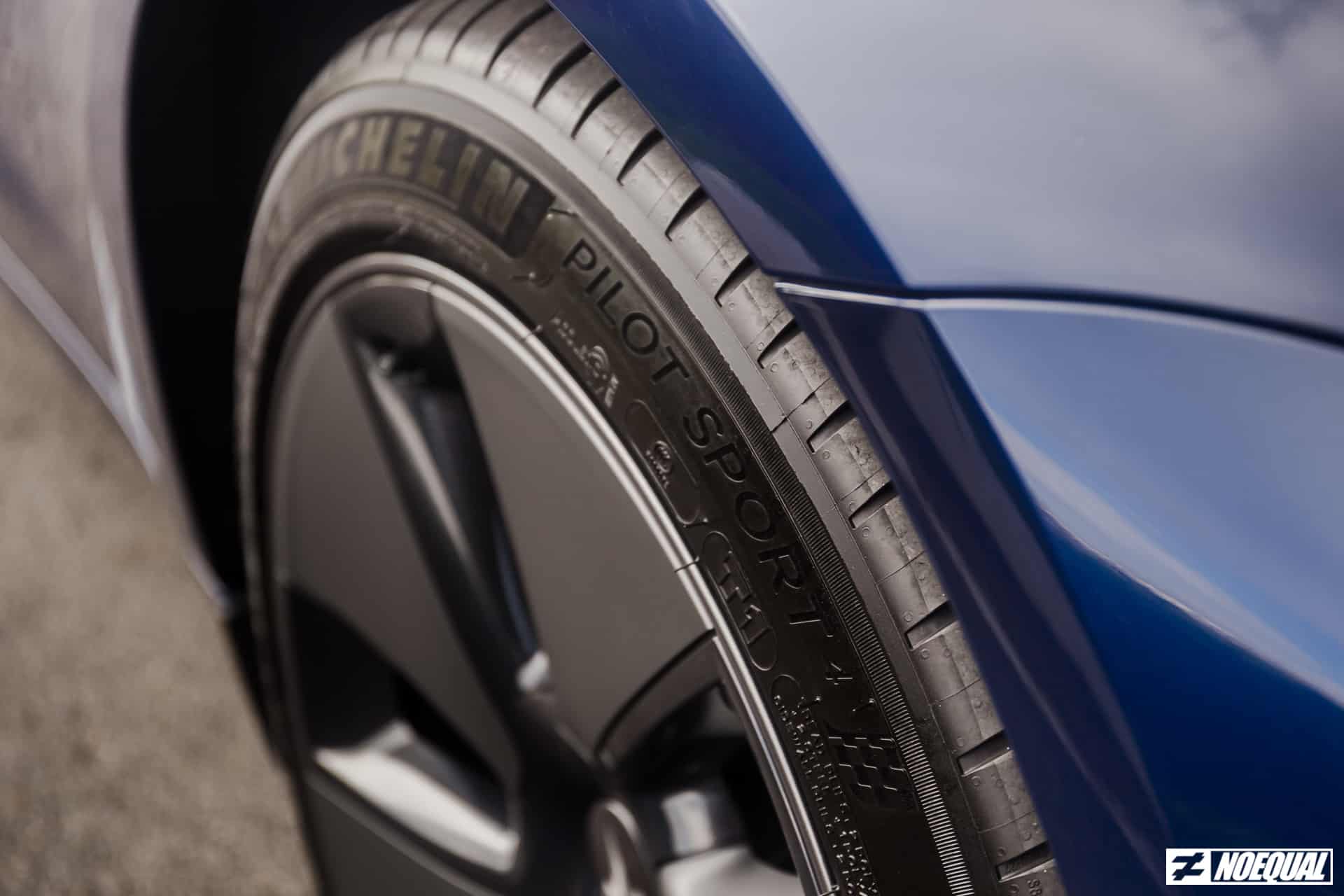 What Maintenance Is There On A Tesla?
Generally speaking, there isn't much to maintain on a Tesla apart from the regular wear and tear. There isn't an engine to begin with. So the only problem that can occur is more inclined towards electrical problems which is uncommon anyway. However, any replacement parts can be ordered directly from your Tesla phone app and it will be shipped directly to your doorstep. 
Unless it is a problem that requires Tesla technicians (which Malaysia has yet to have), you are left to put the car on a flatbed truck and tow it to the nearest official dealer, which happens to be in Singapore. But once again, it is uncommon and the chances of that happening is slim. Bear in mind that the Tesla does come with a 4-year vehicle warranty and a 8-year warranty on the drive-unit and battery.
However, the Tesla app does come in handy if you own one as not only can you control the car via the app (such as air-cond and central locking) but you could even schedule maintenance, on-air updates as well as even a performance upgrade directly from your phone. One of the said performance upgrades enables the Model 3 a faster 0-100km/h time by nearly 0.5 seconds. All from a phone with your credit card details.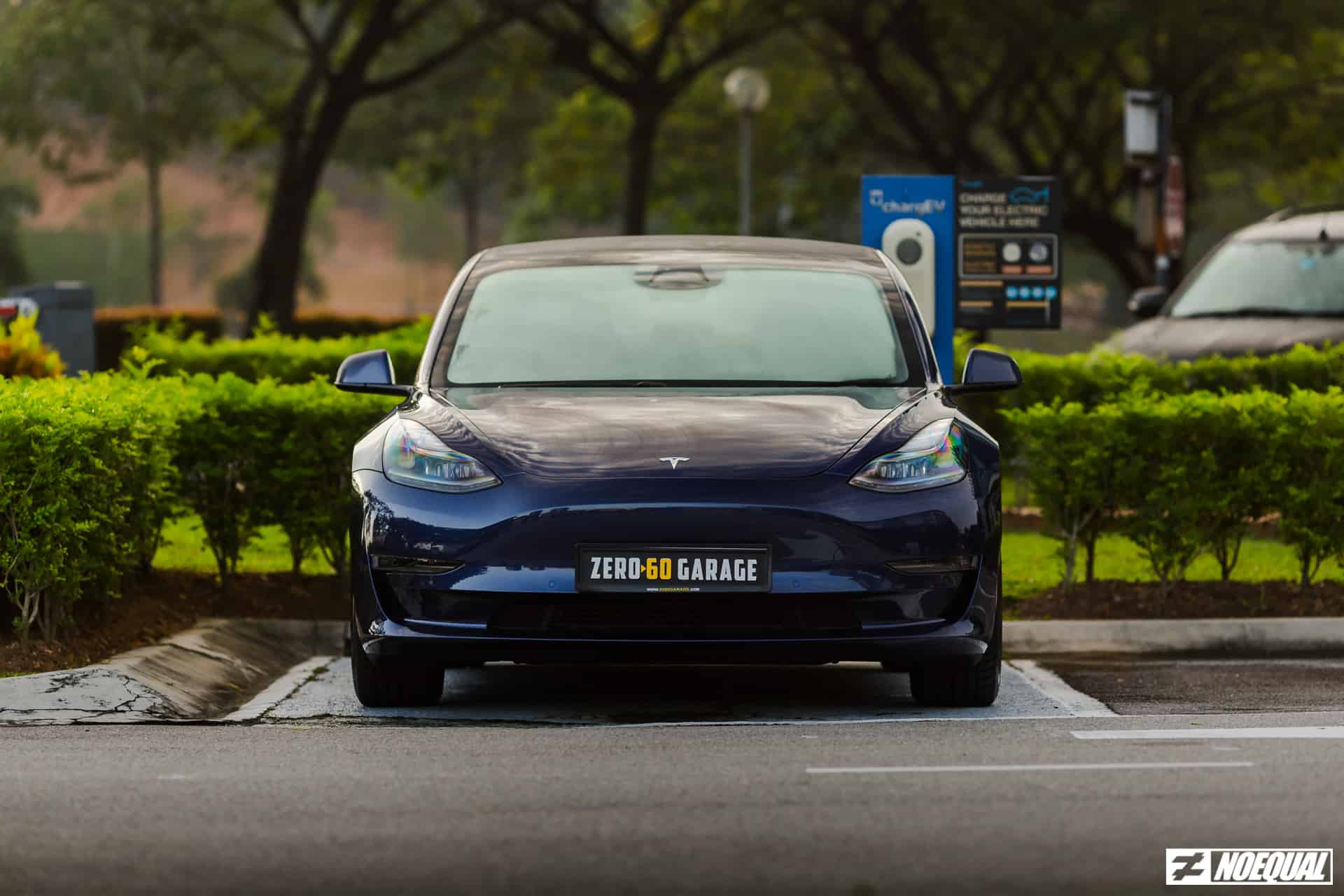 How Can I Get My Hands On A Tesla?
The Tesla Model 3 Long Range that we borrowed for this review was supplied by Zero To Sixty Garage, a dealership with about 17 years of experience in the industry of high-end vehicles. While they do bring in other cars as well, their primary focus for now is Tesla. They were kind enough to lend us a unit to drive around for a day despite doing an absurd review.
The one we drove is currently for sale and you could order any Tesla that is currently offered on Tesla's website such as the Model Y, Model S and Model X. They even have the Model S Plaid, Cybertruck and Roadster currently on order, however, it will be awhile before we'll see those on our shores.
Their cars are all new and sourced from Tesla UK and you could order a car no matter how you'd want to spec them. Depending on the model, it does take a while for them to ship to Malaysia but everything will be inclusive in the final price of the vehicle.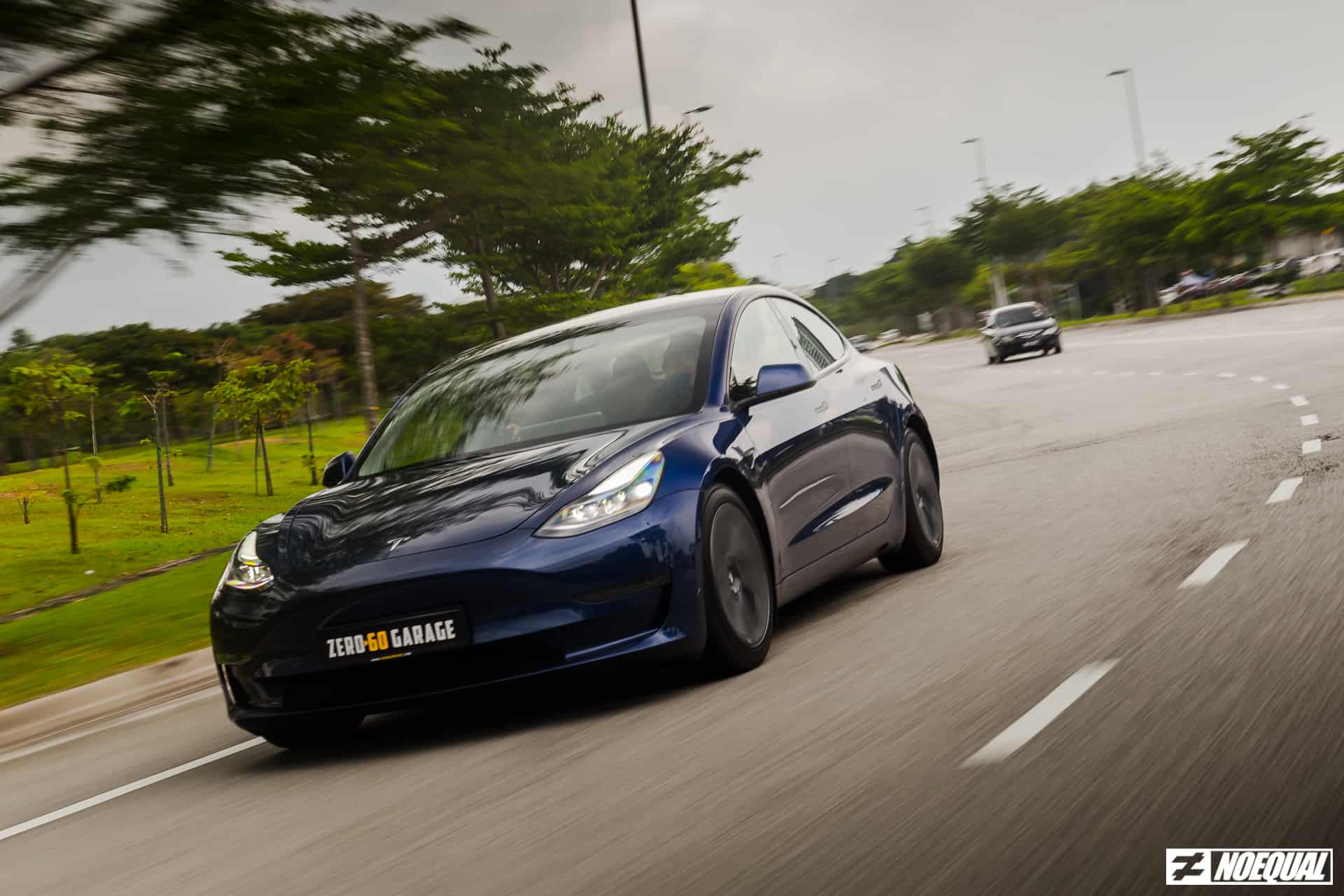 My Honest Opinion
I believe that Tesla has opened the floodgates to the future of the automotive world because EVs are becoming more and more interesting by the minute. China is easily pumping out an EV every few months and they all seem to be rather brilliant. While the Model 3 is by far the game changer here, it also sets a precedent for other manufacturers to step up their game.
Porsche couldn't have made the Taycan if it wasn't to rival the Tesla Model S. BMW is currently pushing out their i4 to rival the Tesla Model 3. Tesla paved the way when others tried their luck with Priuses and the Nissan Leaf which clearly made a big impact however just isn't as big as Tesla. EVs are also the reason why we have cars like the Rimac Nevera and NIO EP9, which have really broadened the horizons of the nay-sayers.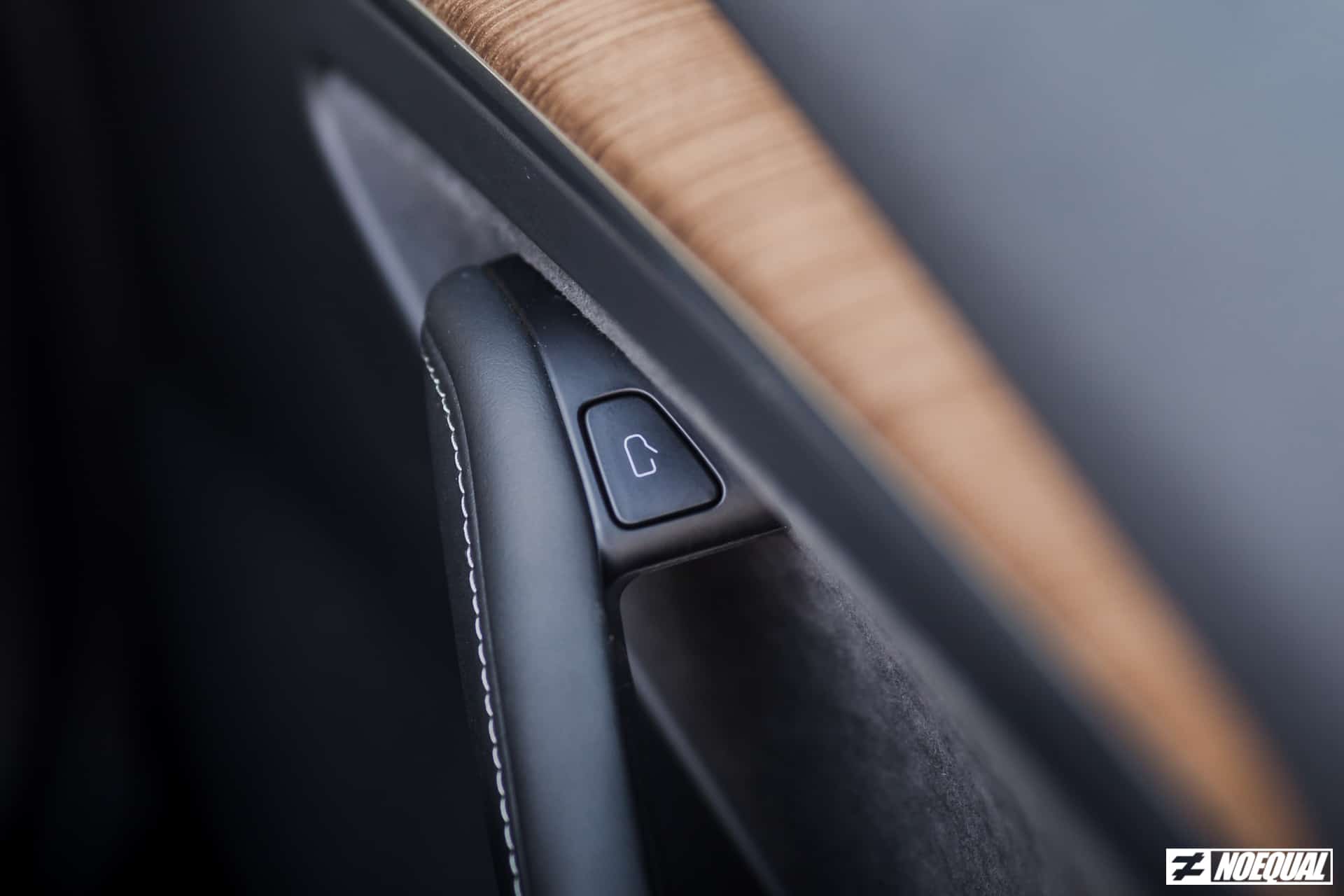 The fit and finish on the car is something I was rather concerned about as it has always been one of the main complaints on a Tesla. In terms of fitment of panels, there weren't any particularly large and uneven gaps that caught my attention. What caught my attention was the paint quality. Calling it atrocious would be mean but it's more along the lines of visible orange peel on certain panels like the rear trunk. There was a hinge that seemed to be installed prior to painting and there were visible unpainted parts of the hinge. Though many would not have checked it, once it caught my eye, I couldn't unsee it.
But if we put that aside, I'm someone who is rather accepting of the EVs culture and after hours of driving one, I did not actually adore the car but I was left with a sense of newfound appreciation. But would I be willing to give up the insane kick of a turbo or the rumble of a V8? Maybe not just yet. I am still at the age where I would want something angry and childish. Childish in the sense of giving you the thrills and giggles, in which, the Tesla seems to be a tad too serious.
Sure, the Tesla is childish as well with their fart jokes and video games but it feels like a grown up trying to fit in with the teenagers listening to their new age music. It low-key seems a bit too needy of attention. There's one too many gimmicks on a Tesla that I doubt I'll ever use. But then again, I'm rather old fashioned.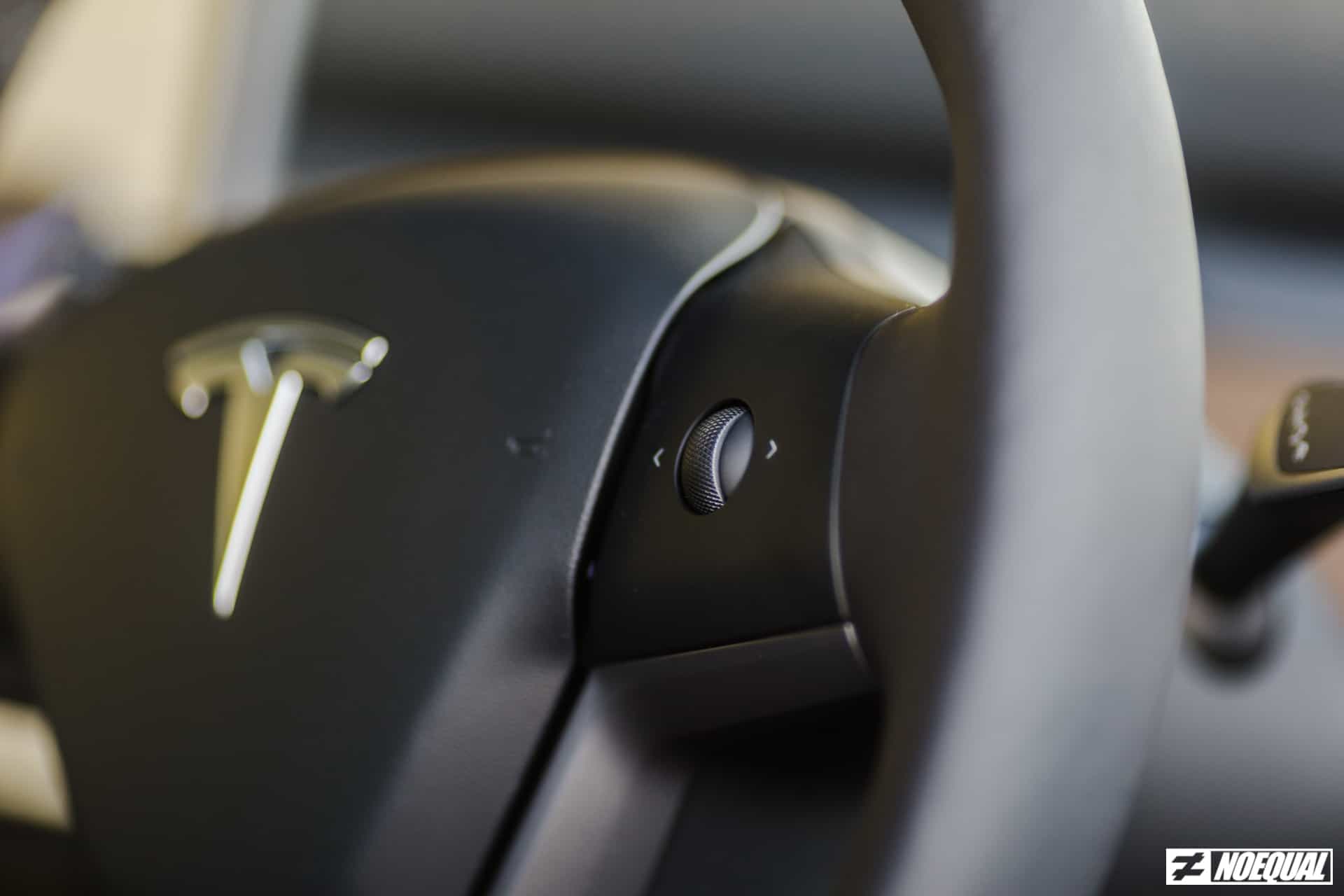 The interior does require some getting used to which I'm not particularly annoyed by. I still prefer the traditional knobs and buttons to control the essentials such as the air-conditioning. However, everything is laid out nicely on the screen so that you don't have to spend minutes just to find Spotify and the lock button. The buttons on the steering wheel itself is unlabeled but it does however control a few things depending on the settings, one of which is the side mirror angles.
Don't get me wrong, the Tesla is a lovely car to drive, a no-frills kinda thing that remains fun without being overly exciting. Fast without being dangerous. And for something that I can just charge like a phone, it's the type of car I'd wanna do a grocery run before picking up the kids from school instead of doing hot laps around Sepang or uphill runs on your favourite hills. But then again, I doubt anybody with a Tesla (unless it's the Plaid) plans on setting a lap record around Sepang.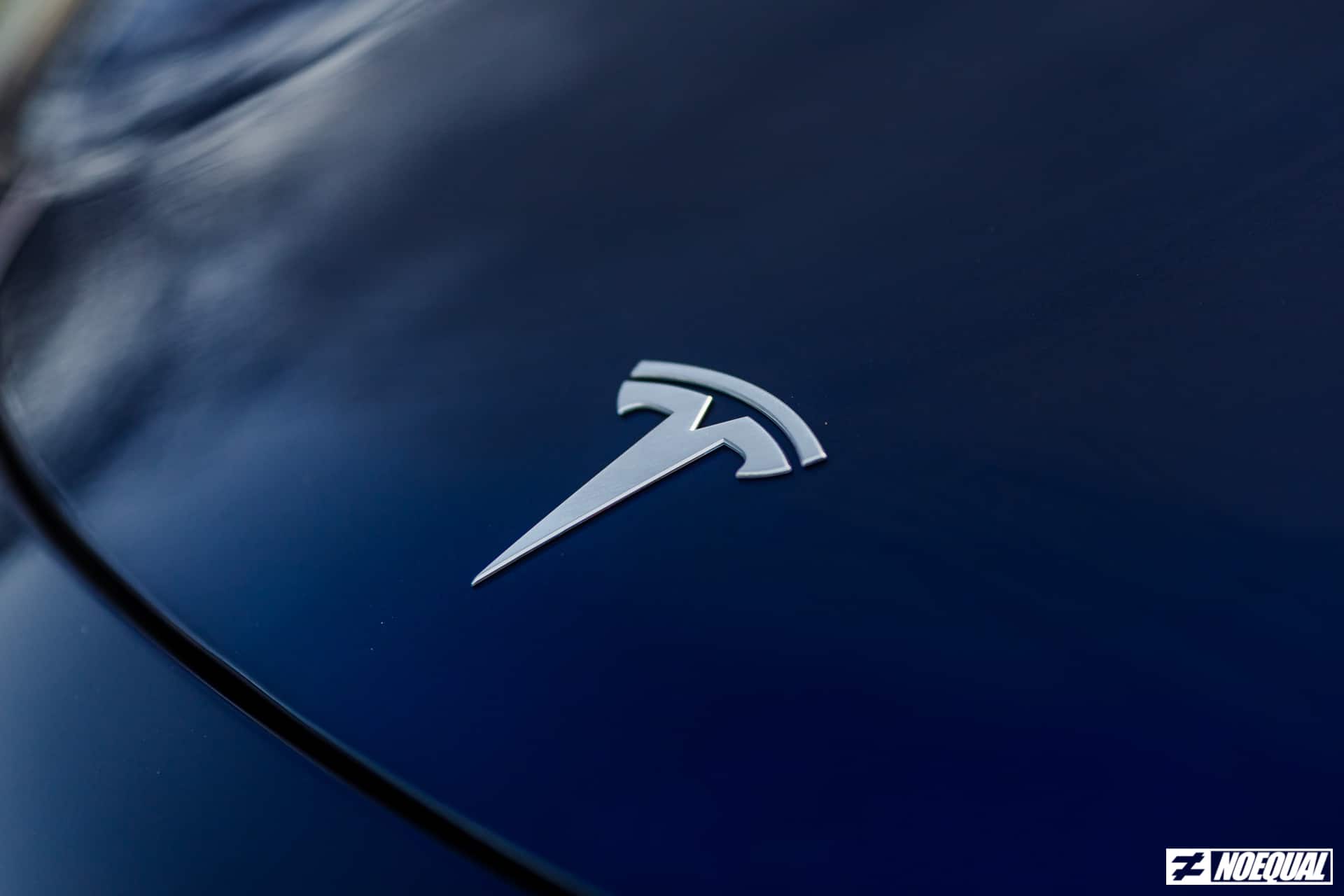 For now, the Tesla isn't really for me despite it being a great car from a young manufacturer. It's a brilliant piece of tech that functions as a smart device. Think of it as a smartphone, it's more of a mini computer rather than a phone. That's what a Tesla is, it's a "smartcar". It's everything a car can be, for people who want a car that can do everything.
Maybe, one day, if I were to grow up and was looking for an electric car, I don't think I could look elsewhere but the Model 3, especially now that there's a tax incentive. Why go for something unproven when the Model 3 has already made a mark in history.
Thanks again to Zero To Sixty Garage for providing us the Tesla Model 3 Long Range and you can visit their website and Instagram page.
Written by | Danial Malek
Photos by | Chua Chung Zhi